Icy Dock ToughArmor MB834MK-B V2 Ruggedized 2-Bay Removable M.2 NVMe SSD Enclosure
Fits single external 3.5" drive bay, supporting PCIe 4.0 64Gb/s transfer rates via SlimSAS 4i (SFF-8654) interface, and with adjustable locker accommodates all standard M.2 PCIe NVMe SSD drives, including 2230 (30mm), 2242 (42mm), 2260 (60mm), 2280 (80mm), and 22110 (110mm).
This is a Press Release edited by StorageNewsletter.com on September 15, 2023 at 2:01 pm
Icy Dock launches the ToughArmor MB834MK-B V2 a ruggedized 2-bay removable M.2 NVMe SSD enclosure that fits a single external 3.5" drive bay of the computer system and supporting PCIe 4.0 64Gb/s data transfer rates via SlimSAS 4i (SFF-8654) interface and accepts all standard M.2 drives lengths from 30 to 110mm (2230, 2242, 2260, 2280, 22110).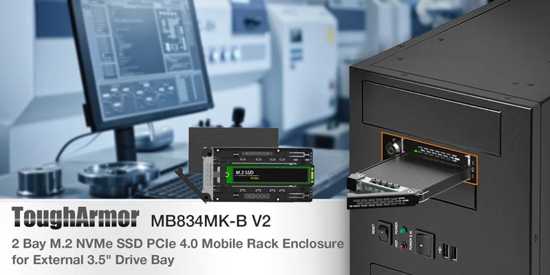 It simplifies the process of installing or removing M.2 NVMe SSD by using the removable drive trays with tool-less adjustable M.2 drive locker, making it to change drives at any time without open the computer case or dealing with drive mounting screws. In addition, while working together with numbers of ventilation holes around the enclosure, each drive tray is equipped with an aluminum heat sink to ensure SSDs are at optimal temperatures. As part of the company's toughest line, the MB834MK-B V2 is made out of metal construction with metal barrel key locks for maximum protection.

Compatible with tri-mode controllers

Due to high demand and in response to recent circuit board updates by host card manufacturers, the ToughArmor MB834MK-B V2 provides support for Tri-Mode controller cards from leading brands like Broadcom, Areca, and others.
M.2 drive is no longer hidden?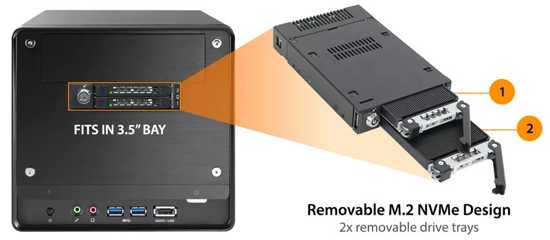 The conventional approach to installing an M.2 drive involves mounting it on a motherboard or a riser card using a small screw, which can be a cumbersome and time-consuming task. Removing or installing the drive physically can be quite troublesome. Fortunately, the company has introduced a new solution – the ToughArmor MB834MK-B V2. This product brings M.2 drives to the front of user computer case, streamlining the process of installing and removing M.2 NVMe SSDs. With the ToughArmor MB834MK-B V2, the once complicated procedure becomes much more straightforward and efficient.
State-of-art tool-less M.2 drive installation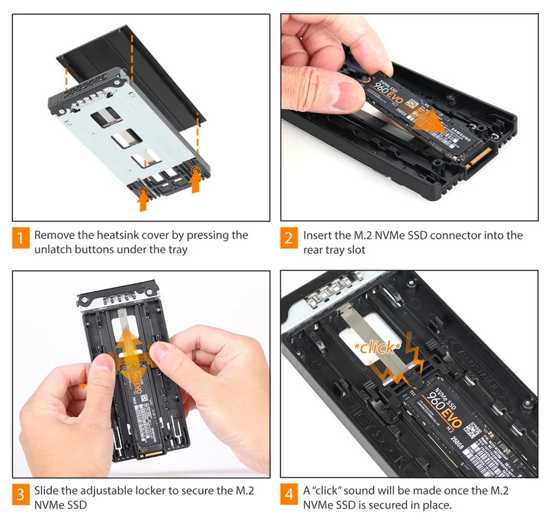 Typically, M.2 PCIe NVMe SSD drives are inserted at a 45° angle and secured to the motherboard using screws. However, with the ToughArmor MB834MK-B V2, this process is made simpler. Users can place the M.2 SSD in the drive tray, adjust the drive locker to fit the specific M.2 drive type, and then push down to lock it securely in place. This streamlined procedure takes less than 5s to complete, eliminating the need for small, easy-to-lose screws and introducing a way of installing M.2 drives.
The ToughArmor MB834MK-B V2 offers a tool-less drive installation experience, extending to the extra-large efficiency aluminum heatsink as well. There is no need for any tools when installing or removing the heatsink. Just use thumbs to press down on the 2 buttons located underneath the tray, and the heatsink will pop out, allowing for easy removal. To reinstall it, simply cover the tray with the heatsink and apply a little downward force, and it will securely snap right back into place.
EMI grounding technology

Grounding your M.2 SSD is crucial, as swapping drives without proper grounding can lead to hardware damage from static shocks. The firm's EMI Grounding Technology ensures that once the drive clips into the M.2 adjustable locker, it remains grounded through the tray, housing, and computer system, protecting your drives from static electrical surges during swapping.
Convenient accessibility

The M.2 adjustable locker accommodates all standard M.2 PCIe NVMe SSD drives, including 2230 (30mm), 2242 (42mm), 2260 (60mm), 2280 (80mm), and 22110 (110mm), making it universally compatible and future-proof for extra-long M.2 110mm drives.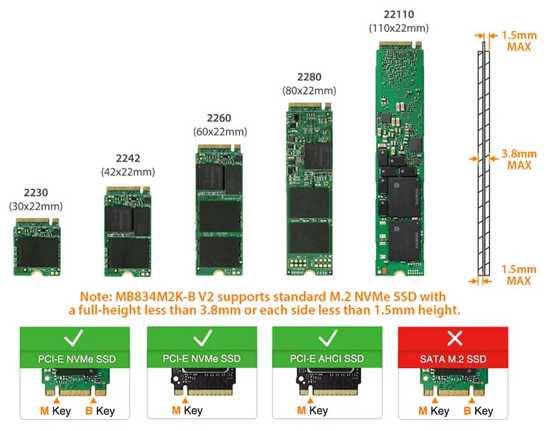 Maximum cooling performance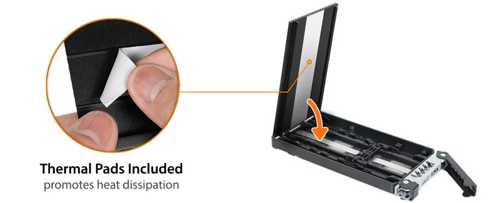 Since M.2 NVMe SSDs are known for generating high temperatures, it's essential to maintain operating temperatures at all times to prevent performance degradation. Each drive tray comes equipped with an extra-large, efficiency aluminum heatsink lid and thermal pad.

The heat is efficiently dispersed through strategically placed ventilation holes on all sides, working in conjunction with user computer's cooling system. This intelligent design ensures that the drive maintains optimal operating temperatures even under heavy loads.
Safe and secure

The ToughArmor MB834MK-B V2 features a ruggedized metal chassis, tray, and mounting bracket, enhancing the product's durability and contributing to effective heat dissipation. Additionally, an anti-vibration mechanism integrated into the chassis reduces noise and provides protection vs. environmental damage. This robust construction and thoughtful design ensure a long product life and reliable performance in various conditions.
Packed with features

An LED status light built into the tray indicates when the drive is powered up and in use, and it turns off when no drive is installed to save power.

To add an extra layer of physical security, the ToughArmor MB834MK-B V2 includes a large barrel key-lock mechanism. This feature provides protection against unauthorized physical access and ensures that drives remain securely in place even in demanding environments, such as military deployments and in-vehicle applications.
Product compatibility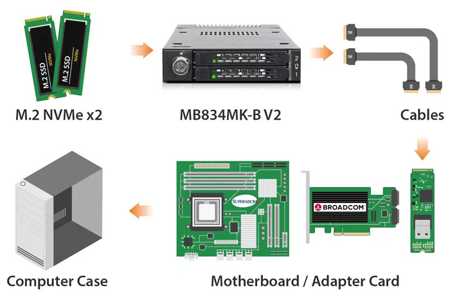 The MB834MK-B V2 is compatible with motherboards, RAID/HBA cards, and M.2 adapters from brands including Adaptec, Areca, Broadcom, HighPoint, Supermicro. This compatibility gives the freedom to choose from a range of hardware options, moving beyond the constraints of single-brand system configurations. For more information on product compatibility.
(Optional) 3.5″ to 5.25″ drive bay bracket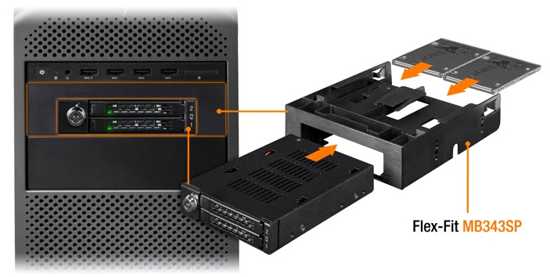 By utilizing the Flex-Fit MB343SP drive bay bracket, user can transform 5.25″ device bay into a 3.5″ device bay. This bracket boasts a sturdy one-piece design and comes with dual 2.5″ drive slots, providing with additional storage options for your drives.
Key features :
Fits 2xM.2 NVMe SSD of all lengths, 30mm (2230), 42mm (2242), 60mm (2260), 80mm (2280), and 110mm (22110)  

Adjustable drive locker holds all length drives securely  

Tool-less drive installation design for drive maintenance and system upgrading  

Installs into any standard external 3.5" device bay or floppy bay  

Uses 2xSlimSAS 4i (SFF-8654) to connect, requires NVMe host  

Supports the full NVMe bandwidth specification of 64Gb/s 

Ruggedized metal enclosure meeting flammability requirements  

Integrated large high-efficiency heat sink and ample ventilation for passive cooling  

2-segment key lock for additional physical security  

Eagle-hook tray latch securely holds the tray inside the enclosure  

EMI Grounding – protects SSDs from electrical damage  

Anti-Vibration Technology (AVT) reduces noise and protects against environmental damage  

Active Power Technology (APT) saves power by shutting the device down when no drive is installed  

5-year limited warranty vs. all defects  

Complimentary support from professionally trained technical support agents
Specs: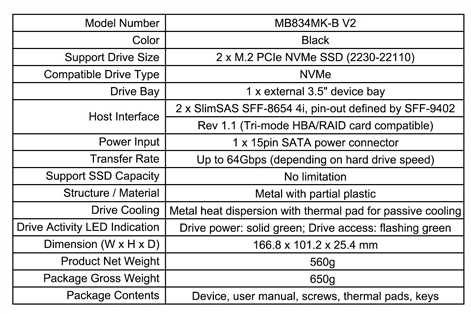 Read also :