Icy Dock ToughArmor MB699VP-B V3 Ruggedized Quad-Bay Removable U.2/U.3 NVMe SSD Enclosure Supporting PCIe 4.0
Compatible with Tri-Mode controller cards from Broadcom, Areca, and more
This is a Press Release edited by StorageNewsletter.com on October 19, 2022 at 2:02 pm
Icy Dock launches the ToughArmor MB699VP-B V3, a ruggedized quad bay removable U.2/U.3 NVMe SSD Enclosure supporting PCIe 4.0 and fetching up to 64Gb/s data transfer rates through OcuLink (SFF-8612) interface.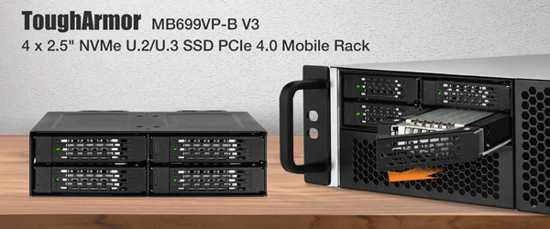 It is made out of metal construction and equipped with removable U.2/U.3 drive trays that simplify the time-consuming drive installation/removal process for easy drive maintenance. In addition, the MB699VP-B V3 uses dual 40x20mm cooling fans to keep the high-speed U.2/U.3 SSD at optimal temperatures and let adjust the fan speed through the 3-speed fan control located in the rear of the enclosure.
Compatible with Tri-Mode controllers


Due to popular demand and recent circuit board changes from host card manufacturers, the ToughArmor MB699VP-B V3 is compatible with Tri-Mode controller cards (*) from Broadcom, Areca, and more.

PCIe 4.0 performance


To unlock the potential of the PCIe 4.0 U.2/U.3 NVMe SSD, each drive bay uses a dedicated OCuLink (SFF-8612) connector to achieve the bandwidth rate of 64Gb/s, which is 2x faster than PCIe 3.0 and 10 x faster than SATA standards. The fast IO/s makes it a solution for data-intensive applications such as autonomous driving, mobile automation, real-time forecast, film editing, and military computing.
Removable drive tray design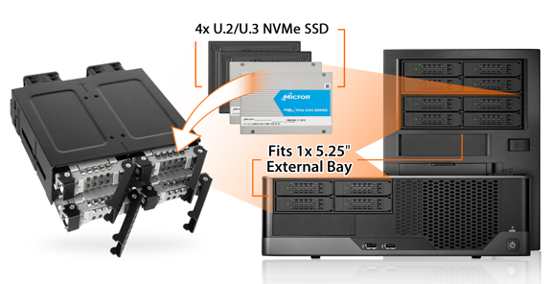 Typically, NVMe U.2/U.3 SSDs are installed inside the computer case, which can be tough to reach when it requires maintenance. With the ToughArmor MB699VP-B V3, user drives are brought to the frontal 5.25″ optical drive bay, where the U.2/U.3 SSDs can be accessed, making drive maintenance more efficient and straightforward process. The removable drive trays support any standard U.2/U.3 SSD from 5 to 15mm drive height.
Maximizing cooling performance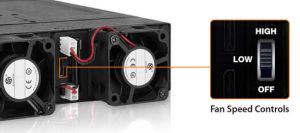 Built-in with the dual 40x20mm cooling fans, the heat generates by U.2/U.3 SSD is further dispersed through the intelligently place ventilation holes throughout the entire enclosure. The dual cooling fans come with 3 fan speed settings: High, low, and off. The user can choose the appropriate fan speed option to keep the drives at optimal operating temperatures.
EMI grounding technology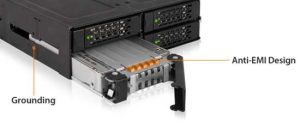 Grounding drives are essential as swapping drives without the proper grounding may lead to hardware damage due to static shocks. With the firm's EMI Grounding Technology, once the drive is screwed onto the drive tray, the drive will be in a constant grounded state throughout the tray, housing, and computer system to ensure your drives are protected from static electrical surges safe during swapping.
ToughArmor protection
Ensuring the enclosure can be relied upon for many years, the ToughArmor MB699VP-B V3 is capable of holding up in the harshest environment. It comes equipped with rugged, heavy-duty full-metal protection throughout the entire device and tray, making it for industrial devices that may require a flammability rating.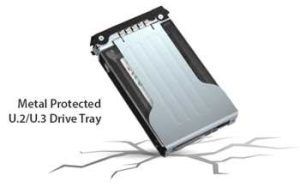 The build quality is for various enterprise systems such as military and law enforcement industries, in-vehicle computers, and manufacturing conditions such as embedded control and factory automation systems.
Packed with features


An LED status light built into the tray lets you know the drive is powered up and in use. The LED will shut off when no drives are installed to save power. Never forget which drives belong in what bays. With included individual drive ID labels, you'll always know which drive tray belongs in RAID or which drives contains specific files. Freely unplug and rearrange them to better suit configurations or remove them for a simplified look.

The ToughArmor MB699VP-B V3 supports 15-pin SATA power cables with locking latches. User shall never need to worry about cables unintentionally disconnecting from enclosure. Once these cables are connected, they will lock and stay in place. (Optional)
M.2 NVMe SSD to U.2 NVMe SSD adapter


Converting M.2 NVMe SSD into U.2 NVMe SSD with EZConvert MB705M2P-B adapter offers tool-less SSD installation and comes with a large heatsink designed explicitly for high-speed M.2 NVMe SSDs.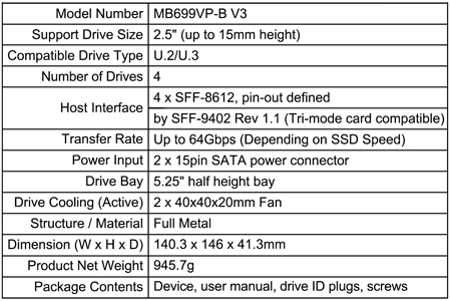 (*) MB699VP-B V3 only supports NVMe SSD when connecting to a Tri-Mode controller. It does not support SAS/SATA SSD/HDD.
Accessories:
EZ Slide Mini Tray MB991TRAY-B drive tray for ToughArmor MB607, MB699, MB991, MB994 Series
EZ Slide Mini Tray MB994TK-B drive tray with 2-Segment Lock for ToughArmor MB607, MB699, MB991, MB994 Series
SlimSAS 8i SFF-8654 to 2x OCuLink 4i SFF-8611 Cable – 0.5M
Key features:
Supports 4x PCIe NVMe U.2/U.3 SSD, up to 15mm drive height

Installs into any standard external 5.25" optical drive bay

Uses 4x OCuLink (SFF-8612) to connect, pin-out defined by SFF-9402 Rev 1.1

Supports PCIe 4.0 spec with transfer rates up to 64Gb/s per drive bay

Supports Tri-mode controllers PCIe/NVMe pinout (Broadcom, Areca, and more)

Ruggedized metal enclosure meeting flammability requirements

Removable tray system for maintenance

Dual high-performance 40x20mm cooling fan with 3 fan speed setting (high, low, off)

Eagle-hook tray latch securely holds the drive tray inside the enclosure

EMI Grounding – protects SSDs from electrical damage

5-year limited warranty against all defects

Complimentary support from professionally technical support agents
Read also :