Icy Dock ToughArmor MB092VK-B Ruggedized Removable Dual U.2/U.3 NVMe PCIe 3.0/4.0 Mobile Rack Enclosure
Slimline-SAS and SATA power connectors compatible with cables with locking latch design
This is a Press Release edited by StorageNewsletter.com on December 6, 2022 at 2:01 pm
Icy Dock announced the ToughArmor MB092VK-B ruggedized removable dual U.2/U.3 NVMe PCIe 3.0/4.0 mobile rack enclosure.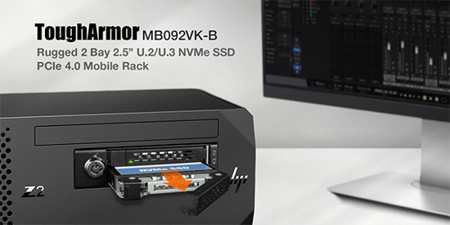 It support up to 64Gb/s data transfer speeds through Slimline SAS (SFF-8654 4i) connection.
This drive mobile rack fits an external 3.5" drive bay (floppy bay) space. With the advantage of removable drive trays in the frontal drive bay space, users can access enterprise U.2 or U.3 drives without disassembling the computer case.
Removable drive design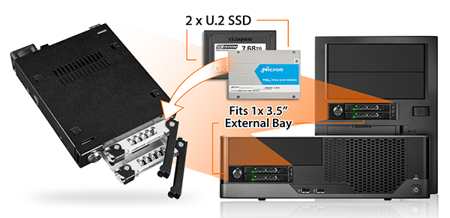 U.2 NVMe SSDs are typically designed to be installed internally, which can be tough to access when maintenance is needed. With the MB092VK-B, the U.2 drives are brought to the frontal 3.5" drive bay space where they can be easily accessed, making it a more efficient and straightforward process. In addition, each removable drive tray can support U.2 SSDs from 5 to 9.5mm in height-inch and M.2 installed simultaneously.
Performance

To unlock the full performance of 64Gb/s under PCIe 4.0 specification, the MB092VK-B uses 2xslimline SAS (SFF-8654 4i) connectors and is also backward compatible with U.2 NVMe PCIe 3.0 x4 SSD up to 32Gb/s.
Metal protection
Ensuring the drive enclosure can be relied upon for many years, the MB092VK-B is constructed out of heavy-duty metal throughout the entire device, including the drive trays, which are capable of holding up in harsh environments, such as military and medical systems that require a flammability rating.
Cooling efficiency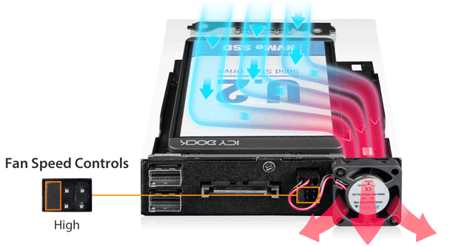 The built-in 25mm cooling fan disperses the heat generated by the U.2 NVMe SSDs through the intelligently-placed ventilation holes around the enclosure. To adjust the fan speed, simply reposition the fan speed jumper in the rear (high, low, and off).
Packed with features

The Slimline-SAS and SATA power connectors are compatible with cables with a locking latch design. So once the cables are connected, they will be secure in place. An LED status light built into the tray lets you know when your drive is powered up and in use.

The LED will automatically shut off when no drive is installed to save power. For an additional physical layer of security, the included 2-segment key-lock can be used to protect vs. unwanted access and secure drives in rough environments, such as military applications and in-vehicle PCs.
(Optional) M.2 NVMe SSD to U.2 NVMe SSD adapter

Converting M.2 NVMe SSD into U.2 NVMe SSD with EZConvert MB705M2P-B adapter offers tool-less SSD installation and comes with a large heatsink designed for high-speed M.2 NVMe SSDs.
(Optional) 3.5″ to 5.25″ drive bay bracket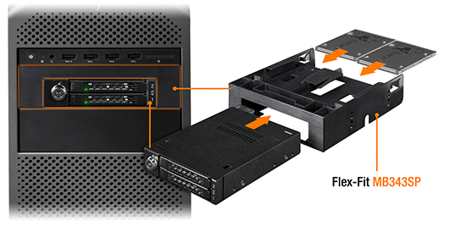 Converting 5.25″ device bay into a 3.5″ device bay with Flex-Fit MB343SP drive bay bracket, it features a solid one-piece design with additional dual 2.5″ drive slots for extra drive storage.
Key features:
Fits 2x 2.5" U.2/U.3 NVMe SSDs from 5-9.5mm height 

Installs into standardized external 3.5" device bay (floppy bay) 

Uses 2x Slimline SAS (SFF-8654 4i) connector, pinout defined by SFF-9402 Rev 1.1 

Supports NVMe 4.0 64Gb/s transfer rates per drive bay 

Ruggedized metal enclosure and drive trays 

2-segment key lock for additional physical security 

Eagle-hook tray latch securely holds the tray inside the enclosure 

EMI Grounding – protects SSDs from electrical damage 

Active Power Technology (APT) – saves power by shutting down when no drives are installed 

5-year limited warranty against all defects 

Complimentary support from US-based technical support agent 

Read also :