Icy Dock ToughArmor MB118VP-B Rugged 6-Bay Internal Enclosure for U.2/U.3 NVMe SSDs
Supports drives up to 9.5mm in height and offers PCIe 4.0 speed, allowing for data transfer rates of up to 64Gb/s via SlimSAS (SFF-8654) interface.
This is a Press Release edited by StorageNewsletter.com on May 30, 2023 at 2:01 pm
Icy Dock announced the ToughArmor MB118VP-B a rugged 6-bay enclosure designed for U.2/U.3 NVMe SSDs.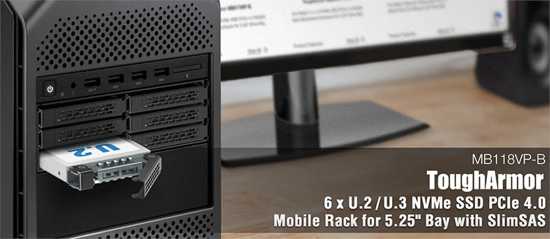 It supports drives up to 9.5mm in height and offers PCIe 4.0 speed, allowing for data transfer rates of up to 64Gb/s via its SlimSAS (SFF-8654) interface.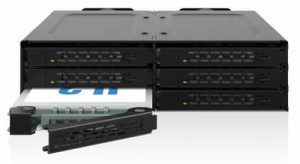 Constructed with metal materials, this enclosure is equipped with removable drive trays that make drive installation and removal quick and simple. Additionally, the MB118VP-B is designed with dual 40x20mm cooling fans that maintain optimal temperatures for high-speed U.2/U.3 SSDs within the enclosure.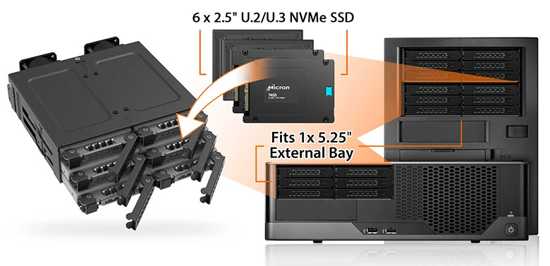 Removable drive tray design
NVMe U.2/U.3 SSDs are typically installed inside the computer case, making maintenance a difficult and time-consuming process. The ToughArmor MB118VP-B brings user drives to the front 5.25″ optical drive bay, utilizing removable drive trays for hassle-free maintenance. These removable drive trays are compatible with standard U.2/U.3 SSDs up to 9.5mm in drive height, ensuring easy installation and removal of your drives.
Superior PCIe 4.0 performance

The ToughArmor MB118VP-B provides performance for data-intensive applications that demand speed and reliability. Equipped with SlimSAS 8i (SFF-8654) connectors, each drive in the enclosure can achieve transfer speeds of up to 64Gb/s, 2x as fast as PCIe 3.0 and 10x faster than SATA standards, which unleash the full potential of NVMe Gen 4.0 x4 SSDs. The fast IO/s makes the MB118VP-B a storage solution for autonomous driving, real-time forecasting, film editing, and military computing applications, where high-speed data processing is critical.
Maximizing cooling performance

By incorporating dual high-performance 40x20mm cooling fans, the ToughArmor MB118VP-B can dissipate the heat generated by U.2/U.3 SSDs through intelligently placed ventilation holes throughout the entire enclosure, which allow the heat to disperse evenly and maintain optimal operating temperatures for user drives.
ToughArmor protection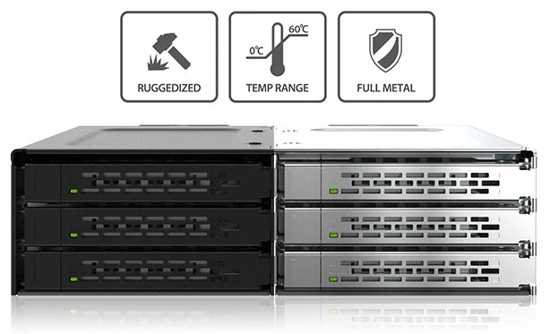 Ensuring the enclosure can be relied upon for many years, the ToughArmor MB118VP-B is capable of holding up in the harshest environment. The enclosure is equipped with rugged, metal protection throughout the entire device and tray, making it for a system that may require a flammability rating. The build quality makes it suitable for various enterprise systems, including military and law enforcement systems, in-vehicle computers, and manufacturing conditions such as embedded control and factory automation systems.
EMI grounding technology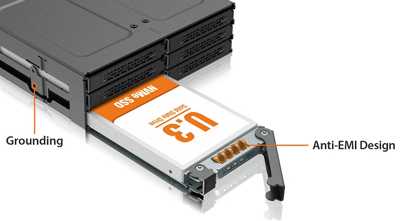 Grounding user drives is essential to prevent hardware damage from static shocks when swapping drives. The company's EMI grounding technology ensures that once the drive is screwed onto the drive tray, it remains constantly grounded throughout the tray, housing, and computer system to protect the U.2/U.3 SSDs from static electrical surges during drive swapping.
Packed with features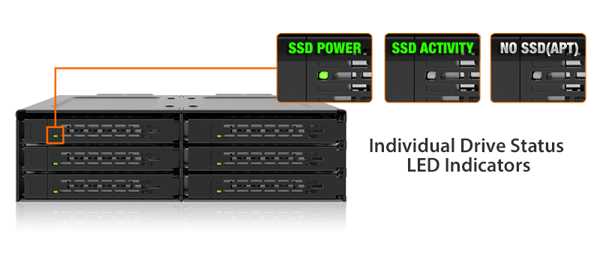 The drive tray features an LED status light that indicates when user drive is powered up and in use. When no drives are installed, the LED will shut off to conserve power.
Keep track of drives easily with the included individual drive ID labels. You'll always know which drive tray belongs in your RAID or which drives contain specific files. Rearrange them as needed or remove them for a simplified look.

The ToughArmor MB118VP-B supports 15-pin SATA power cables with locking latches. As a result, you'll never need to worry about cables unintentionally disconnecting from your enclosure. Once these cables are connected, they will lock and stay in place.
(Optional) M.2 NVMe SSD to U.2 NVMe SSD adapter

The MB705M2P-B adapter enables you to convert M.2 NVMe SSD into a U.2 NVMe SSD, offering tool-less installation and a large heatsink designed explicitly for high-speed M.2 NVMe SSD.
Key features
• Supports 6x U.2/U.3 PCIe NVMe SSD, with a maximum drive height of 9.5mm
• Designed to fit into any standard external 5.25″ optical drive bay
• Utilizes 3xslimSAS 8i (SFF-8654) to support 6xU.2/U.3 SSDs
• Supports PCIe 4.0 spec with transfer rates up to 64Gb/s per drive bay
• Supports tri-mode controllers PCIe/NVMe pinout (Broadcom, Areca, and more)
• Ruggedized metal enclosure that meets flammability requirements
• Removable tray system for easy maintenance
• Dual high-performance 40x20mm cooling fans
• Eagle-hook tray latch securely holds the drive tray inside the enclosure
• EMI Grounding – protects SSDs from electrical damage
• Backed by an 5-year limited warranty against all defects
• Complimentary support from professionally trained technical support agents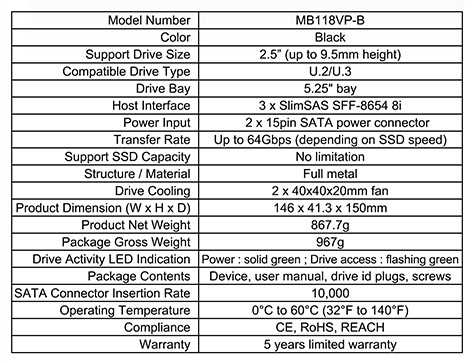 Read also :