Icy Dock ToughArmor MB842MP-B PCIe 3.0/4.0 x8 or x16 Card for Two Removable M.2 NVMe SSD Bays
Fits 2xM.2 PCIe NVMe SSD from 30-110mm (2230, 2243, 2260, 2280, 22110).
This is a Press Release edited by StorageNewsletter.com on October 21, 2022 at 2:02 pm
Icy Dock launches the ToughArmor MB842MP-B turns a PCIe 8x or 16x expansion slot into a dual removable M.2 NVMe drive bays, allowing you to swap the M.2 NVMe SSDs without needing to open the computer case.

Note: Motherboard or card needs PCIe Bifurcation mode support (x4, x4, x4, x4 for PCIe 16x slot or x4, x4 for PCIe 8x slot) to access 2xM.2 NVMe SSD.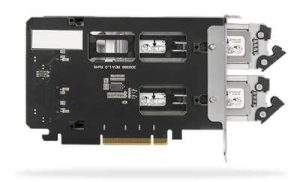 Removable M.2 NVMe SSD enclosure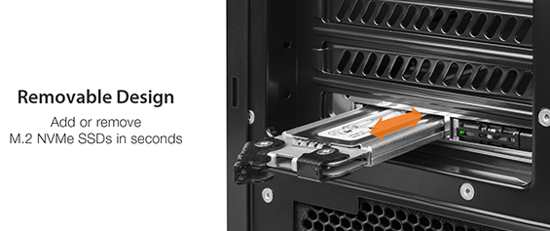 A typical M.2 drive is installed on a motherboard or a riser card and is secured by a small screw. Additionally, the physical installation process is very troublesome and time-consuming. The ToughArmor MB842MP-B's removable drive tray design utilizes the PCIe slot to make the M.2 SSD installation and removal process completely hassle-free.
State of art tool-less M.2 drive installation

The tool-less M.2 NVMe SSD installation design takes less than 5s to complete, saving the hassle of dealing with tiny easy-to-lose screws.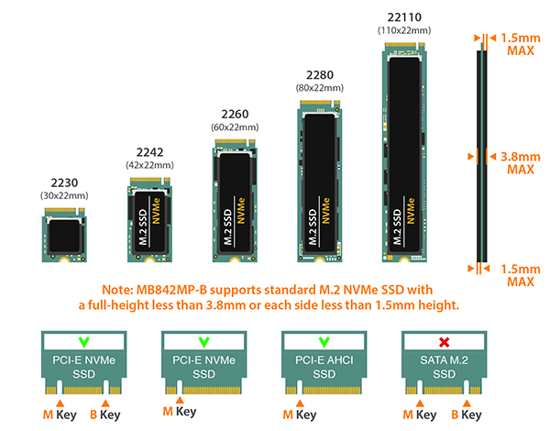 The patent pending adjustable M.2 locker secures the M.2 NVMe SSD (2230, 2243, 2260, 2280, 22110) onto the drive tray by sliding the M.2 locker towards the SSD to lock the M.2 SSD in place.
Optimal cooling efficiency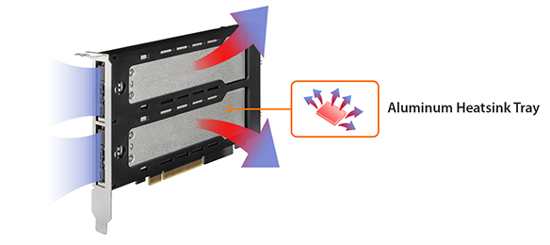 The specialized slim M.2 drive tray is made of thick aluminum and acts as a heatsink to dissipate heat generated by the M.2 NVMe SSD. The included thermal pad fills the gap between the contact surface and transfers heat away from M.2 NVMe SSD to the larger aluminum surface, allowing airflow to move the heat away.
EMI grounding technology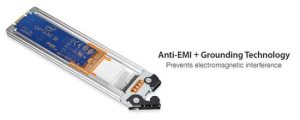 Grounding M.2 NVMe SSD is critical, especially during frequent drive swaps due to static shocks. Adjustable M.2 locker will clip into the SSD screw hole and ground the drive throughout the tray and the enclosure.
Compatibility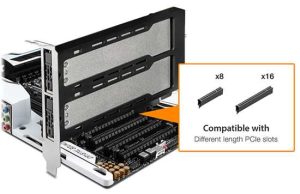 The ToughArmor MB842MP-B is designed for the PCIe slot and is compatible with PCIe 3.0/4.0 x8 and x16 slots.
Note: PCIe Bifurcation mode (x4, x4, x4, x4 for PCIe 16x slot or x4, x4 for PCIe 8x slot) is required to access both M.2 NVMe SSD.
Superior PCIe 4.0 performance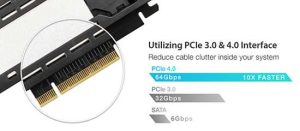 The advantage of utilizing the PCIe 3.0/4.0 interface is that it provides power and data through a single PCIe slot, reducing the system's cable clutter. In addition, the 64Gb/s transfer speed is 10x faster than SATA-3, making it for data-intensive applications such as ML, cloud computing, data mining, or even image processing.
Rugged protection for harshest environments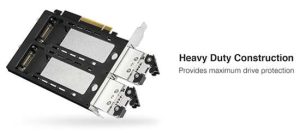 The ToughArmor MB842MP-B is equipped with solid plastic, metal housing, and metal drive trays to ensure a long product life and comes with a 5-year warranty.
Packed with features
It is built with drive activity LED indicators on each drive tray to show the drive power and activities. The LED will automatically power off when no drive is detected to save energy.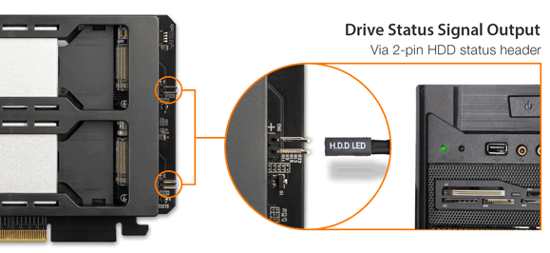 The optional 2-pin HDD activity signal output (cable is not included) allows to transfer the drive activity signal to the computer case or LED panel and provide an alternative view at the desired location.
Accessories
Compatible drive tray (caddy)
Interchangeable drive tray (caddy) with:
ToughArmor MB852M2PO-B
ToughArmor MB872MP-B
ToughArmor MB873MP-B
ToughArmor MB840M2P-B
Key features:
Fits 2xM.2 PCIe NVMe SSD from 30-110mm (2230, 2243, 2260, 2280, 22110)

Uses 1xPCIe 3.0/4.0 x8 or x16 slot (PCIe Bifurcation x4, x4, x4, x4 for PCIe 16x and x4, x4 for PCIe 8x is required to access both drives)

Installs to a single-width full-height PCIe express slot

Removable drive tray with tool-less drive installation for drive maintenance

Eagle-hook lock system keeps the drive secured in the enclosure

EMI - Grounding – protects the HDD from electrical damage

Active-Power Technology (APT) – saves power by shutting the device when no drive is installed

PCIe interface provides power and data transfer to reduce cable clutter

The included thermal pad conducts heat from the drive to the metal drive tray

Optional HDD activity signal output lets you transfer the drive activity signal to the computer case

5-year limited warranty against all defects

Complimentary support from a trained US-based technical support agent

Read also :