Icy Dock ToughArmor MB873MP-B V2 8-Bay M.2 NVMe SSD PCIe 4.0 Mobile Rack Enclosure for External 5.25-Inch Drive Bay
Uses 8xOCuLink (SFF-8612) to connect, pin-out defined by SFF-9402 Rev 1.1, and supports 8xPCIe M.2 NVMe SSDs of all lengths - 30mm (2230), 42mm (2242), 60mm (2260), 80mm (2280), and 110mm (22110).
This is a Press Release edited by StorageNewsletter.com on September 14, 2023 at 2:01 pm
Icy Dock introduces the ToughArmor MB873MP-B V2, a rugged and removable 8xM.2 PCIe 4.0 NVMe SSD enclosure designed to fit into a 5.25″ optical drive bay.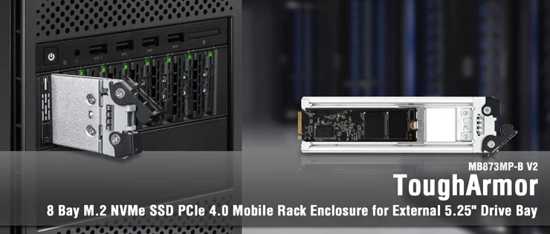 This enclosure offers performance, supporting fast data transfer rates of up to 64Gb/s via the OCuLink (SFF-8612) interface, and is compatible with Tri-mode host cards. It is made out of metal construction and uses removable M.2 SSD trays that support tool-less drive installation/removal for drive maintenance. In addition, the MB873MP-B V2 is equipped with dual 40x20mm cooling fans in the rear to remove the heat generated by the PCIe 4.0 SSD for the best cooling performance.
Compatible with tri-mode controllers

Due to high demand and in response to recent circuit board updates by host card manufacturers, the ToughArmor MB873MP-B V2 provides support for Tri-Mode controller cards from brands like Broadcom, Areca, and others. For detailed information on compatible cards and cables, please refer to the FAQ section available on the product page.
High storage density for performance PCs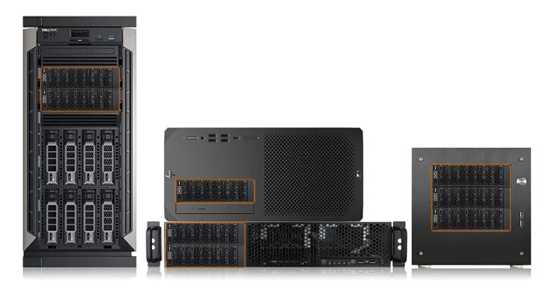 The ToughArmor MB873MP-B V2's high storage density design makes it for data-intensive systems that have limited storage space. It is particularly suited for high-performance PCs, compact servers, workstation PCs, and data centers where efficient storage utilization is crucial.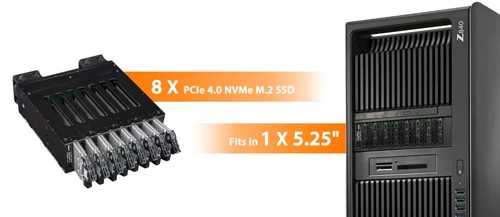 Supporting up to 8 PCIe 4.0 NVMe M.2 drives in a single 5.25″ device bay increases the storage efficiency of user system.
PCIe 4.0 performance

Unleash the potential of PCIe 4.0 NVMe SSDs with the ToughArmor MB873MP-B V2. Each drive bay features a dedicated OCuLink (SFF-8612) connector, enabling 64Gb/s bandwidth rate – 2x as fast as PCIe 3.0 and 10x faster than SATA standards.
Tool-less M.2 drive tray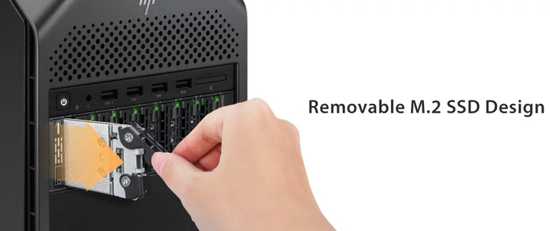 Typically, M.2 SSDs are installed directly onto the motherboard or an adapter card, usually requiring the use of small screws and accessing the computer case to reach the drives. However, with the ToughArmor MB873MP-B V2, user can bring user M.2 user to swap drives without the need to open the case, streamlining drive maintenance and enhancing overall efficiency.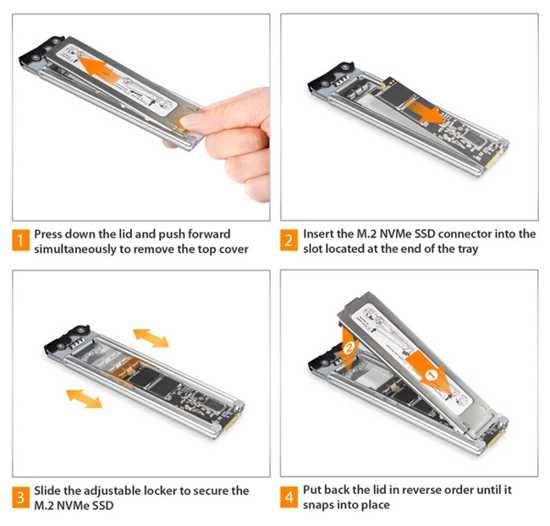 The ToughArmor MB873MP-B V2 features a patent-pending adjustable M.2 locker mechanism, designed for tool-less drive installation and removal. Simply insert the M.2 NVMe SSD, adjust the M.2 locker until it securely holds the SSD, and then close the lid. The entire process can be completed in less than 10s.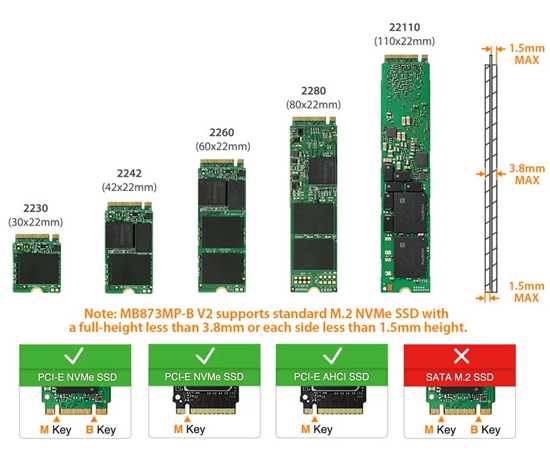 Experience compatibility with the ToughArmor MB873MP-B V2's removable M.2 drive tray, which supports a range of M.2 NVMe SSD brands and models. Whether it's 2230 (30mm), 2242 (42mm), 2260 (60mm), 2280 (80mm), or even enterprise-level 22110 (110mm) SSDs, user have the flexibility to choose from a diverse selection of M.2 NVMe SSDs.

Performance cooling system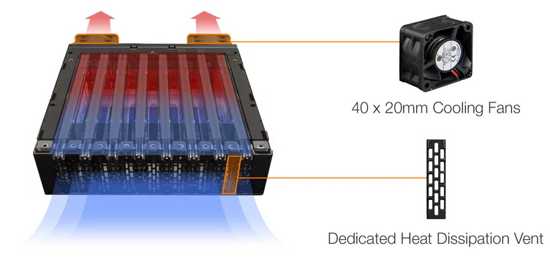 Powering up 8 M.2 NVMe SSD at once can accumulate heat. Therefore, the company have included dual 40x20mm cooling fans, providing an amount of airflow throughout the entire enclosure to keep the M.2 NVMe SSD at optimal operating temperatures, even under heavy load.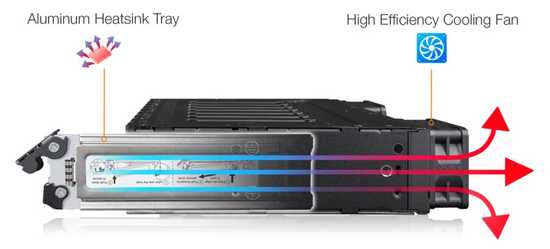 The specialized slimline drive tray is made with thick aluminum and acts as a heatsink to dissipate heat generated by M.2 NVMe SSDs.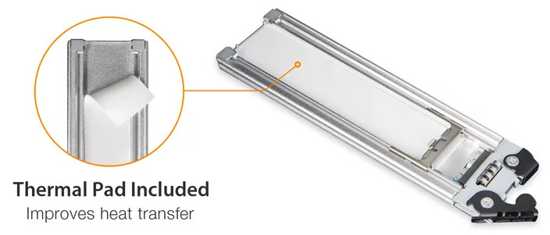 The included thermal pad fills the gaps between the contact surfaces and transfers heat away from the M.2 SSD to the heatsink tray, allowing airflow to dissipate the heat away efficiently.
ToughArmor protection for harshest environment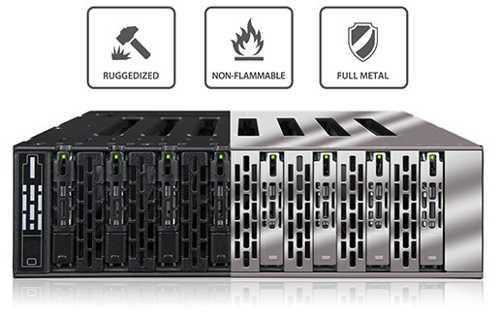 Built to withstand harsh environments, the ToughArmor MB873MP-B V2 features rugged, metal protection throughout the entire device and tray. This makes it for industrial devices requiring a flammability rating and suits various enterprise systems such as military and law enforcement industries, in-vehicle computers, and manufacturing settings like embedded control and factory automation systems.
EMI grounding technology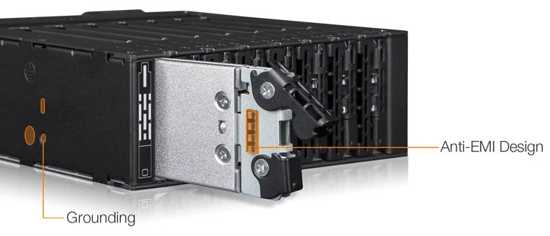 Grounding M.2 NVMe SSD is essential as swapping drives without proper grounding may lead to hardware damage due to static shocks. With the firm's EMI Grounding technology, once the M.2 locker clips into the SSD screw hole, the SSD will be in a grounded state throughout the enclosure's tray and housing. After the enclosure is installed in the system with 4 screws on its' side, it will ground itself throughout the computer system.
Packed with features

The LED status light in each of the trays gives user the drive status information at a glance. With Active Power Technology, the enclosure turns on when the drive is inserted and automatically shuts off when all drives are removed.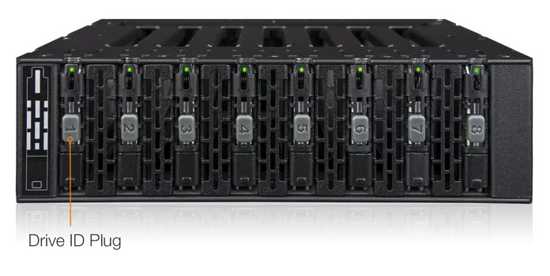 Product compatibility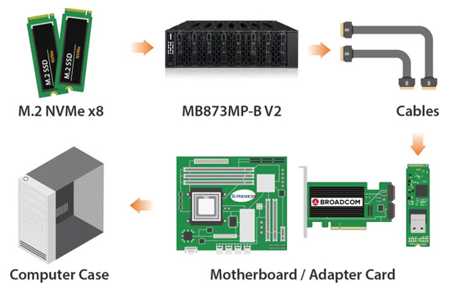 The MB873MP-B V2 is compatible with motherboards, RAID/HBA cards, and M.2 adapters from brands including Adaptec, Areca, Broadcom, HighPoint, Supermicro. This compatibility gives user the freedom to choose from a range of hardware options, moving beyond the constraints of single-brand system configurations. For information on product compatibility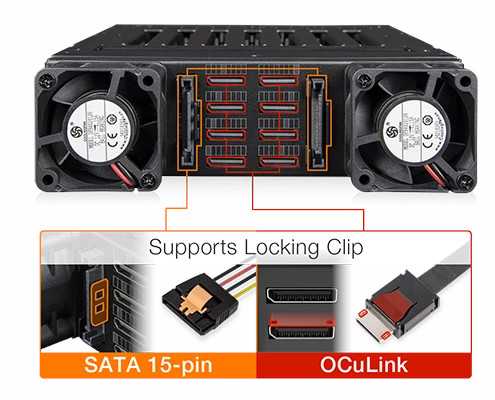 The ToughArmor MB873MP-B V2 supports 15-pin SATA power cables with locking latches, so user won't have to worry about cables accidentally disconnecting. Once connected, they lock in place and stay secure.
Key features:
Supports 8xPCIe M.2 NVMe SSDs of all lengths – 30mm (2230), 42mm (2242), 60mm (2260), 80mm (2280), and 110mm (22110)

Installs into  one standard external 5.25″ optical drive bay

Uses 8xOCuLink (SFF-8612) to connect, pin-out defined by SFF-9402 Rev 1.1

Supports PCIe 4.0 spes with transfer rates up to 64Gb/s/drive bay

Powers 8xM.2 SSDs through 2×15-pin SATA power connectors

Rugged metal enclosure meets flammability requirements

Equipped with high-performance dual 40x20mm cooling fans

Removable drive tray with tool-less drive installation for easy drive maintenance

Huge heatsink trays with thermal pads included dispersing heat from the drive

Anti-Vibration Technology – Creates a safe environment for SSDs 

Active Power Technology – Saves power by shutting off the enclosure when no drive is installed

EMI Grounding protects SSDs from electrical damage

Drive ID plugs are included to keep track of user drives 

Eagle-hook tray latch securely holds the drive tray inside the enclosure

Supports SATA power cables with locking latch design 

2xSATA 15-pin power cables are included 

5-year limited warranty with customer support
Specs: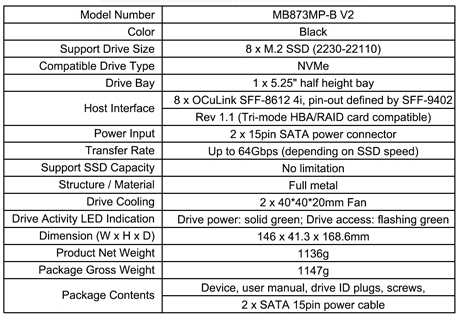 Read also :