Catalogic ECX Copy Data Management V2.12 Software
Adds copy data management and data mobility features for enterprise storage environments from HPE, IBM Storage, NetApp, and Pure Storage.
This is a Press Release edited by StorageNewsletter.com on May 7, 2021 at 2:32 pm
Catalogic Software GmbH announced the latest version of its ECX Copy Data Management (CDM) software.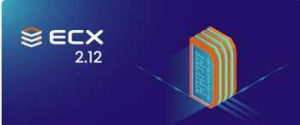 ECX 2.12 is available with several feature enhancements as well as additional support for HPE Nimble, Pure Storage FlashArray, and vSphere.
Click to enlarge
VMware vVols on Pure Storage
In this new release of ECX, VMware Virtual Volume (vVol) users can backup all of their VMs residing on vVol datastores on Pure Storage. ECX can invoke a storage snapshot of each vVol datastore volume and store it in its catalog, enabling reuse of a VM on vVol backups for test/dev purposes, be used as a backup solution using ECX SLA polices and restore of individual disks of VMs.
Pure Storage Pod and ActiveCluster
ECX 2.12 protects data on Pure Storage pods in an ActiveCluster configuration. The additional layer of backup that ECX now provides within the ActiveCluster brings added security to the user environment.
HPE Nimble storage replication
ECX 2.12 allows data to be replicated and managed between Nimble arrays, including application-aware snapshots, to achieve full data protection and restoration from either the primary or replication array.
Global preferences in ECX UI
Ease of customization is a key feature of ECX 2.12, now achievable using the global preferences section of the UI. All preferences can now be set in the GUI. This menu of product customizations will expand with additional user requests.
"Catalogic ECX is a powerhouse when it comes to orchestrating data management for databases, fully supporting SQL Server, Oracle, SAP HANA, and InterSystems Caché running on virtual and physical servers," said Sathya Sankaran, COO. "With this newest release of ECX, we've made customization even faster, responding to our customers and bringing to market the premier CDM offering in the marketplace."
Resources:
What's New in Catalogic ECX 2.12.0
Blog : Catalogic ECX 2.12 Adds New Copy Data Management and Mobility Features and Enhancements

Read also :