Catalogic ECX Copy Data Management Supports HPE Nimble Storage
Automates storage snapshot management to make restores faster, database cloning easier and self-service copy data provisioning possible in hybrid cloud environments.
This is a Press Release edited by StorageNewsletter.com on July 20, 2020 at 2:09 pm
Catalogic Software, Inc., developer of data protection solutions, announced that its ECX Copy Data Management (CDM) solution supports the HPE Nimble Storage all flash and hybrid array storage systems.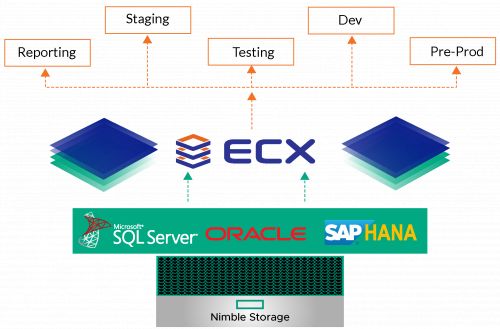 ECX will enable Nimble Storage customers to modernize existing IT operations by providing additional automation, user self-service and API-based operations without the need for additional hardware.
It manages the snapshot, replication, and cloning technologies of existing storage and virtual infrastructure in a customer environment. Its adoption  does not require a customer to purchase and manage additional hardware and enables customers to maximize their primary storage investment.
One of largest ECX customers manages snapshot SLAs and self-service recovery for over 15,000 VMs through its central platform. Other customers use ECX to clone application servers with hundreds of SQL Databases, multi-terabyte Oracle RACs and large SAP HANA deployments.
Nimble Storage is a primary storage, combining predictive analytics and 6-nines of availability to ensure customers' apps are always on and always fast. With ECX, copies of those applications can be protected and cloned with full application awareness. Catalogic uses a simple storage array based licensing model which provides the use of an unlimited number of applications, CPU cores or storage capacity.
"HPE Nimble Storage has a decade-long history of simplifying and modernizing storage to help customers accelerate their digital transformation," said Omer Asad, VP and GM, HPE Nimble Storage. "With Catalogic Software, HPE Nimble Storage customers are further equipped to protect and leverage their data. This enables our customers to derive insights and take actionable steps toward business transformation based on the information their data provides."
"HPE Nimble Storage, known for its simplicity and reliability, is a leading platform used to power business critical applications. Catalogic ECX will extend this simplicity to the full application stack providing app-aware storage snapshots, replication, and instant cloning of VMs and Databases," said Sathya Sankaran, COO, Catalogic Software. "We are pleased to be working with HPE Nimble Storage in the ongoing endeavor to advance the power of flash to copy data and maximize our customers' investments in their primary storage."
This update for Catalogic ECX will be available on July 31, 2020 and will support the line of Nimble Storage all flash systems AF20, AF20Q, AF40, AF60, and AF80 and Nimble Storage hybrid arrays systems HF20, HF20C, HF20H, HF40, HF40C, HF60, and HF60C. Near term roadmap features include support for asynchronous replication and HPE cloud volumes.
More about Catalogic ECX Copy Data Management for HPE Nimble Storage