Suse Rancher Ready Status for CloudCasa From Catalogic
Adding support for Amazon relational database service
This is a Press Release edited by StorageNewsletter.com on March 17, 2021 at 2:31 pm
Catalogic Software, Inc. announced its SaaS platform, CloudCasa, is available through the SUSE Partner Software Catalog as a SUSE Rancher Ready application, and through the SUSE Rancher Apps & Marketplace.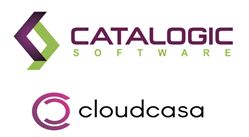 In addition, with many Kubernetes applications using cloud databases services, CloudCasa is expanding its scope to support application-consistent data protection for Amazon Relational Database Service (RDS).
CloudCasa is scalable, cloud-native platform that delivers data protection and DR. Platform and location agnostic, It protects and supports all Kubernetes distributions and managed services. The Helm chart for CloudCasa is available for deployment in the partner section of the SUSE Rancher Apps & Marketplace dashboard, enabling CloudCasa to protect applications on clusters managed by SUSE Rancher. The Helm chart for CloudCasa orchestrates installation of the backup agent and connection to the CloudCasa data protection service.
"While persistent storage platforms for containerized environments continue to gain momentum, many organizations are adopting cloud database services. Recognizing that enterprises have multiple options for persistent storage for their cloud applications, CloudCasa from Catalogic Software added cloud database support starting with Amazon RDS to its Kubernetes data protection service – addressing both Kubernetes and RDS support in a single service," said Krista Macomber, senior analyst, Evaluator Group, Inc. "Kubernetes marketplaces and management platforms are a convenient place for developers to find and deploy storage and backup services, so it is good to see CloudCasa available in the SUSE Rancher management platform."
CloudCasa supports cloud databases, such as Amazon RDS, to ensure application-consistent backups of data outside of Kubernetes. Cloud and serverless databases account for a large portion of persistent data for applications running on Kubernetes and require protection along with other application data. Developers' familiarity with Amazon RDS makes it a choice for use with managed Kubernetes services.
"The management of Kubernetes' deployments is dominated by developers and DevOps engineers who are not familiar with data protection solutions. We are pleased to have our CloudCasa agent available in SUSE Rancher Apps & Marketplace, making it easy to install and use," said Sathya Sankaran, COO, Catalogic Software. "Additionally, as our support for Amazon RDS demonstrates, Catalogic's goal is to have CloudCasa do all the hard work for DevOps to backup and protect multi-cloud, multi-cluster, Kubernetes applications and cloud databases."
The free service tier for CloudCasa includes backups of Kubernetes resource data and snapshot management for Kubernetes persistent volumes. It permits an unlimited number of clusters and worker nodes per user or organization, and up to 30 days of backup data retention. Amazon RDS protection, including snapshot management and multi-region copies, will be available to users of the free tier at the end of March. CloudCasa will be available in additional public cloud marketplaces in 2Q21 including those for DigitalOcean, Red Hat OpenShift, and VMware Tanzu.
Catalogic's mission is to enable IT organizations to protect and leverage their data, delivering reductions to Capex and Opex while providing superior services to the organization. With its smart data suite of products and client services, Catalogic helps clients protect, recover, manage, secure, orchestrate and make use of their backup and copy data across their enterprise and cloud in support of mission critical IT functions including DR, test/dev, DevOps, next gen data protection, and business analytics.
Read also :