InnoDisk InnoOSR Technology for SDD Including System Recovery With One Click
2.5-inch SATA/M.2 2242/M.2 2280/mSATA InnoOSR SSD with OS backup and fast recovery mechanism, allowing on-site repair for faulty systems with software-level damagee
This is a Press Release edited by StorageNewsletter.com on August 5, 2021 at 1:31 pm
Digitalization is an integral part of everyday life, whether private or business, and the degree of this digitalization is constantly increasing.
Through the IoT, Industry 4.0, and edge computing, the number of devices in the data centers, in the cloud and on the edge is increasing. The protection of data must follow the trend and constantly grow with it. Devices used should be fail-safe and always available. In contrast to central data centers, the areas of application and use cases for decentralized solutions can be very different. With the increasing number of devices in the course of growing IoT applications, data security and reliability play an increasingly important role. Downtimes must be reduced to a minimum or approach zero. However, this is not technically feasible. Systems are required to restore and reboot in the shortest possible time. Remote maintenance is not always necessary, as is the case with devices in edge computing, which often have to work completely autonomously. In many scenarios, on-site operators do not have in-depth specialist knowledge about the system so the recovery process should be simple and manually triggerable. This leads to an enormous improvement in data security while keeping the costs for maintenance-intensive monitoring and backup systems in check.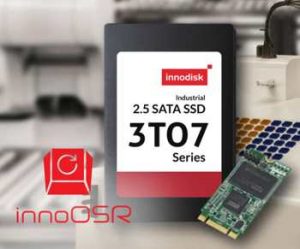 Innodisk Corp.'s InnoOSR series flash memory has patented firmware technology that allows a manually executed hardware trigger to restore the system, enabling a single device backup. The abbreviation 'OSR' stands for 'On Site Recovery' or 'OS Recovery'. The firm refers to this as a next-level recovery, a system can be restored quickly and easily. The system is brought back online in a short time, avoiding a software-level recovery.
Click to enlarge

InnoOSR comes in 3 different modes depending on its methods: 'Standard OSR', 'Shift-Boot' and 'Auto-Reboot'. All have the same features for 1-click image recovery, simple management tool and data partitions. The OSR-tool can be used in both Windows and Linux environment. The Standard OSR and Shift-Boot modes use the button cable and connector pins trigger. Meanwhile, the Auto-Reboot mode has an extra connector leading to the reset pin on the mainboard/motherboard. During this mode, InnoOSR device will communicate with the OS, if it does not receive/detect any signal, it will automatically reboot and recover itself. The recovery takes place in three steps. During the initial setup, the user connects the OSR SSD device to the host system and the trigger cable. Then the OS is installed. The user then selects the partition to be backed up and the system performs a backup. To initialize the restore process, all that is then needed is a trigger, for example triggered by a button. This must be pressed for 5s, then the restore starts. InnoOSR's firmware then takes care of the complete recovery process with LBA-to-LBA recovery to bypass possible software problems and ensure compatibility with any system. Once the recovery process is complete, in mode '1' and '2', the system requires the user to initialize the reboot process, whereas in mode '3' it will automatically reboot itself and returns to its original state.
The main feature of the InnoOSR family is the OS backup and fast recovery mechanism, which allows easier on-site repair for faulty systems with software-level damage. The advantages lie in the very low maintenance costs. It requires no human intervention (mode 3) and 24/7 autonomous monitoring of edge devices depending on its choice of modes, with OSR toolkit, integrated into any computer platform. No extensive and therefore time-consuming technical training is required for maintenance staff. Using standard OSR, operators can implement InnoOSR's functionality into any application. Minimal hardware changes are required as standard 2.5″, M.2 or mSATA form factors with pin headers are available. InnoOSR offers performance, in diverse form factors (2.5-inch SATA/M.2 2242/M.2 2280/mSATA) and maximum capacity up to 1TB with customization flexibility to fulfil all customer needs.
Click to enlarge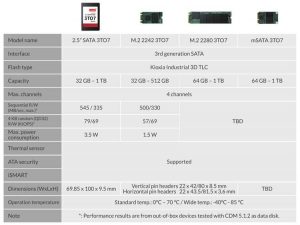 Read also :