Innodisk: InnoBTS SSD With Integrated Patented Blockchain Technology
Use of digital signature and blockchain implemented in software-independence
This is a Press Release edited by StorageNewsletter.com on March 24, 2021 at 2:30 pm
Innodisk Corp. has integrated a patented blockchain technology into its storage solution 'InnoBTS SSD'.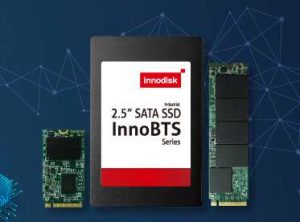 The use of digital signature and blockchain implemented in its software-independence.
The Taiwanese manufacturer of industrial SSD solutions combines blockchain technology to protect the data in current IoT applications such as POS systems at unmanned stores, smart meters, or digital ID cards from third-party access.
The important data written to the SSD generates an encrypted hash string corresponding to the specific data set, and the encrypted hash string is spread on the blockchain network, essentially creating a decentralized ledger distributed between different computers. The process is that the encrypted hash string is 'chained' on the blockchain network. In the event of tampering, the concatenated data is checked vs. an encrypted hash string on the network so that any discrepancies are clearly visible.
InnoBTS SSD has hardware-controlled digital signature
Through the complex use of private and public keys associated with each file sent, the recipient can always verify the correct sender. The SSD creates and secures the private key within an internal security zone, ensuring security of the private key. Only the public key is available for anyone to verify the correct sender.
The InnoBTS SSD series leverages blockchain technology and data streaming to create the best solution for data integrity in edge applications. By moving the functions into the inaccessible SSD firmware, data integrity has been improved and system integration made easier.
The company's solution enables blockchain setup for edge applications by eliminating the need for additional software and connecting numerous devices to the blockchain network. Application areas include smart cities, smart vehicles, smart factories, and smart surveillance.
Read also :