HYCU Closed $87.5 Million Series A
Especially to hire 100 employees, former CEO of Symantec Enrique Salem at board
This is a Press Release edited by StorageNewsletter.com on March 30, 2021 at 2:32 pm
HYCU, Inc. closed a $87.5 million series A financing round.
Led by Bain Capital Ventures, this new funding reinforces HYCU's market position and continued momentum, and will enable the company to hire more than 100 new employees in the Boston, MA area to achieve rapid scale. The company is now poised to consolidate on market penetration, as a service, cloud-native backup and recovery solution provider for both on-premises and public cloud IT environments. Acrew Capital also participated in the round.
According to Markets and Markets, the data and backup recovery market is anticipated to be worth well over $11 billion by 2022. However, legacy data protection solutions are predicated on outdated and appliance-based storage, which is an antiquated and complex approach. HYCU's purpose-built, SaaS-based solution offers a simpler more cost-effective alternative to legacy data protection solutions.
"Today marks a significant milestone in the history of HYCU," said CEO, Simon Taylor. "From day one, our mission has been to grow responsibly and to deliver innovation and solutions that align with our partners' and customers' business objectives. We were the first in the market to understand that companies will always have hybrid infrastructures and need reliable backup and recovery, regardless of where they keep their data. At the time, the concept of breaking data protection silos and running truly as a service across the enterprise seemed a concept versus a reality. We've proven it's not only possible, it's happening now, and will be the way of the future. To become a member of the Bain Capital family is a testament to the team staying true to our vision for building frictionless, purpose-built solutions that simplify our customers' evolving data protection needs."
Since 2017, HYCU has delivered solutions to eliminate complexity that are intelligent, application-aware services with full-coverage for both on-premises and public clouds. From delivering a purpose-built data protection for Nutanix, Inc. to expanding to VMware, Google Cloud and Azure Cloud, it now has more than 2,000 customers in more than 75 countries. With the introduction of HYCU Protégé, a lightweight, cost-effective crosscloud migration, management and disaster recovery solution for enterprise applications, it will use the funding to expand and grow its application, public cloud and SaaS-based innovations as well as hire in Boston and North America to meet the company's growth goals. Customers benefit from reduced complexity and efficient, reliable data protection, regardless of whether the data resides on-premises or in the public cloud of their choice.
Enrique Salem, partner at Bain Capital Ventures, will join HYCU's board of directors. He has a long history in SaaS-based software and data protection, as the former CEO of Symantec, as well as serving as a board director at DocuSign and Atlassian.
"We are in the early days of a multi-decade shift to the public cloud, but existing on-premises backup vendors are poorly equipped to enable this transition, creating tremendous opportunity for a new category of cloud-native backup providers," he said. "As one of the early players in multi-cloud backup as a service bringing true SaaS to both on-premises and cloud-native environments, HYCU is a clear leader in a space that will continue to create large multi-billion dollar companies. This, coupled with Simon's leadership and the senior executive team's strong technical expertise and deep domain experience, gives us tremendous confidence that HYCU is poised to win the next transformation in enterprise infrastructure."
Stefan Cohen, principal at Bain Capital Ventures, also joins board of directors. He invests in IT infrastructure software companies at all stages and prior to joining Bain, he built Boston-based Turbonomic's strategy and operations team. His area of focus is on building cross-functional, go-to-market strategies, process design and operational improvements.
Expanding in the Boston market reinforces HYCU's corporate values and commitment to giving back to the markets and communities it serves.
Taylo adds: "We are dedicated to supporting the Boston community, whether that's hiring locally, investing in local real estate or executing on CSR initiatives. We are building this company for our customers and the markets we serve in the tradition of HYCU, with a focus on authenticity, grit and empathy."
Read also :
Comments
This news is huge for HYCU raising almost $90 million in series A confirming the position it built and the trust they create in a few years.
We don't know the dilution and the valuation of the company for this round but we understand that it needs now a real boost to prepare its next growth period.
Launched in 2018, the company has cut its roots with Comtrade and validated several iterations starting within the Nutanix perimeter then expand to VMware and various clouds. The company is seen now as a pure or true backup-as-a-service and clearly they lead the modern data protection (MDP) pack with a few other players coming from this next/new data protection generation.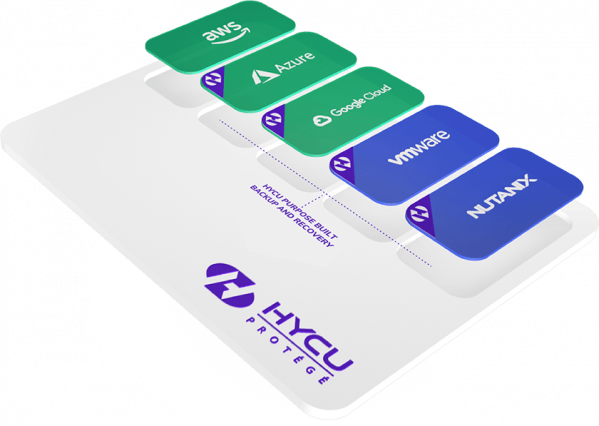 For a few quarters, the firm serves as a reference with a rapid client acquisition trajectory with today more than 2,000 customers. Competitors watch closely their cloud strategy and product features as it weakens other players market footprints. Agile in its development, it is really a integrated service simple to activate and use, thanks to a clever scalable architecture coupled with an intuitive GUI. Protégé extends classic backup approach with DR and migration capabilities solving some demanding RPOs and RTOs. The ambition of Simon Taylor's team is intact and even more feasible with this round "to become the best backup-as-a-service offering on the market."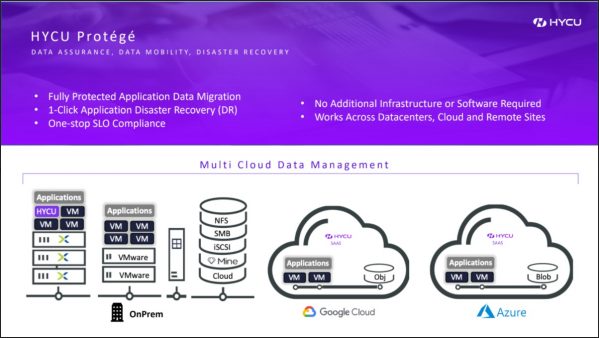 The MDP current state is the result of several waves associated with key vendors:
legacy essentially with bare-metal and horizontal coverage, cross OS and large databases support represented by Veritas NetBackup, Dell Networker, IBM Spectrum Protect, Commvault or Atempo,
VM with same players trying to fill the gap with new dedicated ones like Veeam,
Cloud confirmation with Cohesity, Rubrik in addition to previous vendors,
Container and Kubernetes with new comers like Kasten, Trilio or Velero,
SaaS step with HYCU, Clumio.
At each level, a new need is introduced not already coverage natively by the established vendor. Remember that the legacy backup gorillas were really shaken by the Veeam simplicity and capabilities. The cloud was supported by extensions by many vendors but Cohesity and Rubrik made things dramatically simple, what previous vendors had difficulties to deliver. It presents the advantage to segregate production and protection locations coupled with the sharing and global access capabilities of the cloud. Its ubiquitous nature is a given. And once again it was the same story with container as established were disrupted by new comers. All this going super fast, Veeam made the decision to acquire Kasten to fill that gap and Veritas to partner with Trilio.
The SaaS category is essentially divided by 2 flavors, pure SaaS backup listed above but also by a second category of SaaS backup solutions dedicated to enterprise SaaS applications such Salesforce but also of course Office365. This segment is represented by OwnBackup, CloudAlly by Zix, CloudHQ, Spanning by Kaseya, Druva, Asigra. And the list is growing fast.
It invites to make a remark as Salesforce has chosen a few days ago to restart its own backup service stopped in July 2020. Is it following OVHcloud disaster? Is it also following the frequent remark about SaaS and IaaS data protection. IaaS has to be protected by the developer of the service that need to think, design, deploy... such service but for SaaS, users subscribe to a close, packaged high level service that must offer implicit or embedded data protection. Not providing this is a serious miss for a SaaS application and can be consider as a real drawback and create serious confusion in users mind. Don't forget CRM users are users, real end-users we mean... For Salesforce the story is a bit different as the position of the company can even invite them to do almost what they want as it won't really change users adoption. They can ignore the market, at least they can try. But we listen to a growing background noise about this SaaS/IaaS data protection.
In parallel to the MDP, note some movements from new players and established ones to add a secondary storage products in their portfolio. In the past, backup software vendors didn't sell they own device for the majority of them. NetBackup added an appliance line and we saw that wave confirmed with Cohesity, Rubrik and more recently Commvault with the Hedvig acquisition or Arcserve with StorageCraft. We continue to see dedicated scalable secondary storage such Quantum, Spectra Logic and we can also mentioned here Versity for mass capacity projects.
This new demand for advanced secondary storage is also illustrated with S3 storage with comprehensive data services such data reduction, encryption, redundancy techniques with erasure coding, of course replication, and air gap, vaulting capabilities to fit with ransomware protection requirements.
CDP launched almost 20 years ago is hot again as some applications RPO require such techniques. The ransomware threat invited again the tape as it is a passive device easily moved to a secure disconnected area. Also recent tape developments with capacity projection suggest a better tape adoption especially with the FujiFilm/IBM large tape demo a few months ago.