WW Record Capacity for SSD: 100TB, by Nimbus Data
3.5-inch, 3D NAND, up to 100,000 IO/s and 500MB/s throughput
This is a Press Release edited by StorageNewsletter.com on March 20, 2018 at 2:52 pm
Nimbus Data, Inc., in flash memory solutions, announced the ExaDrive DC100, the largest capacity (100TB) SSD ever produced.
Featuring more than 3x the capacity of the closest competitor, it draws 85% less power per terabyte.
These innovations reduce TCO per terabyte by 42% compared to competing enterprise SSDs, helping accelerate flash memory adoption in both cloud infrastructure and edge computing.
 
"As flash memory prices decline, capacity, energy efficiency, and density will become the critical drivers of cost reduction and competitive advantage," stated Thomas Isakovich, CEO and founder. "The ExaDrive DC100 meets these challenges for both data center and edge applications, offering unmatched capacity in an ultra-low power design."
 
Optimized to Maximize Flash Storage Capacity and Efficiency
While existing SSDs focus on speed, the DC100 is optimized for capacity and efficiency. With its patent-pending multiprocessor architecture, the DC100 supports greater capacity than monolithic flash controllers. Using 3D NAND, the DC100 provides enough flash capacity to store 20 million songs, 20,000 HD movies, or 2,000 iPhones worth of data in a device small enough to fit in a back pocket. For data centers, a single rack of DC100 SSDs can achieve over 100PB of raw capacity. Data centers can reduce power, cooling, and rack space costs by 85% per terabyte, enabling more workloads to move to flash at the lowest possible TCO.
 
Plug-and-Play and Balanced Performance for Diverse Workloads
Featuring the same 3.5″ form factor and SATA interface used by HDDs, the new SSD is plug-and-play compatible with hundreds of storage and server platforms. Its low-power (0.1W/TB) and portability also make it for edge and IoT applications.
The DC100 achieves up to 100,000 IO/s (read or write) and up to 500MB/s throughput. This equally-balanced R/W performance is for a range of workloads, from big data and machine learning to rich content and cloud infrastructure.
 
"The release of such a high capacity flash device that is fully compatible with HDD form factors opens up the opportunity to turbo charge big data platforms while at the same time improving reliability, reducing device count, increasing data mobility, and lowering the TCO of multi-petabyte scale storage platforms," said Eric Burgener, research VP of storage, IDC. "Devices of this class will allow flash to cost-effectively penetrate a broader set of use cases outside of tier 0 and tier 1 applications."
 
Reliability and Complete Data Protection
The DC100 is protected by an unlimited endurance guarantee for 5 years. By doing away with confusing drive-writes-per-day restrictions, the DC100 offers peace of mind, reduces hardware refresh cycles, and eliminates costly support renewals. Embedded capacitors ensure that buffered data is safely protected if there is a sudden power loss. Encryption, multiple ECC processors, and a secure-erase feature ensure data security. The DC100 offers MTBF of 2.5 million hours.
 
The ExaDrive DC series includes both 100TB and 50TB models with SATA or SAS interface. It is currently sampling to strategic customers and will be available in summer 2018.
Nimbus Data has qualified the DC series in storage and server enclosures from major vendors.
Pricing will be similar to existing enterprise SSDs on a per terabyte basis while offering 85% lower operating costs. Overall, the ExaDrive DC series will cost 42% less per terabyte over a 5-year period compared to existing enterprise SSDs. This TCO advantage factors in the superior endurance, balanced R/W performance, power savings, cooling savings, rack space savings, component reduction, and lower refresh costs.
Comments
Monstrous 100TB SAS/SATA SSD, that's Nimbus Data just revealed, a capacity never seen for a flash disk, former record being 50TB claiming to be shipped by Viking Technology (based on Nimbus technology), by Seagate (just an announcement never produced), and by Smart Modular (also based on Nimbus technology), all of them in 3.5-inch form factor with SAS only.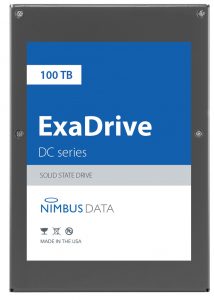 Samsung and Toshiba are behind with 31TB but in much smaller 2.5-inch volume.
The private Californian company was essentially known up to now for its ExaFlash AFAs, claiming 200 customers including Walt Disney Studios, Digital River, Raytheon, Boeing, Dreamworks, Citrix Systems, eBay, and Koch Industries. But in this field, the firm is far behind Dell EMC, NetApp, Pure Storage, Dell, HPE and others.
But at 2017 Flash Memory Summit, we already learned that Nimbus Data was working on a 4U ExaFlash C-series all-flash subsystem with 3.5-inch removable SSDs at 50TB each, apparently from the company's own design.
Note that Nimbus is one of the few and maybe the only AFA firm designing and manufacturing (in USA) its own SSDs or PCIe units.
This time, the ExaDrive DC100 is not only for Nimbus but will be sold stand-alone to be integrated by customers into servers/storage enclosures of their choice.
Unfortunately, CEO and founder of Nimbus Data Thomas Isakovich didn't answer to some basic questions we ask him for: price, precisely NAND chip used, from which manufacturer (probably SK Hynix following a partnership between the two companies, as well as partner Viking for its 50TB), name of qualified customers.
3.5-inch SSDs is just a niche market as this form factor is not available on most AFAs, servers and workstations.
Today's highest capacity for an HDD is 14TB by Toshiba and Western Digital, or 7X less that the Nimbus' 100TB SSD, but at much lower price per gigabyte.
Comparison of SSDs
Click to enlarge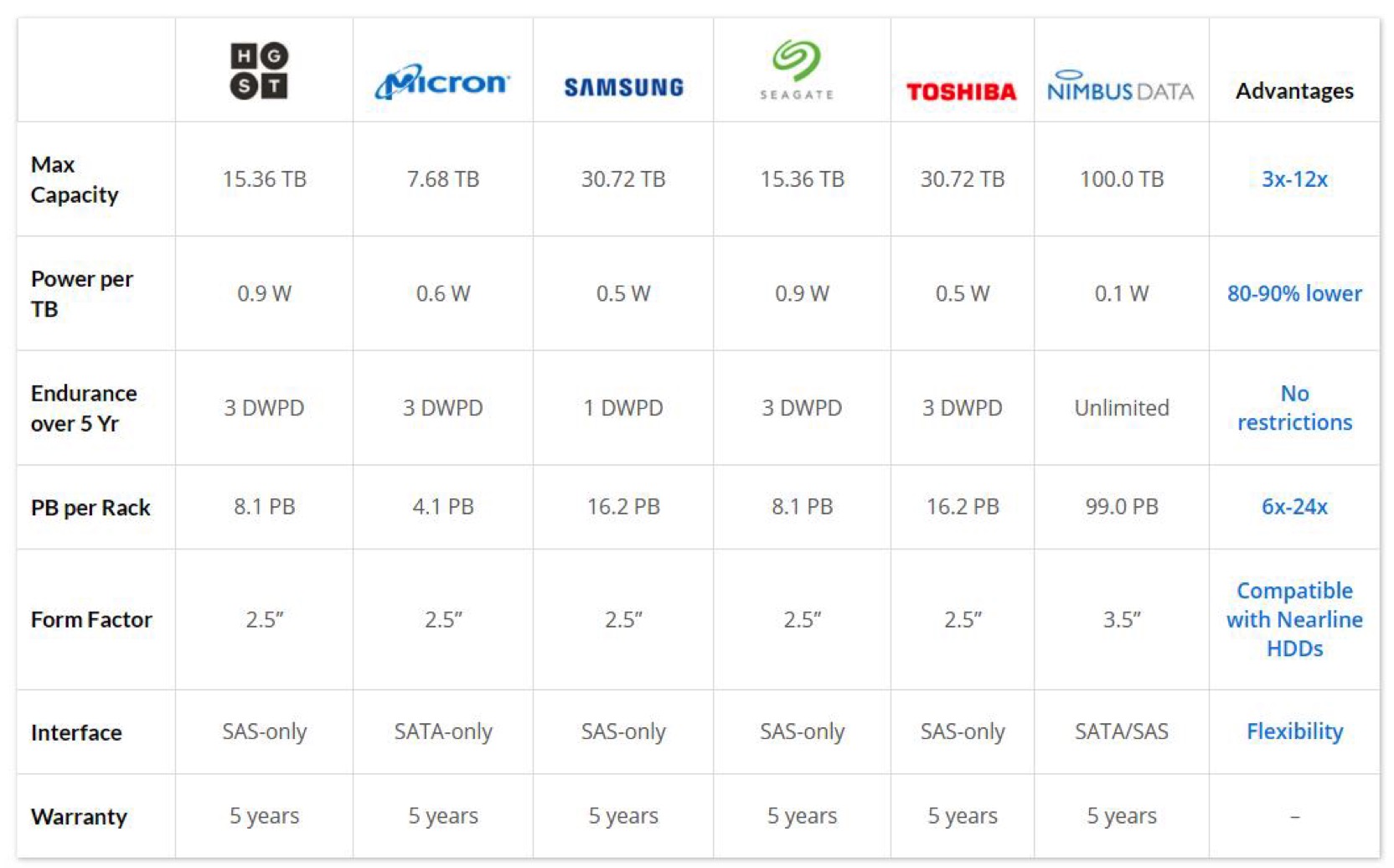 (Source: Nimbus Data)
Note: Here Nimbus is not including 50TB SSDs from Viking Technology and Smart Modular based on its technology)
Read also:
Flash Memory Summit: Nimbus Data Unveiled ExaDrive
Software and multiprocessor solution for next-gen SSDs enabling 3.5-inch 500TB by 2020 or 600PB in single rack
2017.08.14 | Press Release
Flash Memory Summit: Viking Technology Showcased 4.5PB in 4U JBOF
Using 3.5-Inch SAS 50TB SSD, powered by ExaDrive technology from Nimbus Data
2017.08.14 | Press Release
Viking Technology Claims to Ship 6Gb SAS 50TB SSD
"It's industry's highest capacity drive," company said.
2017.07.17 | Press Release | [with our comments]
Nimbus Data Partners With SK Hynix
For NAND flash
2016.09.13 | Press Release