Viking Technology Claims to Ship 6Gb SAS 50TB SSD
"It's industry's highest capacity drive," company said.
This is a Press Release edited by StorageNewsletter.com on July 17, 2017 at 2:23 pm
Viking Technology, a division of Sanmina Corporation, unveiled its UHC-Silo SSD that delivers flash performance with the industry's highest capacity (50TB).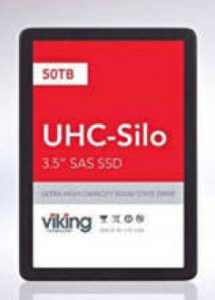 It is part of the Ultra High-Capacity (UHC) family of Viking products, enabling data center space and power reduction compared to HDDs, while offering the same 3.5″ form factor and standard SAS interface, easing the migration to flash.
 
UHC-Silo SSD series, powered by a next generation flash processor, balances performance, capacity, cost, and energy efficiency, making it for applications such as cloud computing, big data, external storage systems, digital imaging and media, technical applications and cold storage.
At 25TB and 50TB capacities, the UHC-Silo SSD products are the highest capacity SSDs shipping today. 
 
Purpose built for energy efficiency, they offer idle power consumption under 10W and active power usage of 16W, increasing overall storage capacity per rack while decreasing power per terabyte.
Data centers looking to transition to a plug-and-play UHC-Silo SSD can realize cost savings in power, space, and cooling of up to 80% per terabyte. 
 
"Some system administrators are looking for a way to extend the useful life of existing hardware, since it may function perfectly but support too little overall capacity," said Jim Handy of research firm, Objective Analysis. "With ultra-high-capacity SSDs, not only can they reach beyond the capacity limits of enterprise HDDs, they can also cut power and improve performance without having to replace the entire system, by implementing a simple media change."
 
"There is no higher capacity SSD solution available today than the UHC-Silo SSD," said Hamid Shokrgozar, president, Viking. "These drives enable datacenter administrators to easily migrate to SSD performance, along with a tremendous increase in capacity. With space and cooling being critical drivers for today's data centers, these advantages are a game changer."
Comments
The 50TB Viking Technology UHC-Silo SSD is not the highest capacity solid-state disk announced.
At Flash Memory Summit 2016 one year ago, Seagate revealed a 60TB unit in the same 3.5-inch form factor at 60TB with the same SAS interface It was only a demonstration technology and was anticipated for "some time in 2017". The unit was based on Micron 3D NAND and it was confirmed that Seagate could be able to increase the capacity to 100TB in the future. The controller was manufactured by Taiwan Semiconductor. But finally, Seagate never confirmed the availability of this huge unit, never revealed its price, and the model is not published currently on its web site. AT FMS 2016, Jim Handy, director and chief analyst, Objective Analysis, guesses it will around $20,000 and it could be the same one for the UHC-Silo SSD and even more as NAND chip prices are increasing these past months.
At the same former FMS, Nimbus Data revealed a 4U ExaFlash C-series all-flash subsystem with a 3.5-inch removable SSDs at 50TB each, apparently from the company's own design.
The big difference here with Seagate is that Viking stated that the UHC-Silo SSD is shipping.
No pricing is announced in the press release. As everybody knows, when this information is not published, it means a high price.
Nearly all other SSDs are offered in 2.5-inch form factor or less. Several years ago 3.5-inch was a popular volume for SSD to get the possibility to reach higher capacity at a time where the flash chips were much larger and when 3.5-inch form factor was popular in the industry.
50TB in a 3.5-inch form factor, here with planar SK Hynix MLC∞ is not such an exploit. Volume is 101.6mm (length) x 147mm (width) x 26.1mm (height) or 389,809mm3. Today into 2.5-inch form factor, generally 7mm height for SSD, you can get in 49,028mm3 volume or 8X less at 32TB from Samsung. It means that, theoretically, 256TB is possible is a 3.5-inch SSD using the same NAND chips.
Our comments on the new UHC-Silo SSD are the same we have written for the 60T Seagate eleven months ago: "Few of today's storage subsystems or servers are able to accept 3.5-inch volume for drives. Also we don't see SSD - too expansive - becoming a storage media for cold data in the next future. Seagate, now in SSD for a long time, continues to be a small player in the market and this 60TB announcement is not going to change drastically its ranking. But it's a nice PR stunt. Furthermore, with this 60TB unit, Seagate took another step to kill its own enterprise 10,000 and 15,000rpm HDDs and it will compete with its highest capacity 3.5-inch at only 10TB, six times less."
But our last comment was wrong: "We doubt that other manufacturers will enter into 3.5-inch SSDs that is going to be a niche market."
Viking did it.
But we continue to think that few many other makers will enter into 3.5-inch SSDs.
SSDs at 10TB and more
| | | | | |
| --- | --- | --- | --- | --- |
| Announced in | Vendor | Model | Form factor | Capacity |
| 2016 | Seagate Technology | 60TB SAS SSD | 3.5 inch | 60TB |
| 2017 | Viking Technology | UHC-Silo SSD | 3.5 inch | 50TB |
| 2016 | Samsung | 32TB SAS SSD | 2.5 inch | 32TB |
| 2017 | NGD Systems | Catalina | PCIe | 24TB |
| 2012 | OCZ Technology | Z-Drive R4 CloudServ | PCIe | 16TB |
| 2012 | OCZ Technology | Z-Drive R4 CloudServ RM1616 | 2.5 inch | 16TB |
| 2016 | Samsung | PM1633a | 2.5 inch | 15TB |
| 2013 | Virident Systems | FlashMAX MLC | PCIe | 14TB |
| 2017 | Memblaze Technology | PBlaze5 | 2.5 inch, PCIe | 11TB |
| 2016 | Smart IOPS | Data Engine T2 | HHHL AIC PCIe | 10TB |
| 2016 | Smart IOPS | Data Engine T2D | HHHL AIC PCIe | 10TB |