Flash Memory Summit: Viking Technology Showcased 4.5PB in 4U JBOF
Using 3.5-Inch SAS 50TB SSD, powered by ExaDrive technology from Nimbus Data
This is a Press Release edited by StorageNewsletter.com on August 14, 2017 at 2:22 pm
Viking Technology, a division of Sanmina Corporation, showcased at the Flash Memory Summit 4.5PB of flash storage in a 4U JBOF.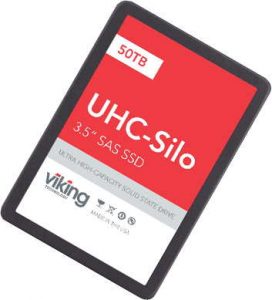 This 4U configuration uses the recently announced UHC-Silo Solid State Drive, a SSD that delivers flash performance with 50TB.
The UHC-Silo SSD, part of the Ultra High-Capacity (UHC) family of the firm's products, can increase the storage capacity of any system environment that uses a standard 3.5″ SAS form factor. As system storage needs increase, datacenters are able to maximize storage and performance without increasing footprint or power resources. Powered by the ExaDrive technology from Nimbus Data Systems, Inc., the UHC-Silo SSD increases the storage capacity of existing racks.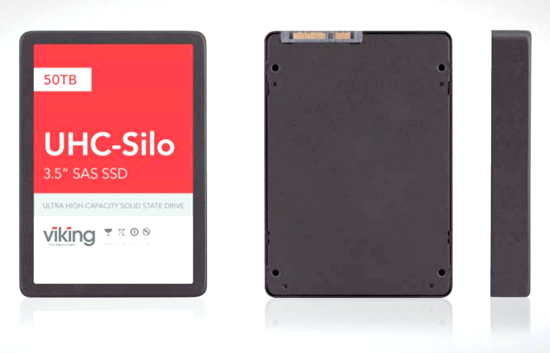 "This is a game changer for upgrading existing storage systems within datacenters," said Hamid Shokrgozar, president, Viking. "Datacenter administrators can easily upgrade their existing off the shelf systems with the highest capacity SSD available today. The UHC-Silo is a high-capacity solution that extends the life of their datacenter infrastructure, while minimizing CAPEX."
"Viking Technology's UHC-Silo 50TB SSD, powered by Nimbus Data's ExaDrive technology, will reshape the way data centers build out their storage infrastructure," stated Thomas Isakovich, CEO and founder, Nimbus Data. "Rack-scale all-flash solutions demonstrate the massive leap forward in torage capacity, energy efficiency, and space reduction that flash makes possible."
Click to enlarge