Flash Memory Summit: Nimbus Data Unveiled ExaDrive
Software and multiprocessor solution for next-gen SSDs enabling 3.5-inch 500TB by 2020 or 600PB in single rack
This is a Press Release edited by StorageNewsletter.com on August 14, 2017 at 2:24 pm
Nimbus Data Systems, Inc. unveiled ExaDrive, a software and multiprocessor solution for next-generation solid state drives (SSDs).
Based on a patent-pending architecture, ExaDrive enables OEMs to offer SSDs with record storage capacity, density, longevity, and the lowest energy consumption per terabyte.
With an interface and form factor identical to HDDs, but with more capacity, ExaDrive will accelerate flash adoption in the data center. Viking Technology, a division of Sanmina Corporation, and SMART Modular Technologies, a subsidiary of SMART Global Holdings, Inc. recently began shipping 50TB and 25TB ExaDrive-powered SSDs for cloud infrastructure, technical computing, and digital content storage.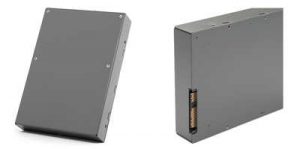 "ExaDrive's software-defined multiprocessor architecture for SSDs delivers a game-changing leap forward in capacity, density, and energy efficiency that HDDs will never be able to recoup," stated Thomas Isakovich, CEO and founder, Nimbus. "ExaDrive broadens the appeal of flash memory to tier 2 and nearline use cases, enabling flash to become the dominant data center storage media."
Patent-pending multiprocessor and software-defined architecture
Conventional SSDs are based on a single flash controller. As flash capacity increases, this monolithic architecture does not scale, overwhelmed by error correction operations and the sheer amount of flash that must be managed. In contrast, ExaDrive is based on a distributed multiprocessor architecture. Inside an ExaDrive-powered SSD, multiple ultra-low power ASICs exclusively handle error correction, while an intelligent flash processor provides wear-leveling and capacity management in software. ExaDrive's software-defined architecture will enable SSDs as large as 500TB by the year 2020, achieving up to 600PB in a single rack. This represents a 50x increase over what is possible with HDDs today.
Accelerating migration from HDD to SSD in data center
40 million nearline/high-capacity HDDs are shipped per year, and all of them use the 3.5″ form factor. HDD capacity, however, has plateaued, and performance per terabyte is in freefall. Migrating to flash is paramount, but existing SSDs do not match the form factor, interface, and power envelope of HDDs, forcing users to buy all-new systems. With ExaDrive, data centers can immediately rip-and-replace HDDs with flash. It supports the standard SAS interface and is optimized to fully utilize the volume of the 3.5″ form factor. As a result, ExaDrive-powered SSDs offer 5x the capacity of nearline HDDs in the same size and power budget, enabling a 5:1 reduction in rack space and power per terabyte.
Improving tiered storage and data center standardization
For tiered storage use cases, ExaDrive-powered SSDs give users the flexibility to mix-and-match nearline HDDs and SSDs in the very same enclosure. When compared against 2.5″, U.2, M.2, or NVMe SSDs, the common 3.5″ form factor and SAS interface shared between nearline HDDs and ExaDrive-powered SSDs enable data centers to standardize on one design for all tiers of storage. This standardization simplifies the daunting task of capacity planning, maximizes rack utilization, and cuts cost by reducing the number of storage and server enclosure designs. ExaDrive supports up to ten years of write endurance, reducing support costs, improving QoS, and extending ROI.
Independent lab validation of ExaDrive
Demartek LLC, a storage industry analyst organization with its own ISO 17025 accredited test lab, performed hands-on testing of the ExaDrive technology.
"ExaDrive is by far the largest capacity single drive that Demartek has ever tested, either HDD or SSD," said Dennis Martin, president, Demartek. "With a standard 3.5″ form factor and SAS interface, the drive was plug-and-play in our 12GB SAS JBOD and came online immediately. Our Iometer tests found that the 50TB ExaDrive-powered SAS SSD performed in line with Nimbus Data's claims, consuming between 14.5 and 16.5 watts under various read and write workloads and a mere 7 watts at idle."
50TB UHC-Silo 3.5-Inch SSD
from Viking technology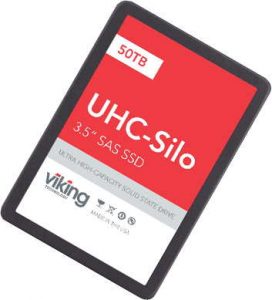 ExaDrive-powered SSDs shipping
Earlier this year, the company forged strategic partnerships with providers of flash solutions. Viking Technology, a division of Sanmina Corporation, recently announced the UHC-Silo, a 50TB and 25TB SAS SSD powered by ExaDrive technology. SMART Modular Technologies, a division of SMART Global Holdings, Inc., recently announced the Osmium Drive, available in 50TB and 25TB capacities, also powered by ExaDrive technology.
50TB Osmium Drive 3.5-Inch SSD
from SMART Modular Technologies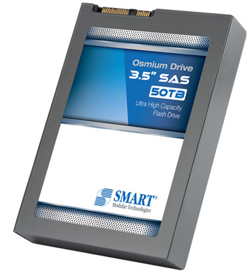 ExaDrive reference designs
For new design partners, the company has developed several ExaDrive reference designs. They help OEMs accelerate time-to-market. ExaDrive reference designs are available for select engagements.
ExaDrive-powered SSDs are available from partners Viking Technology and SMART Modular Technologies.