Cohesity Expands Collaboration with Microsoft
To bring enhanced data security and backup protections to Microsoft 365
This is a Press Release edited by StorageNewsletter.com on November 20, 2023 at 2:00 pm
Cohesity, Inc. announced at Microsoft Ignite 2023 that it has deepened its relationship with Microsoft to help organizations more quickly respond to and recover from data loss within Microsoft 365 environments.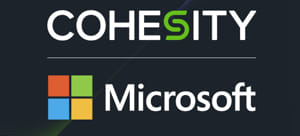 For years, the 2 companies have offered solutions for fast backup and recovery. This includes recent AI and cloud security integrations announced earlier this year across Microsoft environments, from Azure to Microsoft 365.
With this expanded collaboration, Cohesity is working with Microsoft to deliver enhanced backup and recovery performance for Microsoft 365 environments via the integration of native APIs of Microsoft 365 Backup Storage with Cohesity DataProtect. DataProtect is a secure backup and recovery solution that safeguards data vs. sophisticated cyber threats. It offers policy-based protection for cloud-native, SaaS, and traditional data sources. As one of the top workloads secured and managed by DataProtect, enterprises WW trust Cohesity to secure and protect their Microsoft 365 data.
"93% of organizations say that the threat of ransomware has grown significantly in 2023, making it particularly important to protect data across cloud environments," said Sanjay Poonen, CEO and president, Cohesity. "With this integration between Cohesity DataProtect and Microsoft 365 Backup Storage, our joint customers will benefit from faster data restore capabilities in the context of their Microsoft 365 configuration and access policies."
"Microsoft 365 Backup Storage provides high-speed point-in-time recovery for data stored in Microsoft 365 environments so customers can react and respond to the latest cybersecurity threats confidently," said Jeff Teper, president, collaboration apps and platform, Microsoft. "We are pleased that Cohesity is working with us to bring high-speed Microsoft 365 backup and recovery operations to Cohesity DataProtect, as customers will gain reduced time to backup and restore data, stronger posture for audits and compliance, and greater data and business resiliency."
Benefit of integration between Microsoft 365 Backup Storage and Cohesity DataProtect:
High-speed data protection and management: With this integration, customers can simplify data protection, recovery, and storage across on-prem and cloud environments by connecting their Cohesity infrastructure to Microsoft 365 backup storage. Through this, they can ensure their data remains accessible, protected, and recoverable to help meet strict RTOs and RPOs.
Compliance and governance: By combining Cohesity's backup and recovery capabilities with Microsoft 365 backup sStorage's compliance features, organizations can remain compliant with data governance regulations – particularly crucial for industries with strict regulatory requirements.
Single pane of glass: Cohesity supports backup and recovery for on-prem, cloud-native, and SaaS workloads, all managed through a single control plane, making it easier to protect enterprise data at scale regardless of where it resides.
AI-based data security features: Users can benefit from early access to integration between Cohesity Turing – an expanding set of AI capabilities that power deep AI-driven insights – and Azure OpenAI Service. This allows organizations to use generative AI to bring more significant insights and power to their data security and protection strategies.
More Information:
Read also :