Cohesity and Carahsoft Partner
To provide data security and management solutions to public sector
This is a Press Release edited by StorageNewsletter.com on September 13, 2023 at 2:00 pm
Cohesity, Inc. and Carahsoft Technology Corp. announced a partnership in which Carahsoft plans to serve as a distributor for Cohesity, making Cohesity's Data Cloud platform available to the Public Sector through Carahsoft's reseller partners, NASA Solutions for Enterprise-Wide Procurement (SEWP) V, IT Enterprise Solutions – Software 2 (ITES-SW2), National Association of State Procurement Officials (NASPO) ValuePoint, National Cooperative Purchasing Alliance (NCPA), OMNIA Partners and E&I Cooperative Services Contract.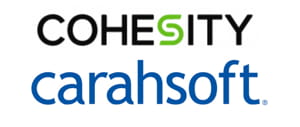 "We are pleased to partner with Carahsoft and its resellers to provide US government agencies with powerful new capabilities based on our leadership position in data security and management," said Kit Beall, chief revenue officer, Cohesity. "We look forward to expanding our strategic partnership with Carahsoft to help public sector customers strengthen their cyber resilience in the face of evolving sophisticated adversaries."
Cohesity's Data Cloud platform consolidates data sources, helps eliminate infrastructure silos, and automate data management tasks. The platform simplifies data management by providing a single interface for managing data across on-premises, cloud, and edge environments. Cohesity's data security and management solutions provide the public sector with granular control over their data which helps them to comply with regulatory requirements and safeguard their sensitive information.
Cohesity Data Cloud's key capabilities include:
Data protection: Captures backup copies of data that are immutably preserved and instantly recoverable in the event of a ransomware attack or other business disruption.
Data security: Offers increased resilience to cyberthreats through cyber vaulting, threat intelligence and scanning, data classification, and 2-way integration with agencies' security operations center.
Data mobility: Enables agencies to move data across hybrid multi-cloud environments, which can help reduce cost and increase flexibility.
Data access: Eliminates wasteful copies, and manages files and objects at scale.
Data insight: Allows agencies to search, classify, and analyze data globally across their entire infrastructure to provide business value or identify sensitive data for compliance.
"The addition of Cohesity's Data Cloud to our portfolio reinforces our commitment to bringing innovative solutions to our public sector customers," said Craig P. Abod, Carahsoft president. "We are excited to work with Cohesity and our reseller partners to help government agencies stay ahead of evolving data security threats and protect their critical assets."
Cohesity's solutions are available through Carahsoft's SEWP V contracts NNG15SC03B and NNG15SC27B, ITES-SW2 Contract W52P1J-20-D-0042, NASPO ValuePoint Master Agreement #AR2472, NCPA Contract NCPA01-86, OMNIA Partners Contract #R191902 and E&I Contract #EI00063~2021MA.
The dedicated Cybersecurity team at Carahsoft specializes in providing federal, state and local government agencies and education and healthcare organizations with security solutions to safeguard their cyber ecosystem.
More Information: 
Read also :