Storj Labs Partner Portal
Enables channel to build profits on Web3, hires alliance manager John Murphy.
This is a Press Release edited by StorageNewsletter.com on December 5, 2022 at 2:00 pm
Storj Labs, Inc. its new partner portal to provide channel partners with a one-stop shop for partner resources.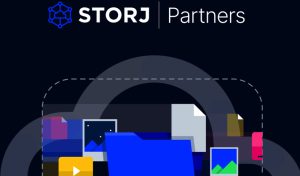 With this partner portal, resellers and SIs can register deals, access Storj materials and training courses, and receive customizable alerts for new products and programs. The firm is pursuing a channel-led sales strategy; in the past 3 months, over 24 partners have signed integration and/distribution deals with Storj, allowing those partners to both increase margins and provide end customers with a security and affordable cloud object option.
"Storj is uniquely positioned to help our partners benefit from the early momentum for alternative IaaS. Cloud object storage is core to the exponential growth in data that every industry and companies of all sizes face. Storj can help the channel get in early on that opportunity and optimize new revenues with the decentralized cloud," said Mark Glasgow, chief revenue officer. "Our partner portal is designed to help the channel learn about and get in early on the coming Web3 wave. Storj is committed to being the Web2 to Web3 sherpa for the channel."
Partner portal brings partners benefits, including:
Ability to optimize revenue opportunities by registering deals
Build their business with on-demand access to resources and training and reach firm's experts for deal assistance when needed
Know when new products, training, and leads are available through customizable alerts 
"WebHouse helps companies protect their data by implementing solutions that are secure, scalable, and that take full advantage of the latest technologies," said Dan Kerning, CEO, WebHouse, Inc., a data lifecycle management and security consulting services. "Storj is our vendor of choice for distributed cloud storage because they deliver next-level security and performance at a fraction of the cost of traditional cloud storage providers. Their new partner portal makes it even easier for us to help our customers and is another example of how well Storj supports channel partners."
Along with the partner portal, the vendor announced it's expanding its business development team to better serve its tech alliance partners.
The company is bringing on Jon Murphy, who will serve as the new alliances leader. An experienced technology executive, he will work with SVP of business development, Colby Winegar, to engage with tech alliance partners (ISVs) and integrate Storj into their products. He previously served as SVP marketing and business development at DBM Cloud Systems, which was acquired by Nasuni in 2022 and has advised a number of companies offering cloud solutions.
"Collaborating with the expanded Storj partnership team and leveraging the very high-quality documentation and tools available in their tech alliance program has helped us more quickly engage the TrueNAS community with a new choice for S3-compatible Web3 storage," said Morgan Littlewood, SVP of product management, iXsystems, Inc. "iXsystems is excited to be on the forefront of bringing the benefits of globally distributed storage to hundreds of thousands of TrueNAS users and customers."
Storj's decentralized model for enterprise-grade cloud object storage utilizes existing HDD space to provide fast, secure, and reliable storage at a fraction of the cost. The company has over 16,000 storage nodes providing secure, distributed cloud object storage in approximately 100 countries.
Read also :