iXsystems: Global Distributed Storage with Storj and 2nd Version of TrueNAS Scale
Web3 storage service for TrueNAS offers offsite S3-compatible storage at fraction of cost of AWS.
This is a Press Release edited by StorageNewsletter.com on September 14, 2022 at 2:02 pm
iXsystems, Inc. announced a Globally Distributed Storage (GDS) service in partnership with Storj Labs, Inc.
GDS is available on TrueNAS SCALE Bluefin BETA, which was also released today. iX will subsequently offer GDS on TrueNAS SCALE Angelfish and TrueNAS 13.0 in Q4 2022. When compared to Amazon S3 and similar cloud storage choices, GDS will be more resilient, more secure, faster, and significantly lower cost.
GDS provides a compelling option to TrueNAS users for a second or third geographic location for data, particularly for organizations that do not operate multiple sites. It is the complement to a ZFS-based storage system like TrueNAS that already provides high performance and reliable storage within a data center, office, or home. Additionally, TrueNAS systems can now act as either the client that uses GDS, a node that participates as a provider to the GDS, or a combination of both.
"Many organizations in 2022 still struggle with the cost and complexity of reliably storing valuable data across sites and regions," said Marc Staimer, chief analyst, DragonSlayer Consulting. "Globally Distributed Mission-Critical Enterprise-class storage consumed like traditional cloud object storage services, at a surprisingly affordable cost solves a major problem for many medium to large IT organizations."
Like ZFS, GDS is inherently secure with CloudSync 256 bit encryption for both data-at-rest and data-in-flight. Most importantly, the keys are controlled by the TrueNAS administrator. Unlike many cloud storage services, neither iX nor Storj can access user data, for any reason, without those security keys. Compared to traditional cloud storage services, GDS with Storj offers double the bandwidth and 11 nines of durability, at $4 per TB/month for storage and $7/TB for bandwidth, equating to better than 80% savings.
"Storj is bridging open source software and decentralized platforms so that developers and IT can confidently build on web3 infrastructure," said Ben Golub, Storj CEO. "Together with iX, we are powering better choices for enterprise-grade storage that is more performant, sustainable, and cost effective. We are excited to help unlock new revenue sources for open source businesses."
"Bluefin" is the second major version of TrueNAS SCALE and succeeds "Angelfish", furthering the functional capabilities of scale-out storage and open hyperconvergence. More than 25,000 users of SCALE within the larger TrueNAS Open Source community have contributed to its development process. The new Application Charting System using Helm and K3s make TrueNAS SCALE a platform for products and services from third-party App providers that are ready-made to deploy and operate.
In addition to GDS, TrueNAS SCALE Bluefin brings several major enhancements that enable enterprise adoption:
Scale-Up Performance Improvements

– HA with over 1,000 drives per node

Active-Active Reliability

– Hardened clustering with simplified operations and Kubernetes CSI. 

Linux-based Security Enhancements

– FIPS 140-3 encryption compliance and improved Role-Based Access Control.
As with TrueNAS SCALE Angelfish, Bluefin also includes tools to migrate smoothly from TrueNAS CORE in addition to licensing support for smooth migration from TrueNAS Enterprise.
"As the company behind TrueNAS, iX is excited to offer new storage services and ever more capable software editions to our customers and community" said Morgan Littlewood, SVP of product management, iXsystems. "Globally Distributed Storage with Storj will offer secure control over highly-durable data for all TrueNAS editions, and look forward to working with our community to bring TrueNAS SCALE Bluefin to market."
Pricing and Availability
Additional Resources
Comments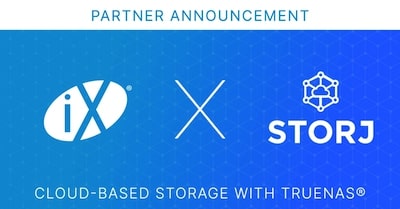 Decentralized storage is a reality, we don't know if the term Web3 is appropriate and if it belongs to the virtual wave but clearly it is a strong trend. It is not new as several of these p2p services more than 10 years ago and the SNIA has a tutorial covering that aspect and its date is around 2010 and even probably before. What is more recent it their implementation with Blockchain technologies? On this p2p/blockchain-based distributed storage, and the right term is decentralized storage (DCS), more than 20 companies or products coming from all over the place. Here is the list, some disappeared but it's worth to mention them to realize the reality of that domain: 0Chain.net, Adanam Tech., Aerofs (acquired), Aetherstore, Airwave, Aleph.im, Blockade (dead), Cloudplan, CESS, Cubbit (acquired), Filebase, Hive, Infinit (acquired), Inspeere, Kerstor (acquired), Kopit (dead), Memento Cloud, Opacity, Protocol Labs, Seal Storage, Sia.tech, Space monkey (acquired), Storj, StorX Network, Symform (acquired then dead), Transporter (acquired), Tudzu (dead), Ubbey Tech (dead), Ubistorage (dead), Ugloo, W3 Storage Lab and Wuala (acquired then dead).
This solution confirms once again that S3 is the universal data access standard today.
DCS has clearly a role to play and a significant one when you consider compliance, data privacy and data ownership. The recent debate, we refer to the study from Netherlands, about Cloud Act effect on European sites and data, reinforces the need to have a strong boundary proof data storage zone.
We imagine a company with sensitive data wishing to have a total control of the residence with any supra-state or country rule working with a set of partners in a large ecosystem. Let's pick an airplane manufacturer, a healthcare conglomerate or real estate large entity, choosing this model solves a lot of issues and offers more control of the cost side.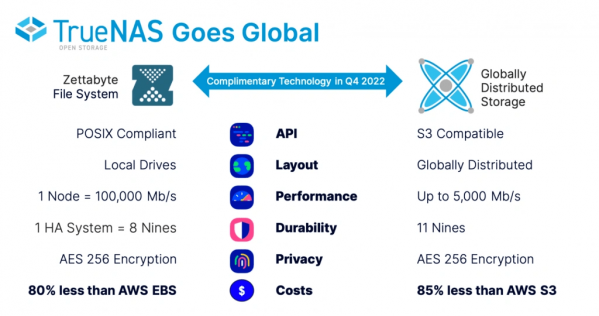 Beyond this data control, the cost dimension is a significant one when you compare with pure in-house deployments and public cloud models.
We think 3 deployment models can be applied here:
Purely private within an enterprise or within a ecosystem, the usage is limited to enterprises that belongs to this ecosystem,
Public to offer a cloud service provider. In that case, the provider implements itself all the storage nodes and expose some entry points to the external world to enterprises or consumers.
Standalone with independent contributors who participate to the global storage space and the protection. It reminds us  what pioneers like KerStor, Symform or Wuala did ... in 2009.
In term of use cases, even if on the paper the value proposition seems to be attractive for various use cases, it appears that many, not to say all, start with secondary storage use cases such backup, tiering or archive. For this new joint solution, the first copy of data is kept on a TrueNAS system and the secondary copy directly on the Storj network. We'll see if this will stay like this, we understand the first copy addresses the RTO but globally there are 2 copies. The iX system is already very secured and Storj, by nature, is hyper durable with distributed wide erasure coding with dispersed storage nodes. For iX, they chose the same phase 1 and they will try some other use cases for phase 2 with some verticals integration in mind for sure and especially an effort towards CDN.
iX and Storj collaborate an a revenue sharing model, the entry point being Storj. A dedicated pricing page is available with 3 regions and the first 150GB are free, to test then eventually adopt the solution.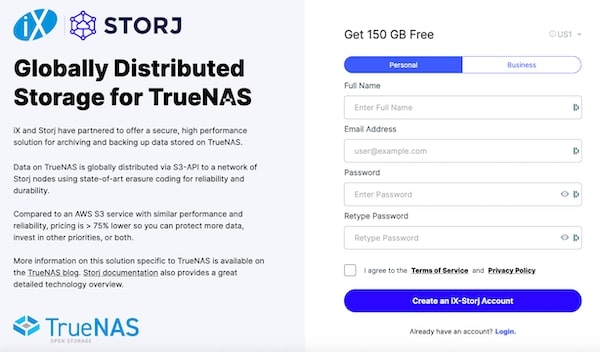 For Storj, growing but still very small, they need such established players with real market footprint. They even just announced a partnership with Hammerspace as Mark Glasgow, VP sales of Storj, was in the same role at Hammerspace a few quarters ago.
iX appears to be an obvious alternative to many established storage vendors, whatever they offer block, file or object. The company operates at a $100 million annual run rate and will continue its growth as there is no reason that their open source model would stop. For a long time, a bit confidential with some disconnect between the company and their 2 brands, FreeNAS and TrueNAS, the team has decided to change that and rename the company iX with a unique brand TrueNAS for small to high-end systems.
This is an interesting storage technology angle and we'll see how competition will react to this announcement.