Special Report on NAB 2019
Good edition with storage at every corner
By Philippe Nicolas | April 19, 2019 at 2:26 pm
From April 6 to April 2112, the NAB Show (National American Broadcaster) 2019 was, once again, a gigantic expo with 91,460 attendees (compared  to 92,912 in 2018), including  24,096 outside USA, representing 165 countries and 1,600+ exhibitors.
Media and entertainment is a large market segment for the storage industry. More and more greedy in capacity, now in-cloud media processing and operations, distribution and live streaming, networks bandwidth, complex media workflow, sophisticated editing and image/video processing, frequent movie production plus recent development in VR, drones and even IoT applications, all these illustrate the key role of storage in that industry.
Following 2018, Oracle have decided to have a booth to show its DIVA solutions and HPE did the same as well.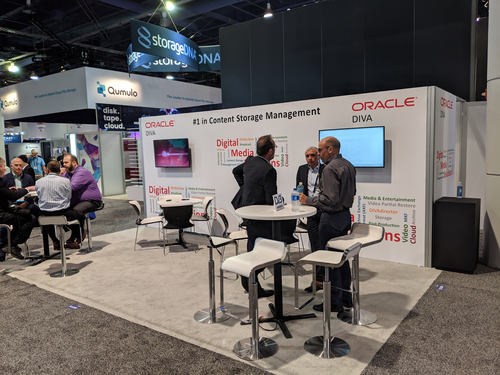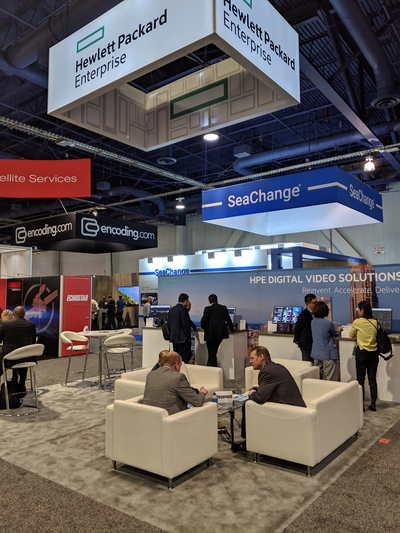 On the other hand, Cisco, Dell and IBM had decent booths promoting intelligent comprehensive workflows and use cases, IBM showed Spectrum Scale and solutions around Watson and Aspera, Dell solutions with Dell EMC Isilon. We also anticipate some news soon about IBM Cloud Object Storage.
We navigated in AWS, Google and Microsoft booths, growing their footprint every year with in-cloud media management and processing. Meeting at the show Ron Bianchini, CEO and founder of Avere Systems, he confirms the perfect fit of its NAS accelerator in such projects. Pixar is an Avere customer for many years now, swapping their back-end filers almost for every movie in production but keeping their first-tier Avere NAS. Other cloud storage vendors were there like Backblaze for B2 and Wasabi announcing their Media Innovation Cloud Alliance. We met partner Acembly on Wasabi booth speaking about an interesting cloud data management approach.
The event confirms the file storage adoption with different technologies, essentially divided in two categories:
The classic NAS approach with NetApp, Pure Storage, Qumulo and MediaKind. The latter is the spin-off from Ericsson Media business Unit illustrating the return of Fabrix Systems under the name Video Storage and Processing Platform.
The SAN file sharing heritage what we call today asymmetric [parallel as well for some of them] distributed file system with the need to install a piece of software (agent, driver, etc.) on clients as the file system exist between consumer i.e clients and producers i.e servers. It's the case for Alcestor with MooseFS, Avid with Nexis, DDN, Dynamic Drive Pool aka DDP, EditShare, Facilis with HUB, Harmonic with MediaGrid, IBM with Spectrum Scale, Quantum with StorNext, Quobyte, Rohde & Schwarz with SpycerNode based on IBM Spectrum Scale, ScaleLogic or Tiger Technology.
Secondary storage was also present in different flavors, tape vendors like Spectra Logic, Qualstar. We visited the LTO consortium booth, data management specialists such Komprise, Atempo, StorageDNA or XenData, secondary disk solutions like Disk Archive, Nexsan, StorByte or Seagate promoting TapeArk solutions and many server vendors and object vendors like Caringo, Cloudian, DDN, Masstech, Object Matrix, Pure Storage, Scality or WDC but now also Qumulo with the Minio announcement.
We noticed the presence of Atempo with its new visual identity promoting Miria and its data migration service already adopted by Huawei, DDN and more recently Qumulo. Mellanox has a small booth showing their Ethernet Media Fabric.
Among the tons of announcements, here is a selection:
Avid Nexis | Cloudspaces as an extension for Nexis to park media on Azure cloud,
Facilis HUB replacing TerraBlock still with the famous recognized file system and cloud object storage with Wasabi and Azure with XenData integration,
Quantum F-2000, a new F-Series – FS2000 – 2U 24 dual-ported NVMe SSD storage array,
Qumulo as mentioned above with a new denser and faster C-72T appliance, Cross-Protocol Permissions and S3 based on Minio, 
Seagate with 2 new LaCie devices a Rugged RAID Shuttle and 2big RAID with USB ad Thunderbolt connectivity,
Spectra Logic with Spectra Swarm to provide Ethernet connectivity to LTO tape libraries and a new iteration of BlackPearl, and
Western Digital with the new G-Technology ArmorATD drive and the combination with AMD EPYC processors.
Again a very interesting show with tons of people, new technologies and developments. Really a must attend for everyone interested in storage.
NAB Show 2020 will be held April 18-22, as usual in Las Vegas, NV.