Atempo Software ADA on Huawei NAS and Object Storage Products
Big deal for small French publisher
This is a Press Release edited by StorageNewsletter.com on October 29, 2018 at 2:26 pm
At Huawei Connect 2018, Huawei Technologies, Co., Ltd.  and Atempo SAS jointly released the high-performance and massively scalable unstructured data movement solution that supports Huawei's range of NAS and object storage products.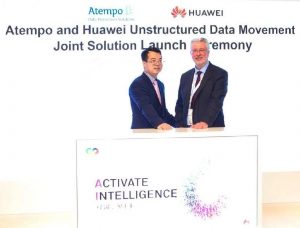 The two companies combine to leverage their expertise to provide customers with flexible backup, archiving, and migration services for large NAS and unstructured data management.
Click to enlarge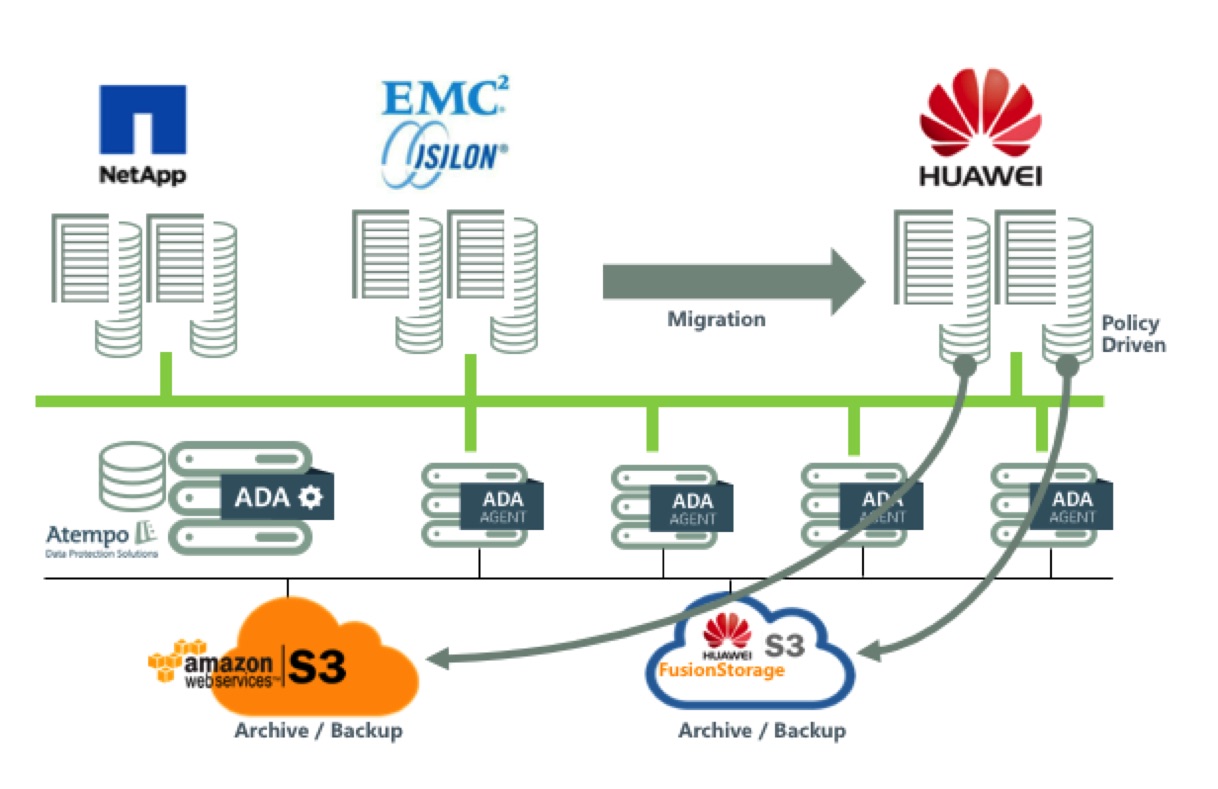 The joint solution leverages Atempo's flexible data movement architecture to deliver constant and adapted throughput to network and storage needs. When a customer requires greater levels of backup or migration performance, Atempo can simply add additional data movers to handle the increased capacity.
The flexible solution has the capability to source data from all scale-out NAS and move it to Huawei storage, NAS, or S3-based storage using the same data-mover system. At the filesystem level, Atempo Digital Archive (ADA) collects files, folders, and symbolic links from production storage to replicate them to the target platform with fully intact Access Control Lists (ACLs).
In different verticals – including research, industry, education, and healthcare – organizations are now generating and managing millions or billions of files of all sizes. Fueled by new business requirements such as the IoT, machine learning, and the rise of 5G, data-growth rates are causing major disruptions for business infrastructures. Data is less static because AI and machine-learning applications require it to be readily available for analysis, either on-premises or in the cloud. As a result, data needs to be moved, protected, and available at all times.
Huawei and Atempo have launched numerous joint programs with business-driven characteristics to respond to rapidly-evolving market demands including:
Customers needing to protect large volumes of unstructured data that can no longer be fully backed up using legacy solutions
Companies needing to backup and archive large-file data sets to the new Huawei FusionStorage object storage system
Projects needing to migrate mission-critical file data sets to the Huawei file storage system
Workflows requiring data management on NAS, with cold data being automatically migrated to the new FusionStorage object system or to the public cloud for storage
"Customers of all industries and fields are now facing petabyte-scale data volumes, and they expect high performance and high reliability when moving these files between high-performance NAS and second-tier storage including object and cloud storage," said Ferhat Kaddour, Atempo's VP sales ans alliances. "Atempo's collaboration with Huawei unlocks new levels of performance, reliability, and scalability for the migration, copy and protection of mission-critical data."
"In this digital age, businesses are growing very quickly and they need data center infrastructure that delivers scalability and improves resilience," said Liao Cheng, director of distributed storage SPDT, Huawei IT product line. "Combining Atempo's expertise in data protection and storage with Huawei's experience in providing advanced NAS and object storage infrastructure, our converged solution helps businesses build a seamless architecture to compete in a fast-changing environment."
Comments
Born in 1992, Arempo had a long and complicated history.
After bright success with Time Navigator backup software, sales were not far from $50 million in 2010-2011. But then, the acquisition for financial reasons by ASG in 2011 was a disaster as well as the move to direct sales. Furthermore, the competition accelerates (Cohesity, Commvault, Veeam, Veritas, etc.)
Since 2017, after being independent and back to France, the situation began to be better, especially with the help of Atempo Digital Archive able to manage petabytes of multimedia data.
Soon will appear a new line of software easiest to use, hybrid cloud, multi-point interface and in 2019 de-dupe needing more processing and SSDs but generating a higher price, according to long-time VP marketing Hervé Collard.
This year, CEO Luc D'Urso hopes to reach $17 million in revenue, mainly (80%) in France, with 140 employees and 35 recruited in 2018. Average deal per customer is between €50,000 and €80,000, starting €10,000 and up to €1 million with biggest ones in bank, financial, media and government.
The company has subsidiaries in San Francisco, CA, China, Korea and Singapore, R&D being in France (Toulouse and Vannes).