Qumulo Data Migration Services
In partnership with Atempo
This is a Press Release edited by StorageNewsletter.com on February 14, 2019 at 2:14 pm
Qumulo Inc. announced its Data Migration Service.
Enterprise data managers and administrators seeking to adopt new storage technologies often find the most difficult obstacle is the migration of existing data. Migration of data can be labor-intensive, and typically requires software and hardware rarely used in daily business operations.
Data Migration Service was developed in partnership with digital data protection company Atempo SAS. With Atempo's Miria data protection technology, Qumulo's Data Migration Service provides a complete data migration solution including project management and execution, as well as software and servers that make the data migration process simple and worry-free.
This new service manages the entire data migration process from planning, to execution and validation so that users can focus on their business, not their storage. In addition to migrating the data itself, Data Migration Service also maintains all permissions, directory structures, and application integration seamlessly after the data has been moved.
"Enterprise data is the lifeblood of most organizations today, and administrators need to be confident that throughout the migration process their unstructured file data will be protected and secure, and that the business will continue as usual, without disruption," said Rob Banga, director of customer success, Qumulo.
"Atempo's Miria technology stack enables organizations to securely migrate large volumes of files while providing the best performance in moving data from legacy systems to Qumulo's file storage, be this on-premises or in the cloud. Whether you have billions of small or large files, you will optimize your migration window, preserve data integrity, and lower impact on production systems," said Hervé Collard, VP marketing, Atempo.
Key advantages of Qumulo's Data Migration Service, versus simply copying the data from the old system or trying to migrate through scripts, include:
End-to-end project management from start to finish
Lower production impact or downtime during data migrations – the adaptive read/write mechanism in the software balances availability and throughput
Miria software does not interfere with active usage of the storage system, keeping your environment operational throughout the migration
Scaling data movement performance is easy. Once the data set size, network capacity and existing storage system performance capabilities are documented, the migration can be scheduled to meet migration timeline requirements.
Data remains secure with user authentication, and all rights management policies remain in-place during the migration.
"Qumulo's proven experience in migrating data from legacy systems, now powered by Atempo, allows organizations to avoid unnecessary complications and get their data up and running as quickly as possible," said Ferhat Kaddour, VP of alliances, Atempo.
Data Migration Service is available through Qumulo resellers.
Qumulo offers the freedom to store, manage, and access file-based data in any petabyte, or greater, operating environment. Its solutions are designed to meet today's requirements for scale, offering the high performance file storage system for data centers and the public cloud. The company offers a storage system designed to cost-effectively manage the volume and geographic dispersion of today's technology, both on-premises and in the public cloud. Its solutions are available on its storage servers, on hardware from companies such as Dell, Inc. and HPE, and natively on AWS in the public cloud.
Comments
Surprisingly Atempo Miria doesn't exist on Atempo web site but we understand that Miria is the new name of Atempo Digital Archive (ADA).
Click to enlarge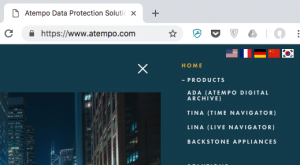 Qumulo is not yet listed on Atempo partners page.
Click to enlarge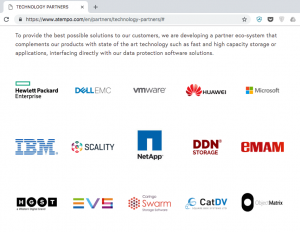 This agreement between the two companies follows two announcements made recently. The first between Atempo and Huawei unveiled in October 2018 and the second with DDN shared in November 2018 during SuperComputing 2018 when DDN has presented DataFlow.
ADA - sorry Miria - continues to be seen as a data migration solution in demanding environment supported by several deployments in vertical industries. After Huawei, DDN and now Qumulo, who will the next one? Panasas, Quantum, WekaIO?