IBC: OWC Launches Up to 64TB Jellyfish Nomad and 180TB Jellyfish Studio Flash-Based Portable NAS
From $11,000 for Jellyfish Nomad, $12,000 for Jellyfish Studio
This is a Press Release edited by StorageNewsletter.com on September 18, 2023 at 2:02 pm
Other World Computing (OWC) announced a new level of portable and desktop collaboration with the introduction of 2 solutions: Jellyfish Nomad and Jellyfish Studio.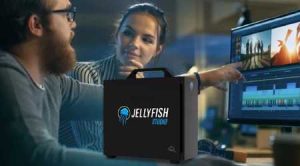 The Nomad and Studio all flash-based solutions redefine teamwork and collaboration, with a standard for shared portable NAS. These solutions empower video editors with a level of cooperative efficiency, underscoring the firm's commitment to enhancing the creative process.
Jellyfish Nomad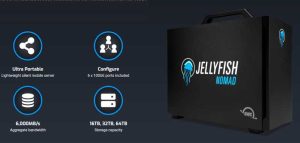 The Nomad is a petite powerhouse designed for DITs, independent 3D studios, and on-the-go editors needing a shared media pool to work on the same project and access the same assets. Built with 6,000MB/s of aggregate bandwidth, capacities up to 64TB of user swappable NVMe drives, 6 direct attached 10GbE ports, and 128GB of RAM, it can handle RAW files, multicamera projects, image sequences, and VR without breaking a sweat. It is fast, portable, and user-friendly shared storage solution for editing teams and redefining the art of teamwork.
Jellyfish Studio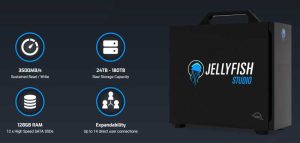 It replaces the Jellyfish Mobile, with leaps in speed, storage, and connectivity. With 3,500MB/s of sustained RW speeds, capacities up to 180TB raw SSD storage, 14 direct attached (6x10GbE and 8x1Gbe) ports, users can share 4K content, documentaries, feature films, episodic content, or amounts of social media at every resolution and aspect ratio they can think of. It's a more efficient way for a small team to accomplish these tasks than with a Jellyfish Studio.
What to see at IBC
See the future of collaborative video editing with the Jellyfish Nomad and Studio at IBC2023 along with demos of other company's solutions that take video professionals from capture to completion.

Capture

–

 

From the first frame to the last edit,

the firm

provides an end-to-end workflow with the Atlas

e

cosystem. Memory cards, Atlas card readers, and Copy That ingest software enable users to capture and transfer ideas easier.
Create – Company's core storage lineup will be on display and actively demonstrated with solutions designed for video professional. From the workhorse ThunderBay RAID enclosures to Flex solutions, to the portable Envoy FX, the firm has every storage scenario covered.  
Collaborate – Working together has never been more important and the firm's Jellyfish solutions and dock lineup make it possible to share projects and ideas easier than ever before – without a dedicated IT staff.  
Complete – Once a project is complete, it is important to ensure it is backed up and secure. The company helps creators do this faster, better, and cheaper with a multitude of archive solutions from disk to tape to NAS that make sure data is safe, secure, and ready to access whenever it is needed. 
All visitors to the company's booth can register to receive a free 1-year license of the firm's Copy That offloading software and MacDrive software that enables Windows PCs to RW Mac-formatted disks
Jellyfish Nomad andJellyfish Studio are available for pre-order with delivery in 4Q23.
Read also :