Flash Memory Summit: Frore Systems and OWC Demo Compact 64TB SSD Storage Device Cooled by AirJet Minis
Including OWC Mercury Pro U.2 Dual storage device operating between 2,200MB/s to 2,600MB/s sustained sequential writes
This is a Press Release edited by StorageNewsletter.com on August 15, 2023 at 2:01 pm
At Flash Memory Summit, Frore Systems demos record breaking large capacity SSD performance, in an industry first 64TB SSD storage device with AirJet.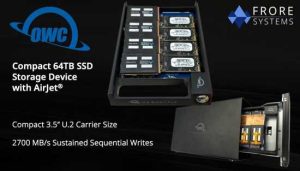 The collaboration with OWC (Other World Computing) showcases the 64TB OWC Mercury Pro U.2 Dual storage device with silent active cooling using 8 AirJet Minis, unleashing performance and enabling the fastest, compact, 64TB capacity SSD storage device in its class.
Heat is the single biggest problem facing the electronics industry, and SSDs are no exception. The excessive heat generated by the fully loaded operation of 64TB SSD renders the device inoperable when using traditional cooling methods like noisy mechanical fans or bulky ineffective heat sinks. With AirJet, the 64TB OWC Mercury Pro U.2 Dual storage device operates between 2,200MB/s to 2,600MB/s sustained sequential writes, enabling large scale storage in a compact form factor for 1st time. This is great news for industries like film and television, that need silent, fast, secure and large-scale storage in small portable packages.
AirJet Mini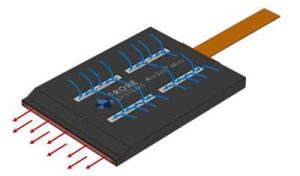 AirJet removes heat with technology that meets the increasing demands of consumers. In both consumer and professional applications, there is a rapidly growing requirement for improved performance which can only be realized through the effective removal of heat. Heat is the single biggest problem facing the electronics industry, and SSDs are no exception. Until now, manufacturers have been forced to use expensive liquid cooling systems or rely on antiquated thermal solutions like noisy mechanical fans or bulky ineffective heat sinks to remove the heat generated by the ever-increasing workloads. These inadequate thermal approaches cause systems to rapidly overheat, forcing reduced performance, throttling after only a few seconds of operation, preventing consumers from getting the full performance they pay for. Device manufacturers, committed to meeting the evolving needs of their customers, are searching for ways to keep up with the performance required, and OWC has been aggressive in staying one step ahead of the growing needs of their customers.
"OWC has been a great collaborator with Frore Systems, demonstrating how AirJet is revolutionizing the SSD industry," said Dr. Seshu Madhavapeddy, founder and CEO, Frore. "Until AirJet, heat removal was the only aspect of modern-day technology that hadn't changed in decades. The OWC 64TB Mercury Pro U.2 Dual storage device with AirJet, illustrates the performance gains achievable with solid-state active cooling, unlocking new opportunities for the SSD industry".
"It is exciting to see the application and benefits for our solutions that the Frore Airjet system presents. I look forward to taking our solutions further and farther in partnership with Frore." said Larry O'Conner, CEO, OWC. "The many ways this technology allows us to increase capacity, long term level up design, improve customer experience and application suitability has opportunities that are endless."
The company launched AirJet Mini in December 2023 and has seen unprecedented demand for the small, highly effective active cooling chip. The AirJet Mini is 2.8mm thick, 27.5×41.5mm in size, and weighs 11 grams. It is a scalable solution, with additional heat removal achievable by simply adding more AirJet chips. Each chip removes 5W of heat, and the integration of multiple chips means 2 chips can remove 10W, 3 chips 15W and so on. AirJet's compact size and scalable nature means manufacturers can adopt the heat removal technology in a range of applications, enabling increased performance in faster, thinner, lighter, silent, and dustproof devices.
About Frore Systems:
It  is the developer of thermal technology for electronic and consumer devices. Its active cooling chip, AirJet Mini, is integrated into devices to remove heat silently, resulting in performance gains. It is headquartered in San Jose, CA with an office and manufacturing facility in Taiwan.