Cohesity Expands Partnership with Google Cloud
To help organizations unlock the power of generative AI and data
This is a Press Release edited by StorageNewsletter.com on June 2, 2023 at 2:00 pm
Cohesity, Inc. announced at its three-day Cohesity Catalyst virtual conference an expanded partnership with Google Cloud to help organizations unlock the power of generative AI and data.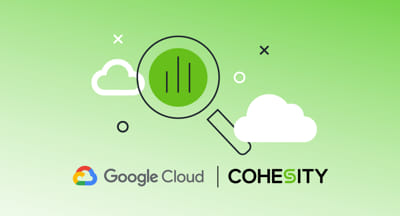 In addition, Cohesity unveiled Turing, an evolving set of AI technologies that brings the power of AI to data security and management. The expanded partnership with Google Cloud, along with Turing, will enable organizations to leverage their entire data estate through a single, secure workflow across on-premises, multicloud, and edge environments.
For years, Cohesity and Google Cloud have provided joint customers with an enterprise-grade solution for backup and recovery of applications. Building on other recent announcements, Cohesity is continuing to extend its AI-ready data security and management platform – Cohesity Data Cloud – to work closely and have deeper integrations with cloud services, including Vertex AI, Google Cloud's fully managed ML platform designed to help companies to accelerate the deployment of ML and AI models.
The combination of Cohesity's data security and management capabilities and Vertex AI will enable joint customers to gain new insights into the same data they're already securing and managing on Cohesity's platform. Through this integration, customers could, for instance, quickly search across exabytes of data to gain insights into data patterns, like finding anomalies in their data to detect threats, or find answers to specific questions, or quickly recover data using contextual searches.
"Vertex AI is one of the best platforms for building, deploying, managing and scaling ML models – and we're excited that Cohesity is joining our growing open ecosystem to help more customers get value from their data via AI," said Thomas Kurian, CEO, Google Cloud. "Cohesity's excellent data security and management capabilities, combined with Google Cloud's powerful generative AI and analytics capabilities, will help customers get exceptional insights into their backup and archived data."
"To apply generative AI transformatively, businesses need to be able to easily get rapid insights from their data utilizing cutting-edge and leading AI/ML models. We are excited to be leading the charge in generative AI in the data security and management industry, as we build out next-gen generative AI solutions for our category," said Sanjay Poonen, CEO and president, Cohesity. "We also agree with Google that AI must be handled securely and responsibly. With our unique platform, Cohesity not only provides phenomenal search via our built-in indexing capabilities, but robust security protocols to help customers maintain control and privacy of their data at every turn."
Creating Efficiency and Insights Via Cohesity Turing
To address the evolving needs customers have with AI and data, Cohesity is introducing Turing, a collection of AI/ML capabilities and technologies that are integrated into its multicloud data platform and solutions. As new AI needs emerge, Cohesity will continue to advance the portfolio of technologies offered and powered by Turing, while enabling customers to use AI responsibly and securely.
Through Turing, organizations can and will be able to utilize the latest AI capabilities to drive more efficient operations, garner greater insight into security risks, and derive more value from data.
A sampling of AI/ML capabilities powered by Turing include:
Ransomware anomaly detection: Uses advanced modeling and data entropy detection to see anomalies in data ingested, which can provide early warnings of a hidden threat with data under protection.
Threat intelligence: Provides curated and managed threat feeds used in conjunction with ML models trained on millions of samples to accurately detect threats and keep organizations up-to-date automatically.
Data classification: Helps ensure that organizations can identify their most sensitive data and where that data is located.
Predictive capacity planning: Enables customers to meet current and future business SLAs with machine-driven recommendations, including a what-if simulator and forecasting capacity utilization based on previous capacity utilization.
In addition, in the near future, customers will be able to turn to Turing to derive even more insights from their data via the Retrieval Augmented Generation (RAG) AI model workflows. Cohesity believes RAG technologies can help customers get deeper insights and discovery from data or quickly find content in petabytes of data. It has multiple patents pending in this area.
Advancing Technology that Was Tailor-Made for AI From Day One
Cohesity Data Cloud – built on a distributed file system for the multicloud – was designed for massive scale and to empower customers to manage and secure their data across on-premises, cloud, and edge environments. Customers can utilize this same platform for AI, deriving benefits from Large Language Models (LLM) and Natural Language Processing (NLP), while also maintaining control of the data.
Via this platform, customers will be able to:
Search for data simply and using everyday language: Backup data from Cohesity is indexed and contains the specific metadata that makes utilizing that data in LLM possible. The LLM can draw upon rich Cohesity context to provide more informed, human-readable and actionable responses.
Maintain strict security protocols and manage AI responsibly: Through Cohesity's built-in role-based access controls, only the right people have access to data based on privileges specified by the customer. Customers can also control what data can be accessed by these AI models.
"Cohesity's data security and management solutions have long incorporated AI and ML capabilities, and with the introduction of Cohesity Turing, Cohesity is taking a unique approach to seamless integration of customer data with responsible AI and governance, ultimately helping organizations to build trust around integrating and leveraging AI with their data," said Christophe Bertrand, practice director, Enterprise Strategy Group (ESG). "And while there is a lot of hype around AI, Cohesity is introducing a pragmatic approach to bring the power of AI to an expanded number of use cases."
Resources:
Read also :