Cohesity and OwnBackup Partner
To offer simplified and consolidated data protection for SaaS workloads
This is a Press Release edited by StorageNewsletter.com on March 27, 2023 at 2:00 pm
Cohesity, Inc. and OwnBackup, Inc. announced a strategic technology partnership to deliver customers a data security and management solution for their essential SaaS applications.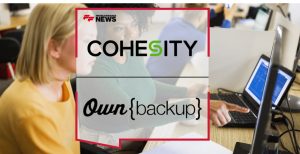 They are partnering to simplify this effort for their joint customers across an array of SaaS applications including Salesforce, Microsoft 365, ServiceNow, and Microsoft Dynamics 365.
As IT operations grow more complex, organizations rely on multiple SaaS applications to run their businesses and are attempting to manage and backup these apps with an array of siloed solutions. Together, the 2 partners will help organizations take greater ownership of their mission-critical data through consolidation and also provide flexibility of choice on the backup environment most suited to their business needs.
This partnership will provide customers of both companies with enhanced capabilities to backup and recover multiple data types, across an array of SaaS applications. Customers will be able to choose to backup their data to their on-premises environment, or to a fully-managed cloud environment.
"Our business increasingly relies on SaaS applications for day-to-day operations. While these products streamline parts of our IT and back-office operations, performing backup and restoration has also been a bit complex," says Dan Lepine, senior director of IT Infrastructure, Epicor Software Corporation. "We look forward to seeing how the partnership between Cohesity and OwnBackup can simplify how we protect and manage our most important asset: our corporate data. Being able to visualize and manage our on-premises and SaaS backup data side-by-side can bring efficiencies into how we manage those data sets."
This partnership is also intended to help joint customers advance cyber resiliency within their organizations. For example, customers will be able to rely on immutability and strict access controls to recover their data predictably in the event of a data breach. From mainframe systems to modern SaaS-based applications, the joint solution will be designed to consolidate the protection of SaaS applications on a single solution, streamlining IT operations, reducing attack vectors for cybercriminals to exploit, and ensuring BC in the event of data disruption.
"OwnBackup understands the need to give customers the data security controls they need and expect when it comes to their backups and provide solutions that best suit their business needs no matter their environment," said Sanjay Poonen, CEO, Cohesity. "As a leader in enterprise data security and management, we want to partner with the best-in-class in their area. We're excited to partner with a leader in SaaS data protection to continue to deliver innovative solutions that our customers can confidently rely on."
OwnBackup is in SaaS data protection with over 8 years of experience helping customers protect their mission-critical data across Salesforce, ServiceNow and Microsoft Dynamics 365. This joint effort will not only simplify management and reduce data sprawl, but more importantly, help customers to secure their data in an immutable format, protected with strict access controls.
"Partnering with Cohesity is a natural fit, as they share our commitment to helping organizations protect the data that they rely on everyday," said Sam Gutmann, CEO, OwnBackup. "Together, we'll enable customers to take ownership of more of their data and leverage it to improve their business."
"Customers are using an increasing number of SaaS apps. Recent research we conducted at Enterprise Strategy Group shows that while many of these SaaS applications are considered mission-critical, data protection is lagging behind: there is a disconnect that could lead to serious SaaS data loss consequences," said Christophe Bertrand, practice director, ESG Research. "Cohesity's recent advancement of an ecosystem of strategic partnerships, including with OwnBackup for SaaS protection is not only timely, it is critical for helping organizations simplify and optimize the protection of their key data assets, wherever they live."
Read also :