Computex: AIC Showcases Next Gen Server and Storage Technologies Systems
Including B202-CP 2U compact edge server, HP202-KT, SB201-HK, SB102-HK appliances for cloud data centers and enterprise storage, J4078-02-04X JBOD, and hybrid cooling liquid technology for future model designs
This is a Press Release edited by StorageNewsletter.com on June 1, 2023 at 1:02 pm
At Computex Taipei 2023, AIC, Inc. showcases its latest server and storage technologies.

It will showcase products designed for AI, edge computing, high-density storage and cloud data centers. The rising business opportunities in edge computing and AI applications have led to the development of massive data processing and HPC storage solutions. The firm develops computing acceleration and performance advancements to meet this evolving trend. Additionally, it invests in green energy technology by incorporating liquid cooling into upcoming product designs as an effort to promote environmental sustainability and reducing carbon emissions.
EB202-CP 2U compact edge server

To address AI and edge computing markets, the firm launches EB202-CP, which is a 2U edge server powered by 4th Gen AMD EPYC processors (codename Genoa). The server is designed with a depth of 22 inches for situations where space is at a premium. The front of the case features a removable case carrier that can be adjusted to support hot-swappable E1.S /E3.S EDSFF or U.2 SSDs. The system supports up to 2xdouble-slot GPU cards and 8xDDR5 RDIMMs with PCIe 5.0 interface. The performance and high-density features of EB202-CP make it for processing massive amount of data in AI and edge computing applications.
EB202-CP 2U specs (preliminary)
Click to enlarge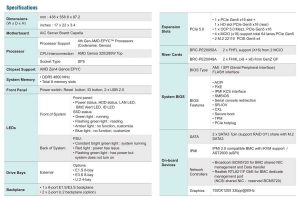 HP202-KT

For cloud data centers and enterprise storage, the company announces its latest product series, HP202-KT, SB201-HK (see below) and SB102-HK (see below). These systems are based on 4th Gen Xeon Scalable processors (codename Sapphire Rapids) and incorporate Intel Corp.'s processor features to provide DDR5 and PCIe 5.0 support. This series are optimized with energy efficiency to offer 2.9x higher average performance/watt enhancement by leveraging product features of 4th Gen Xeon Scalable processors. HP202-KT is a 2U 4-node HCI system that is for data recovery applications by SDS. SB201-HK and SB102-HK support all-flash NVMe PCIe 5.0 technologies to offer fast data process speeds, lower latency and maximize storage capacity.
HP202-KT specs (preliminary)
Click to enlarge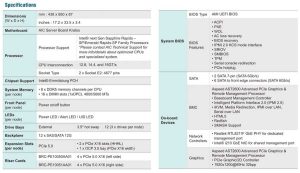 J4078-02-04X JBOD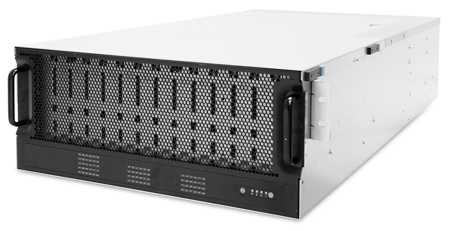 In terms of high-density storage systems, the firm launches J4078-02-04X which is designed with fast data access and large storage capacity. This JBOD accommodates up to 78 hot-swappable 3.5-inch HDDs and has a dual-port 24G SAS4 edge expander to increase bandwidth for system performance. It supports 4 single/dual expanders and each expander has 4 SFF-8674 24G modules for maximizing bandwidth of data transferring. J4078-02-04X is for a range of cold and warm data storage applications in M&E, video and surveillance.
J4078-02-04X JBOD specs
Click to enlarge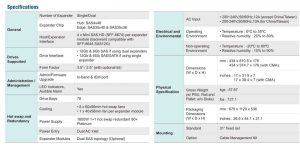 Aligning with the prevailing environmental preservation trends, the company developed a hybrid cooling liquid technology for future model designs. This technology uses cooling techniques without a pump by implementing a closed-loop system with nonconductive fluids to replace the CPU heat sink. This allows multiple system fans to operate simultaneously, leading to savings on space, reduced noise levels and energy consumption. The process includes the cycle of liquid vaporization and subsequent condensation between the evaporator and condenser. By adopting this eco-friendly approach, customers can lower their data center's energy usage, boost its energy efficiency quotient and curtail operational expenses.
"The launch of these products and technologies is a significant progress for AIC in the field of server storages and also represents AIC's advanced capability in product design. With the continuous growth of data and computing demands, AIC is committed to providing more efficient, reliable and environmentally friendly server storage solutions to meet the needs of customers in the ever-changing market environment. We are working closely with partners to create products that not only build the foundation for data centers but also provide an alternative approach to support environmental conservation," said Michael Liang, CEO and president.
The firm will showcase a portfolio of storage server solutions at Computex, from May 30 to June 2 , 2023, in Taipei Nangang Exhibition Center, Taiwan. This year's event will gather global top technology providers to demonstrate their vision for upcoming innovations. AIC is collaborating with its broad ecosystem of partners, including AMD, Intel, Kingston, Micron, PNY, Samsung, Solidigm, Toshiba and WD to showcase the real world performance gains for next gen infrastructure in cloud data center, AI, edge, high-density and enterprise storage.
SB201-HK

SB201-HK specs (preliminary)
Click to enlarge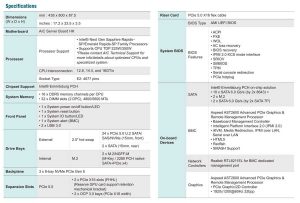 SB102-HK

SB102-HK specs (preliminary)
Click to enlarge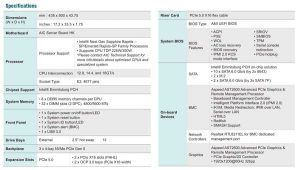 Read also :