History 2002: InPhase Promises Shipments of Holography Technology
For 2004
By Jean Jacques Maleval | May 23, 2023 at 1:01 pm
Will holography become a credible technology for data storage someday? If anyone believes so, it's InPhase Technologies, initially spun off Bell Labs by the Lucent New ventures Group, from whom we've had scant news over the past year, since an Imation press conference (Imation is an investor) at CeBIT 2001.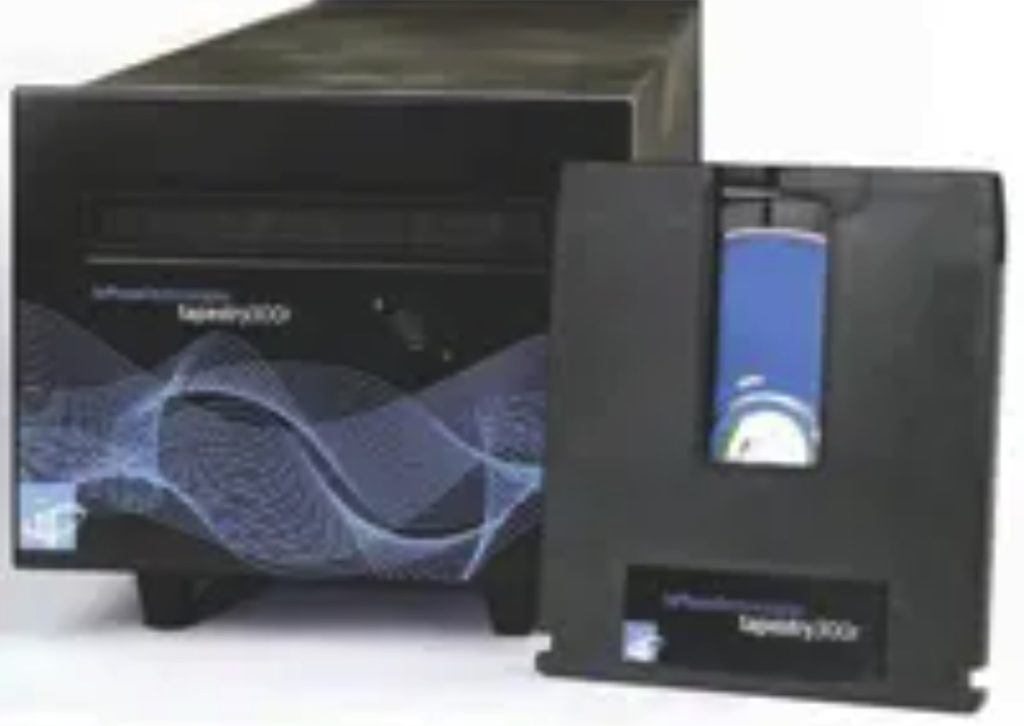 At that time, we were promised 125GB on a removable 5.25-inch WORM disk and a transfer rate of 30MB/s. What is now expected to be demonstrated at the NAB Convention in Las Vegas, NV, this month is a video recording system with 10GB media at 20MB/s, not a bad start at all, with the promise of volume shipments by 2004. No information is available on access times, generally slow with optical systems.
The InPhase product will be known as Tapestry, initially targeting the professional video industry, and thus not the consumer market, a fairly modest ambition, even if the company said that the media will be sufficiently economical to reach a mass market.
Experts maintain that the main problem with holography is finding suitable media, in this case a "two-chemistry" transmissive polymer. With Tapestry, the system projects holograms onto the disks when the signal beam and reference beam intersect. Data is encoded onto the signal beam by what is called a "spatial light modulator, " which translates electronic data in an optical array of 1.3 million bits.
InPhase has been operating from a portfolio of some 30 patents, either disclosed or filed.
The InPhase team, based in Longmont, CO, is cutting a strong profile, with a full roster of industry veterans. Chairman Steve Kistrosser was formerly VP of Seagate and Maxtor, CEO of Quinta and Maxoptix. Nelson Diaz, previously with StorageTek, Maxtor and DEC, is CEO. Technical issues are handled by Kevin Curtis, CTO, as well as Lisa Dhar, VP media development and Bill Wilson, chief scientist, all formerly with the prestigious Bell Labs, not to mention VP engineering Demetrios Lignos, whom some refer to as the "father of DLT." Also joining the company are Skip Kilsdonk (Quantum, San Disk, Maxtor, TeraStor) as VP of business development and Liz Murphy as VP marketing (StorageTek, HP).
Let's not forget, of course, that other teams in the past, from Quinta and TeraStor, for example, before both firms folded, or from Maxoptix, before it gave up on its hybrid magneto-optical disk project, cut equally strong profiles in their day…
This article is an abstract of news published on issue 171 on April 2002 from the former paper version of Computer Data Storage Newsletter.
Read also :