ZertoCON 2021 Virtual: Availability of Zerto for Kubernetes and Previewed Zerto 9.0 Software
Unlocking continuous cloud protection for hybrid, public, and native cloud workloads
This is a Press Release edited by StorageNewsletter.com on April 30, 2021 at 2:33 pm
Zerto Ltd. has announced the availability of Zerto for Kubernetes (Z4K) and previewed Zerto 9.0 at ZertoCON 2021 Virtual.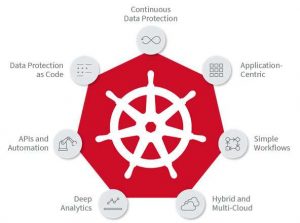 Z4K applies its CDP technology to next-gen, containerized applications, enabling a new paradigm for backup and DR of applications and data across cloud and on-premises deployments. Additionally, V.9.0, to be released in July, will build on the firm's track record of leadership in delivering cloud data management and protection solutions by adding backup to S3-compatible storage such as Cloudian, introducing cloud tiering for AWS and Azure and immutability in public cloud.
Z4K is a solution to provide CDP-based backup and DR to integrate into the application deployment lifecycle for containerized applications to enable data protection as code. It supports Microsoft Azure Kubernetes Service (AKS), Amazon Elastic Kubernetes Service (EKS), Google Kubernetes Engine (GKE), IBM Cloud Kubernetes Service, and Red Hat OpenShift.
As every organization strives to accelerate application development, the reliance on a microservice architecture, typically running in containers, is becoming the new normal. By adding the firm's CDP to the Kubernetes control plane, they will be protected from data loss and downtime even in cases of user errors, malicious activity, or infrastructure failures without having to worry about backup windows or external services.
The solution is designed for Kubernetes running on-premises or in the cloud as part of its cloud data management and protection platform. It enables users to easily protect and recover any Kubernetes application and its persistent data for accelerated delivery and deployment.
In a recent ESG survey, it is clear that there is widespread adoption of containers. The survey found that 71% of respondents have deployed or plan to deploy container-based applications in a hybrid-cloud strategy. (*) This survey and other analyst reports supporting the growing adoption of containers, including, 'VM data protection veteran Zerto sets its sights on Kubernetes-based stateful apps' written by Liam Rogers, 451 Research. A part of S&P Market Intelligence, can be viewed (registration required).
The V.9.0 will introduce public cloud backup platforms and capabilities for data protection flexibility. It introduces backup to S3-compatible storage such as Cloudian, cloud tiering for AWS and Azure, and immutability for public cloud.
Specifically, cloud tiering for AWS and Azure tiers cloud data into Amazon S3 Glacier and Azure Archive. Users can define retention policies in Zerto for storing and migrating long-term retention backups from online frequent access storage classes into more cost-effective in-frequent access storage classes all the way through to archive storage in both Azure and AWS. This leverages cloud native APIs for tiering the backups without consuming compute resources to maximize cost saving capabilities.
In addition, immutability settings for backups in AWS can now be managed within the firm's user interface. The users can set how long backups can remain unaltered in order to safeguard cloud backups from malicious deletion or modification of data, such as from ransomware.
V.9.0 will also offer a range of other features including enhanced Backup Management, Instant VM Restore from journal and File Restore from LTR. Each of these capabilities help users to maximize cloud data management and protection. It will be available in July 2021.
"Cloud-native and containerized apps and infrastructure are quickly coming down the pike – if they are not already the reality. As these resources become business critical, enterprise IT must be prepared to protect them. Additionally, the pandemic has increased usage of cloud infrastructure – including for immutable long-term retention storage to combat ransomware. Zerto 9.0 is an important step forward for the company in providing capabilities that help customers address these needs," commented Krista Macomber, senior analyst, Evaluator Group (**).
"These significant announcements play an important role in unlocking continuous protection and extend Zerto's position at the forefront of innovation for cloud data management and protection," commented Deepak Verma, VP, product, Zerto. "Organizations that are building their future around cloud native architectures need to have full confidence in the integrity of their infrastructure, resilience, and their ability to recover from issues such as cyberattacks and technology failures without delay. These solutions both deliver on those objectives."
(*) Source: ESG Survey, Data Protection Trends and Strategies for Containers, September 2020.
(**) Access Evaluator Group's product brief on Zerto.
Read also :