Apacer CoreSnapshot Instant SSD Backup and Recovery Technology
Resolves hacks and crashes in "1 second", pairs with SV25C cloud SSD series, which covers variety of capacities and form factors.
This is a Press Release edited by StorageNewsletter.com on December 4, 2020 at 1:47 pm
Apacer Technology, Inc. released the CoreSnapshot instant SSD backup and recovery technology.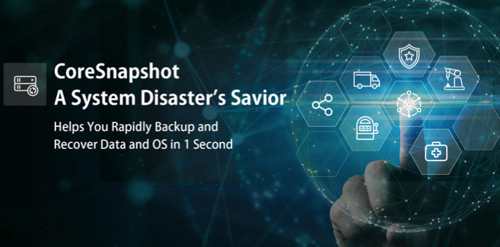 This real-time solution can return a damaged system to normal in 1s, via cloud access or out-of-band management. In view of the rapid development of 5G networking applications and smart terminal devices, manufacturers and service providers are deploying large numbers of cloud storage devices to improve production and service. The system operation or data transmission process may be exposed to outdoor or extreme environments, or to malicious attacks by hackers, which can cause instability or damage to a storage device. This in turn could lead to the loss of data, unexpected system shutdowns or operational downtime. These are important issues that companies such as factory automation suppliers and ATM/kiosk manufacturers cannot afford to ignore.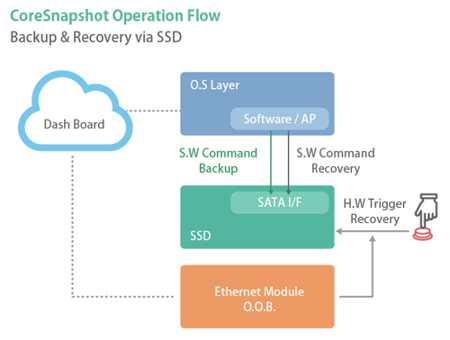 The company has developed the firmware-based proprietary CoreSnapshot technology that provides an instant full disk backup and recovery mechanism for SSDs in one second. It uses a disk snapshot technology to perform a complete backup without affecting system operation when data is written. When an enterprise equipment data error or damage occurs, recovery can be triggered by software or hardware immediately, and the backup data can be restored to full operation in 1s. When industrial computer equipment detects an unexpected blue screen of death (BSOD), it triggers CoreSnapshot to resume system operation in 1s, solving such issues as automated teller machine system errors or hacker attacks, digital advertising billboard BSODs, automatic toll payment machine crashes, and so on.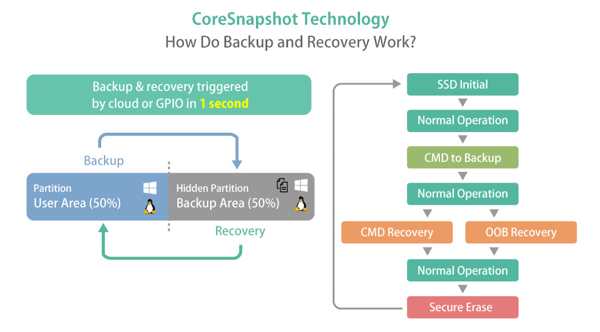 CoreSnapshot pairs well with the company's SV25C cloud SSD series, which covers a variety of capacities and form factors. This solution integrates with hardware, software, cloud, and BIOS strategic partners. In addition to operating on the client-side SSD storage system, it's also compatible with a variety of software and hardware remote trigger methods such as public cloud, private cloud, out-of-band and BIOS execution. CoreSnapshot is tailored to the varying needs of enterprise customers, and provides a solution for real-time SSD rescue. It helps customers reduce RMA return/repair costs and on-site service-support-related expenses, and also avoids data errors or system downtime. And since it can restore a system's data and OS in 1s, it's the savior the AIoT and enterprise industries have been anticipating.
SV25C cloud SSD series
Click to enlarge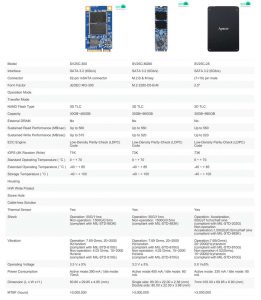 Read also:
Apacer and Allxon Collaborate
On IoT smart device management technology
August 27, 2020 | Press Release
Apacer With 2.5-Inch, M.2 2280 6Gb SATA and PCIe SSDs for NAS
Range from 128GB up to 1TB, with more options coming
August 14, 2020 | Press Release
Apacer With Tiny Industrial-Grade PCIe BGA SSD for 5G and High-End Industrial Applications
Adding another series to high-speed PCIe SSD product line
July 28, 2020 | Press Release
Apacer CoreSecurity2 Integrating Four Security Protection Technologies for SSDs
Protecting companies working remotely during Covid-19
May 22, 2020 | Press Release