Apacer With Tiny Industrial-Grade PCIe BGA SSD for 5G and High-End Industrial Applications
Adding another series to high-speed PCIe SSD product line
This is a Press Release edited by StorageNewsletter.com on July 28, 2020 at 2:26 pm
Apacer Technology, Inc. announces a smalle industrial-grade PCIe BGA SSD, adding another series to its high-speed PCIe SSD product line.

In response to the developing trend of 5G high-speed networking applications and the increasing miniaturization of smart terminal devices, the company adopts 3D TLC NAND flash memory, professional 3-dimensional stacking and BGA chip packaging technology to create a device with performance, low latency and high stability. For the PCIe Gen 3×4 version, it provides a theoretical speed up to 4GB/s. For the Gen3x2 version, the minimum size spec is 11.5x13mm. At the same time, Chip On Board (COB) packaging allows for either mounting directly on the motherboard, or via an M.2 interface using the SMT process. This PCIe BGA SSD will be adopted by high-end industrial and 5G high-speed applications, including the Industrial IoT, cloud computing, servers and networking, defense, gaming, and HPC.
Born to drive 5G high-speed, miniaturized smart applications
The PCIe BGA SSDs are made from the selected industrial-grade wide-temperature ICs. They also comply with the latest PCIe NVMe 1.3 requirements, giving them a transmission speed more than 3x faster than SATA SSDs. Within this series, there's the PV920-uSSD, which is currently a fast PCIe BGA SSD. It adopts a PCIe Gen3x4 interface, has dimensions of 16x20mm, and offers R/W speeds of 3,270/2,730MB/s. The theoretical transmission speed can reach 4GB/s. Another in the series is the PT910-uSSD, a small of its type, with dimensions of just 11.5x13mm. Using a PCIe Gen3x2 interface, it offers R/W speeds of up to 1,685/860MB/s.
The highest theoretical transmission speed can reach 2GB/s. In addition to the advantages of being lightweight and small, it boasts high-speed performance, low latency, low power consumption, shock resistance, stability and reliability. It is for 5G high-speed and miniaturized smart applications.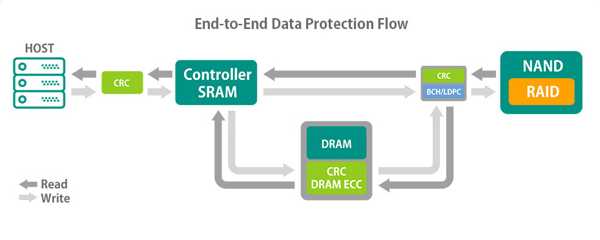 Added value of multiple hardware and software technologies to create highest data transmission storage stability and reliability
Taking advantage of the PCIe bus, which allows for multichannel massive data transmission, the PCIe BGA SSDs adopt multiple hardware and software technologies to create a complete data protection mechanism. For example, the End-to-End Data Protection technology allows for real-time detection and correction of erroneous data to ensure the integrity and accuracy of data transmission between the host and the NAND storage area, improving data reliability. In order to maintain high security standards, it supports the TCG Opal 2.0 spec, using AES 256 encryption technology to provide protection for saved data. In addition, considering the possible overheating of the system associated with PCIe high-speed processing, the intelligent temperature control and Thermal Throttling firmware technology controls the temperature and throughput mechanism in a timely manner to ensure the stability and integrity of data writing even in high temperature environments. The PCIe BGA SSD features a HMB (Host Memory Buffer) technology DRAM-less control chip design, which demonstrates the high performance and cost-effectiveness of a high-speed PCIe SSD solution.
Looking to the future, smart cars and autonomous vehicles will no longer be just a means of transportation, but also an information aggregation, data calculation, analysis and transmission center, and will attach greater importance to storage and processing capabilities and speed. The company is developing an IATF 16949 quality management system certification for the automotive industry, and recently obtained the IATF 16949 Letter of Conformance issued by the internationally renowned third-party verification agency BV (Bureau Veritas). In the future, the firm will continue to strengthen the production of in-vehicle application storage products, in line with the unified standards of the automotive industry system formulated by international automobile manufacturers, and develop products designed to survive in the challenging transportation environments.
Read also:
Apacer CoreSecurity2 Integrating Four Security Protection Technologies for SSDs
Protecting companies working remotely during Covid-19
May 22, 2020 | Press Release
Embedded World: Apacer in Partnerships With Two Companies
Advantech and Allxon, to create industrial cloud services
March 3, 2020 | Press Release