StorONE 3Q20 Sets Standard for Data Protection, Shatters Enterprise Storage Pricing
Update to S1 Enterprise Storage Platform software, which extends data protection capabilities for mission-critical data, while lowering costs
This is a Press Release edited by StorageNewsletter.com on October 23, 2020 at 2:12 pm
StorONE, Inc. updates its S1 enterprise storage platform software, which extends its data protection capabilities for mission-critical data, while at the same time lowering costs.

The firm is maintaining a quarterly release schedule, bringing critical new features to its customers, and meeting the needs for better performance, data reliability, and system longevity.
1PB AFA, featured $499,000
In addition to capabilities in the latest release, the company continues to leverage its TRUprice custom configuration and pricing tool enabling customers to receive even lower pricing, breaking the $500/TB price barrier for AFAs. The firm is offering a fully HA, 1PB AFA for less than $500 per terabbyte. Hybrid configurations are available for ats $250/TB. Customers can visit the company website to design and price a storage system to meet their needs.
"We recently conducted a global survey about how the pandemic is affecting data center operations and ascertained that IT professionals continue to address three key concerns: price, data protection, and remote operations," said Gal Naor, co-founder and CEO. "We have had remote operations support since day one. We perform over 90% of installations without being on-site. This release extends our lead in data protection and affordability, delivering enterprises unmatched resiliency and breaking the $500 per TB AFA price point."
New standard in primary storage data protection
A key focus of this release is improving data protection. The Q3 release advances the firm's vRAID, a performance version of erasure coding, by improving RAID rebuild parallelism further. The S1 platform delivers a fast rebuild times. vRAID can rebuild flash-based volumes in 3mn. Even HDD drive-based volumes with 16TB drives can return to a protected state within 4 or 5 hours of failure. Customers indicate that high capacity HDD RAID groups take days, even weeks to rebuild. The speed of vRAID rebuilds reduces the need for higher drive redundancy settings, saving customers money and time.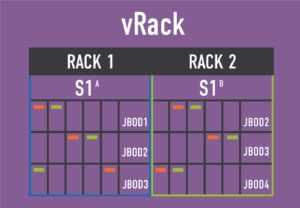 The Q3-2020 release also delivers a feature, vRACK, which builds on vRAID to provide rack-level redundancy. The S1 Platform can now leverage vRAID to build redundancy across drive shelves and racks, further eliminating failure points. The vRACK feature offers much of the benefit of synchronous replication without the requirement to double capacity or storage controllers – yet another example of how StorONE lowers the cost of enterprise storage while improving availability.

In the 3Q20 release, another new capability is vReplicate, which builds on the firm's S1:Replicate feature to provide cascading replication to up to 16 target sites. Customers can now synchronously replicate to another S1 cluster on campus while at the same time replicating to multiple S1 clusters at remote DR sites. Replication can be from any target to any target. For example, an Optane-powered AFA.next can asynchronously replicate to a hard-disk-based storage system at a DR site.
Complete storage platform
In addition to these new features, the 3Q20 release improves the S1 Enterprise Storage Platform's consolidation capabilities. Existing customers will experience a 15% improvement in performance. The release continues to improve S1's NAS capabilities, making it a less expensive but better-performing alternative to aging NetApp and Isilon deployments. The release also adds support for NVMe-oF (TCP/ROCE) for host connectivity.
"Each quarter, our customers' investments in the StorONE Enterprise Storage Platform pays them dividends without requiring a hardware upgrade," said George Crump, CMO. "The focus of the S1 Platform ends storage migrations through a long-lasting consolidation effort. The Q3-2020 release enables customers to not only consolidate storage but also consolidate backup and DR into a single process that lowers costs and simplifies operations".
Read also:
From StorONE, AFA.next Storage Tier System With Optane Technology
Combines Optane SSDs and QLC 3D NAND, and S1 Enterprise Storage platform software.
June 29, 2020 | Press Release
StorONE Publishes Enterprise Storage Pricing Online
S1:TRUprice ends vendor shell game.
May 22, 2020 | Press Release
StorONE Updated S1 Enterprise Storage Platform
Helping ensure that data centers can standardize on software to reduce cost and complexity while increasing performance
April 9, 2020 | Press Release