Nimbus Data Unveils Next-Gen Storage OS and AFA
And claims 600 installations since 2010 and profitability.
This is a Press Release edited by StorageNewsletter.com on May 12, 2020 at 2:31 pm
Nimbus Data, Inc. announced several milestones:
Surpassed 600 installations, including several petabyte-plus deployments
Achieved profitability in 2019, with increased profitability forecasted for 2020
Secured new financing for continued expansion and product development
"I am very pleased with our focused execution," stated Thomas Isakovich, CEO and founder. "These achievements strengthen our market position and will help fuel continued profitable growth, more innovation, and most importantly, the highest level of customer satisfaction."
Nimbus Data AFX: Next-Gen Storage OS
New workload requirements demand a forward-looking storage architecture focused on versatility, QoS, and scalability. AFX, designed for solid state storage, is a next-gen OS and management platform focused on these three priorities:
Versatility: AFX supports over a dozen block, file, and object protocols on one platform. This eliminates silos, simplifies capacity planning, and improves storage utilization with global data reduction across all data types. AFX is optimized for a range of solid state technology, including flash (MLC, TLC, QLC) and storage-class memory (Optane, 3D XPoint) using NVMe and SAS interfaces. Ethernet, FC, and IB are supported.
QoS: AFX offers QoS capabilities. Inline data services like thin provisioning, deduplication, compression, checksums, and encryption can be enabled or disabled individually. This ensures that performance and utilization are optimized for a given workload, without resorting to the costly alternative of purchasing multiple storage arrays. Individual SSDs can even be accessed as bare-metal block devices, providing the benefits of network storage with direct-attached latency.
Scalability: AFX features a federated architecture that scales by adding redundant storage arrays as needed. The federated architecture does not depend on cluster-wide metadata nor a backend network fabric. This approach offers resiliency (no global metadata risk), lower cost (dramatically less hardware), and more consistent performance. A web-based management platform provides one pane of glass for administering the entire storage infrastructure.
"With its versatility, federated architecture, and multi-tenant management capabilities, Nimbus Data AFX is a well-conceived solid state storage platform for dense enterprise workload consolidation," said Eric Burgener, research V, infrastructure systems, platforms and technologies group; IDC. "Its ability to support different access methods, protocols, persistent media types, and granularly-configurable data services lets customers configure the storage to meet a variety of different application requirements in the same, centrally managed system."
Nimbus Data Tectonic: A New Way Forward for Enterprise Storage
A powerful storage infrastructure is a strategic advantage. Yet existing enterprise storage solutions on the market remain proprietary, complex, and expensive. For decades, enterprise storage vendors have unfairly burdened their customers with inflated capacity costs, escalating support fees, costly hardware refreshes, and an often tedious sales process. This status quo must change.
Nimbus Data Tectonic represents a rethinking of the entire enterprise storage experience, from initial customer engagement to support and operations. It puts freedom, transparency, and sustainability at the forefront. Harnessing company's technology and operational strengths, it offers enterprise storage customers superior service, greater agility, and lower total costs.
Tectonic offers:
No Tiers: First-class support for everyone, with 24x7x365 support and rapid parts replacement
Freedom: Support for industry-standard SSDs, eliminating vendor lock-in and excessive markups
Simplicity: A flat annual support fee per array, not per terabyte, regardless of system age
Green: Zero emissions storage, with array power consumption fully offset by renewable energy
Ageless: Free non-disruptive controller upgrades after 3 years, eliminating costly refreshes
No Taxes: All-inclusive software, free software updates, and no capacity-based license fees
Transparency: Get a detailed quote and TCO analysis online in minutes with just a few clicks
No Worries: 60-day "love-it or return-it" money-back guarantee, without exceptions
No Lock-in: No long-term contract required, with a 1 year minimum, extendable up to 7 years
"More than just another 'as-a-service' plan, Nimbus Data is offering a comprehensive but simple solution for high-performance, primary storage," stated Eric Slack, senior analyst, Evaluator Group. "What's unique about Tectonic is what it doesn't include – the high-margin SSDs that we typically see from primary storage system vendors. Nimbus Data provides one premium class of support, free controller upgrades, all-inclusive software, and gives customers the choice to supply their own qualified SSDs."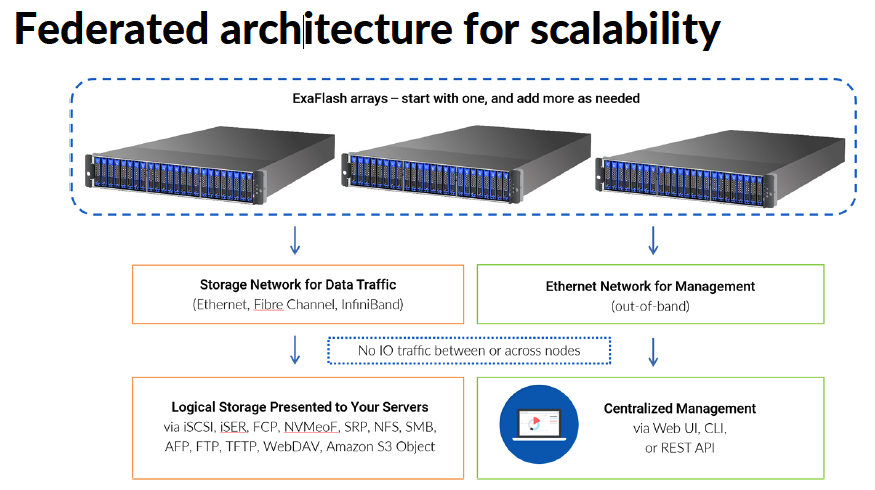 Exaflash One: Enterprise flash Array for Everyone


Powered by AFX and backed by Tectonic, it is an enterprise flash array for every organization. It delivers 99.999% availability, with active-active controllers, non-disruptive software updates, and hot-plug components. Exaflash One features firm's patented IO controllers, delivering up to 12GB/s of sustained throughput and up to 2 million IO/s. Power usage averages 500W, and it is available with Ethernet, FC, and IB connectivity.
Exaflash One supports up to 24 industry-standard SSDs, enabling up to 768TB of raw flash capacity in one 2U rackmount system (up to 5PB effective after data reduction). It can be configured turnkey or without any capacity. In partnership with major SSD manufacturers, The vendor has qualified a variety of enterprise-grade SSDs. Customers have the choice to populate the system with these qualified SSDs and maintain their support benefits with Nimbus Data. This open approach avoids the excessive markups imposed by existing enterprise storage vendors, ensuring fair capacity pricing.
Customer Validation of Exaflash One Arrays
WWE, a publicly-traded company, is an integrated media organization in global entertainment. The company consists of a portfolio of businesses that create and deliver original content 52 weeks a year to a global audience.
"Nimbus Data's Exaflash One array has been absolutely critical to our rapid new workflow," stated Nick Smith, director of remote IT and Broadcast Engineering, WWE. "We were able to deploy it in 30 minutes. We are consistently writing to the Exaflash array at line-rate, and it is performing flawlessly."
Touch Support, Inc. is an IT-as-a service provider, helping organizations improve the management and performance of their critical IT infrastructure and people resources. Services offered range from colocation and datacenter services to complex, mission critical infrastructure deployments.
"We chose Exaflash One for our internal VMware environment and have been very pleased with its speed, availability, and ease of use," stated Jason Hamilton, CTO, Touch Support. "Given our experience, we recommend Exaflash to our clients for their critical workloads."
Availability and price
Exaflash One arrays, powered by AFX and backed by Tectonic, are available, starting at $10,000. All-flash capacity is $250 per terabyte ($0.25 per gigabyte), or, Exaflash One is available without SSDs as well. Support starts at 1 year, extendable to 7 years. Tectonic is at $10,000 per year per Exaflash One array.
Note: In a separate email, Isakovich said his acompany has over 200 customers today.
Read also:
WW Record Capacity for SSD: 100TB, by Nimbus Data
3.5-inch, 3D NAND, up to 100,000 IO/s and 500MB/s throughput [with our comments]
March 20, 2018 | Press Release
Flash Memory Summit: Nimbus Data Unveiled ExaDrive
Software and multiprocessor solution for next-gen SSDs enabling 3.5-inch 500TB by 2020 or 600PB in single rack
August 14 2017 | Press Release