Nvidia to Acquire SwiftStack
Surprise for First One, not for Second One
By Philippe Nicolas | March 9, 2020 at 2:14 pm

From SwiftStack blog on March 5, 2020 by Joe Arnold, chief product officer and co-founder

We are delighted to announce that SwiftStack, Inc. has signed a definitive agreement to be acquired by NVIDIA Corp.
For more than a year, our team has worked together with NVIDIA to solve the data challenges to enable AI at scale. We expect to close the transaction in the weeks ahead, subject to customary conditions.
Last year, when we announced SwiftStack 7, we unveiled our focus on the SwiftStack Data Platform for AI, HPC, and accelerated computing. This included SwiftStack 1space as a valuable piece of the puzzle, enabling data acceleration in the core, at the edge, and in the cloud.
To our existing customers – we will continue to maintain, enhance, and support 1space, ProxyFS, Swift, and the Controller. SwiftStack's technology is already a key part of NVIDIA's GPU-powered AI infrastructure, and this acquisition will strengthen what we do for you.
Building AI supercomputers is exciting to the entire SwiftStack team. We couldn't be more thrilled to work with the talented folks at NVIDIA and look forward to contributing to its world-leading accelerated computing solutions.
Comments
It's always bizarre to read a blog post written by one of the founders of a company but not the CEO saying that his company has just signed a definitive agreement to be acquired.
Where is the CEO? Checking on both companies' website, we didn't find any press release about this. The last press release on SwiftStack website was issued in June 2019 about the company joining the Nvidia partner network around Nvidia AI and ML. Nvidia didn't publish anything (yet). This is sadly what just happened to SwiftStack.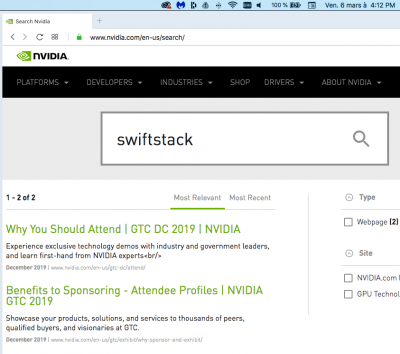 SwiftStack was founded in November 2011 and raised 3 rounds for a total of $23.6 million. The team was a key ambassador of OpenStack Swift via its SwiftStack Storage product offering S3 and Swift access methods. More recently the company had developed 1space to provide a single namespace across multiple data sources such on-premises SwiftStack instance but also cloud services providers. SwiftStack offers Swift – being delivered unmodified – and ProxyFS as both open source projects.
With the difficulty to take-off with just an object storage evolution plus the strong resistance of file storage solutions fueled by new players, SwiftStack had the opportunity to partner with Maldivica to offer a file gateway around 2014-15. Maldivica was acquired by Cleversafe end of 2014, around one year before IBM acquired Cleversafe. One of its competitors, Cloudian, understood same threat and opportunity and finally absorbed the Italian company Infinity Storage in 2018 for its file gateway solution.
But the pressure was on and for several quarters, SwiftStack tried to expand beyond "classic" storage needs and projects and jumped into AI with different partners such Nvidia, Google and Valohai running on different servers platforms like Cisco, Dell, HPE and SuperMicro.
The SwiftStack journey was a real pain starting with Swift and then adding S3, file interfaces, multi-cloud access … under the pressure of the market. At the end of the day, Swift lost the object storage game as we saw for a few years with SwiftStack and OpenStack destiny. In other words, Swift is dead and S3 is the big winner for quite a long time now, confirming strongly its position every quarter.
Based on the market situation, very limited adoption, recent reorganization, financial and business situations, SwiftStack didn't have real alternatives and it's finally a positive exit. Among recent departures we noticed Hiren Chandiramani, VP product management, who is now VP product at MemVerge and Shailesh Manjrekar, head of AI solutions, now with the same role at Weka.IO.
We estimate that the transaction is just 2 digits to reimburse Mayfield and other investors, being anxious by SwiftStack trajectory and market pressure. What a fantastic bargain for Nvidia!
Open source is not an easy model confirming that, except MinIO, nobody in that segment is able to establish a growing business. We all remember Gluster, Ceph and Inktank acquired by Red Hat.
This move confirms the difficulty to be profitable of several object storage vendors having a strong need to continue to raise money. In other words, it illustrates their fragile financial situation even with a significant market demand for object storage solutions.
Who will be next? In fact, only four directions will happen for the remaining independent companies: IPO, acquisition, bankruptcy or zombie. We let you make your own idea with these 2 tables: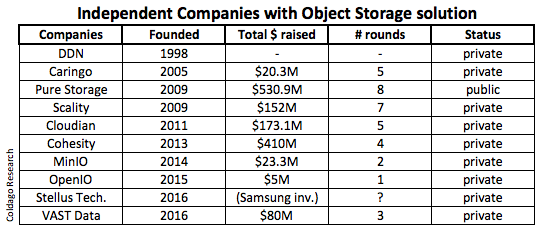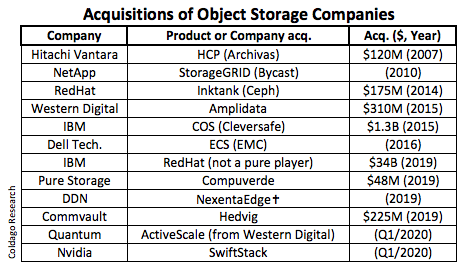 The surprise came from HPE and Cisco as none of them owns an object storage solution, reselling some commercial solutions. Oracle has made clearly a choice to offer a cloud object storage.
The next big threat for on-premise object storage is AWS Outpost with S3 coming, it will accelerate the evacuation of players and domination of AWS S3.
Coldago Research released its Map 2019 for Object Storage a few months ago with the position of 22 object storage vendors. We're sure that the landscape will be different next November.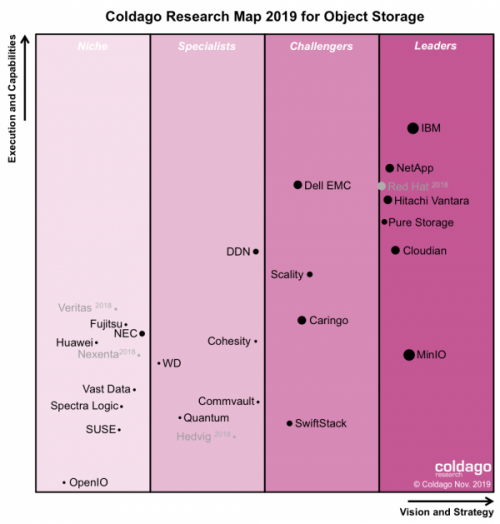 We invite the reader to check other famous various articles published on StorageNewsletter in June 2019, The Register in July 2016 and FileStorage Blog in October 2015.
Read also:
SwiftStack V.7 Offers Ultra-Scale Performance and Capacity for Storage and Management From Edge to Core to Cloud
Platform for intelligent data delivers petabytes to AI frameworks, GPU compute complexes, and deep learning pipelines
November 6, 2019 | Press Release
SwiftStack and InfiniteIO Introduce Integrated Solution for Enterprise NAS With Unites File and Object Stores and Shifts Data to Cloud
Joint solution transforms tier-one NAS into scalable, economical, performance, cloud-ready environment for file data
October 25, 2019 | Press Release
SwiftStack Joining Nvidia Partner Network
Autonomous vehicles, healthcare and telecom use cases span large-scale AI/ML data pipelines from edge to core to cloud
July 22, 2019 | Press Release