SwiftStack and InfiniteIO Introduce Integrated Solution for Enterprise NAS With Unites File and Object Stores and Shifts Data to Cloud
Joint solution transforms tier-one NAS into scalable, economical, performance, cloud-ready environment for file data.
This is a Press Release edited by StorageNewsletter.com on October 25, 2019 at 2:23 pm
SwiftStack, Inc. and InfiniteIO, Inc. announced a joint solution that transforms inefficient tier-one NAS into a scalable, economical, performance, cloud-ready environment for file data.
Click to enlarge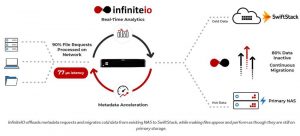 The joint solution combines InfiniteIO's hybrid cloud tiering and metadata acceleration with SwiftStack's software to optimize capacity resources and increase performance, without changes to existing IT workflows or operations.
NAS performance declines sharply as data volumes grow, but traditional archive or tiering processes require complex migrations and introduce bottlenecks. InfiniteIO uses real-time intelligence to automate file data management and placement, conserving costs and extending the lifecycle of existing IT assets. SwiftStack's object-based platform scales capacity and throughput infinitely and cost-effectively, unifies management for data whether on-premises and/or in one or more clouds, and deploys easily and flexibly on customers' preferred hardware.
Benefits of integration include:
Unite file and object storage pools
The integrated solution can access traditional NAS workloads and store that file data on SwiftStack as objects in a cloud-friendly architecture that makes files available for use, even if they have been inactive for decades, by transparently presenting them as local storage regardless of physical location.

Reclaim tier-one NAS capacity
InfiniteIO identifies and offloads hidden, inactive, and cold files to a massively scalable SwiftStack cloud to slash on-premises NAS capacity footprint up to 80%, and delay or eliminate investment in additional primary storage. Customers can continuously tier and migrate files based on policy and/or metadata attributes (access, type, etc.) to SwiftStack to optimize local storage.

Gain integrated metadata acceleration
Because an average of 70-90% of NAS operations come from file metadata requests, NAS performance slows down when data grows. InfiniteIO offloads metadata operations from NAS and can thereby improve performance by more than 10X, while SwiftStack's metadata management features enhance intelligence and utility of files.

Scale to billions of files
Users can scale to billions of files or multiple petabytes, without additional administrative time or capacity licensing fees.
Accelerate data protection
IT managers can reduce backup times, capacity, and cost by offloading metadata requests from backup applications, shrinking your NAS data footprint, and using SwiftStack cloud storage for archive, retrieval, and governance.
Deploy with no disruption to workflows or operations
InfiniteIO installs simply like a network switch, with no downtime or workflow changes, and SwiftStack software deploys to turn standard servers into cloud storage in minutes.
"Enterprise NAS is extremely costly at scale, and users are surprised to discover that an average of 80% of that capacity is inactive files," said Kris Meier, VP, product management, InfiniteIO. "Our proven solution with SwiftStack's scalable and high-performance platform reclaims primary storage and maintains a seamless user experience; these are clear economic, performance, and administrative benefits that enable business transformation strategies with hybrid cloud at the center."
"Nearly every enterprise IT team today is feeling pressure to move file data to the public cloud, or implement hybrid or multi-cloud storage to cut costs, but the traditional approaches to connecting NAS to cloud fall far short of expectations," said Chris Nelson, VP, solutions, SwiftStack. "SwiftStack and InfiniteIO deliver a powerful solution that optimizes storage cost and performance while simplifying the enterprise journey to the cloud-without changing existing IT workflows or operations."
Read also:
InfiniteIO Partnering With Cloudian
To optimize economics of private cloud storage
August 19, 2019 | Press Release
Works With SwiftStack Released
And technology partner program to simplify cloud storage deployments
August 23, 2019 | Press Release