From AFA to storage-as-a-service vendor
The AFA market segment evolved a lot for several years based on new technology availability, new players coming, strategy directions and M&As. Kaminario can be listed as a pioneer of that category and itself changed since its inception.
Genesis
Founded in 2008 in Israel by Dani Golam, CEO since the day 1, Moshe Selfin and Ofir Dubovi, the company had a mission to develop a high-end high performance affordable storage array based on DRAM and flash promoting an all-flash data centers in the next years. Moshe Selfin, VP marketing and products, stayed a little bit more than to years and left in 2010. Ofir Dubovi quit later in 2012 and was COO and CFO. Only Dani Golan is still there keeping his CEO role for now more than 10 years, pretty rare in the storage industry. The company has its HQ in Boston, MA and its R&D center in Yokneam, Israel.
According to Crunchbase, the company has raised a total of $224.5 million in 8 VC rounds with Sequoia Capital and Western Digital among others.

Products
Launched in June 2010, the K2 product line 1st generation immediately set a new standard and became a reference. K2 refers itself to the second highest mountain in the world after Mount Everest.
Kaminario, as a pure player, believed since its inception in a software-defined architecture (SDA) with the beauty to decouple capacity and compute. We detect here the early vision and anticipation towards a disaggregated architecture. This SDA approach helps to adopt any new commodity hardware components for compute, network an SSD.
Without any specific preference, K2 was a scale-up and -out product able to grow in any dimension without real constraints. The development team goal was to deliver predictability in term of protection (K-RAID, replication and encryption), capacity utilization (inline data reduction, compression and thin provisioning) and performance with guaranteed quality of service. The arrival of NVMe-oF finally converts the blank page into reality to offer a full decoupling capacity and compute with an any-to-any model.
Product generations:
K2 v1 release in June 2010
v2 in March 2011
v3 in February 2012
v4 in April 2013
v5 in May 2014
v6 in February 2017
K2.N in August 2017 with NVMe
In 2011, Gartner named Kaminario a Cool Vendor. In 2012, the top of the pyramid for AFA delivering best performance was represented by three vendors: Kaminario, Texas Memory Systems (TMS) and Violin Memory. TMS got acquired by IBM around the end of 2012 and Violin Memory shad some troubles and finally got a new life under new management and directions. Gartner has named in its Solid-State Array Magic Quadrant Kaminario as Visionary in 2014, 2015 and 2016 and Leader in 2017 and 2018. We anticipate the same position with the new quadrant soon.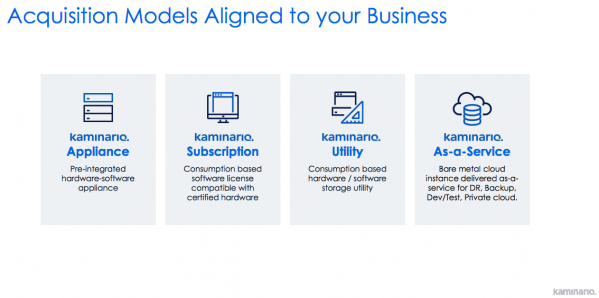 Today, Kaminario markets four products:
All-flash pre-integrated hardware-software appliances,
All-flash software subscription,
Hardware acquired from TechData coupled with an utility pricing model metered by Kaminario Clarity,
Colocation and managed service providers with a simple, capacity-based, pay-as-you-go contract.
Strategy and business model
The company defines itself now as a cloud storage software player promoting a clear different positioning from what it projected a few years ago claiming to be the leading all-flash storage company (see the timeline above).
The executive team has made some strong analysis recognizing some difficulties to transform a pioneer into a public player due to market pressure, gorillas presence, new players, technology evolution, model shifting… Eleven years later and a huge of VC money, Kaminario is still a private company. Who else did this as a pure player? I think only Pure Storage has demonstrated some capabilities and got public with an annual turnover of $1.5 billion (last 12 months as of today). Tintri tried and we know how it ended becoming a division of DDN today. All others got acquired (XIO, Tegile, Vexata, E8, DSSD, XtremIO, etc.) or even disappeared. Mangstor morphed into Exten and it seems that Apeiron has vanished as well.
We distinguish essentially two eras for Kaminario with:
a first phase as a hardware provider with AFA hardware, K2 and later K2.N and additional software such Clarity and Flex. Kaminario promoted itself as a leading all-flash storage company.
and a second phase becoming a software player with TechData deal, NVMe-oF and composable infrastructure (CI) approach that finally adds some SaaS offering. Kaminario claims to be a cloud storage software company.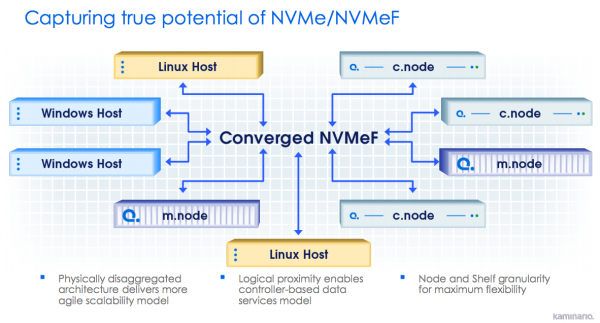 A big change over the years parallel to what we saw from users' expectation that testifies of the pragmatic strategy well connected to the market.
The company picked a channel strategy early on and continues to promote this go-to-market model with the signature with TechData in January 2018. It then evolved even more with the software CI strategy being a software only provider. This CI was recognized and adopted by Western Digital with an agreement signed second half of 2018. Shachar Fienblit, former CTO, pitched us CI three years ago.
The last iteration
Storage-as-a-Service represents a real shift with some difficulties to believe at the beginning, it turns out that Kaminario has made it and anticipates a radical change in the industry before others. Dani Golan has a unique capability to read the future with a real execution strength when others are just catalysts or followers. His experience as a fighter pilot in the Israeli army had probably infused some specific skills.
Read also:
Kaminario: Storage as a Service Offerings
Three new offerings and unified licensing
June 11, 2019 | Press Release
FMS: Kaminario and Western Digital Collaborating
For solution powered by Kaminario composable data platform and Western Digital OpenFlex and Ultrastar storage platforms
August 15, 2018 | Press Release
Kaminario Transitions to Software Business Model Only
Tech Data chosen to provide hardware [with our comments]
January 19, 2018 | Press Release
Kaminario Raises $75 Million in Funding
Bringing total to $218 million [with our comments]
January 13, 2017 | Press Release
Exclusive Interview With Dani Golan, Founder and CEO, Kaminario
"There is no point today to go hybrid."
by Jean Jacques Maleval | November 15, 2016 | News
Start-Up's Profile: Kaminario
In all-SSD scale-out subsystem but without de-dupe [with our comments]
by Jean Jacques Maleval | August 7, 2013 | News
Start-Up Kaminario Out of Stealth Mode
Extremely fast SAN, based on DRAM with backup on HDDs [with our comments]
July 26, 2010 | Press Release