One Stop Systems Wins Multi-Million-Dollar US Government Program
With Leidos for AI compute and storage solution
This is a Press Release edited by StorageNewsletter.com on November 21, 2023 at 2:00 pm
One Stop Systems, Inc. (OSS) has won a multi-million-dollar program with Leidos' Dynetics, a provider of mission-critical solutions for the US government.
Under this program, it will provide its proprietary transportable compute and storage technology designed to power an emerging specialized mobile AI signal collection application. Valued at approximately $2.5 million to $3.5 million over the next 3 years, with an initial award of $500,000, the award is the first multi-year win OSS has secured with this prime contractor.
"This major win with an industry leader highlights the trust and confidence we have established with Leidos over the past several years," noted CEO, Mike Knowles. "We are pleased to see the expansion of mission application and platform integration, consistent with our growth strategies. As Leidos' technological expertise spans hypersonics, force protection, space and other advanced applications, we anticipate this win will open doors to additional new opportunities for our rugged HPC edge solutions."
The deployment will leverage OSS' rugged mobile edge technology, consisting of the company's latest Gen 5 PCIe SDS-3U GPU-accelerated server, delivering twice the interconnect bandwidth performance as compared to the previous generation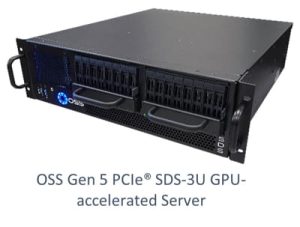 SDS-3U is powered by the lAMD EPYC 9004 Series Processors and 16 NVMe storage drives, a configuration for high-speed data acquisition, recording and analysis. The system also features the first server-class, single-socket AMD EPYC platform which has been ruggedized for the harshest of edge environments.
The SDS-3U system is capable of ingesting, recording and storing up to 480TB of raw RF data signals onto high-speed NVMe SSDs. These SSDs are securely encased in removable, encrypted drive packs to enable expandable and transportable storage.
Proprietary company's high-speed PCIe Gen 5 switched interconnects will transfer data to the compute processors for real-time signal analysis using the latest AI deep learning frameworks. For uploading the massive amounts of collected data to the cloud, the drive packs can be transferred to SDS servers installed in ground stations equipped with high-bandwidth Internet connections.
Suitable for a range of commercial, industrial and government applications, the SDS-3U-4a Gen 5 solution can be ordered from OSS sales engineers.
Read also :