Dell ObjectScale XF960 Unleashing Power of Object Storage
Driving AI and more with ObjectScale speed, sustainability and security, available as all-flash appliance
This is a Press Release edited by StorageNewsletter.com on November 17, 2023 at 2:02 pm

By Geeta Vaghela, lead, product management for the unstructured storage business, delivering scale-out file and object products to market (PowerScale/Isilon, ECS, ObjectScale), Dell Technologies, Inc.

Object storage is evolving – fast. More and more, it's embraced as primary storage for demanding high-growth workloads like analytics, generative AI (GenAI) and related cloud-native application development.
All-flash turnkey system: ObjectScale XF960

With Dell ObjectScale, our scale-out, high-performance containerized object storage built for those next-gen demands, we're able to help organizations innovate faster with a global namespace, strong S3 compatibility, powerful performance and enterprise-grade security that's ready on day one.
Today, we're taking the ObjectScale experience to the next level by introducing the latest software innovation (ObjectScale version 1.3) as a fully integrated, turnkey solution. The ObjectScale XF960 is a powerhouse, all-flash appliance built on a latest-gen PowerEdge server. This offers flexibility for customers beyond software-defined options already available with ObjectScale.
ObjectScale is available as an object storage appliance custom-built on Kubernetes. (1)
Optimize and Flex cloud for GenAI and more
Flexibility is the name of the game with ObjectScale. Scale from what you need today to petabytes and beyond. Choose from Opex or Capex pricing models for true public cloud-like ease. Optimize data management with software-defined ObjectScale at edge locations for data ingest and the XF960 appliance in the data center for hard-core processing. Combine Starburst with ObjectScale to set the foundation for a high-performance, infinitely scalable lakehouse on-premises and across multicloud environments. The possibilities are virtually endless.
In addition to the all-flash appliance, ObjectScale is available with a choice of 2 software-defined 'flavors.' With the software bundle, you deploy on your infrastructure while we manages ObjectScale and Kubernetes. With as-an-application, we handle ObjectScale, and you deploy and run on Red Hat OpenShift, the industry's leading hybrid cloud application platform powered by Kubernetes.
"Red Hat OpenShift offers a more consistent, reliable platform to build, deploy and manage applications across hybrid cloud environments. By running ObjectScale as-an-Application on Red Hat OpenShift, organizations can more seamlessly provision and scale high-performance object storage for optimized flexibility," said Chris Morgan, senior director, hybrid platforms, Red Hat.
Speed innovation with added performance and sustainability
AI, ML, analytics and cloud-native applications often depend on millisecond latency. The combination of scale and performance the XF960 delivers is what organizations need to train their algorithms with more data than ever via their on-premises cloud.
With ObjectScale, you gain the best of microservices and Kubernetes orchestration backed by one of the highest S3 compatibility levels in the market. (2) ObjectScale XF960 accelerates development cycles by introducing latest-gen PowerEdge server performance and full-stack NVMe connectivity, enabling up to 4.3GB/s reads and 3.3GB/s writes per node for rapid data access and transfer.(3)
That XF960 performance is balanced by the latest in sustainability and energy efficiency. A great example is PowerEdge Smart Cooling technology, which uses intelligent thermal algorithms and Dell's innovative Smart Flow chassis to direct an optimal level of cooling where it's needed most. The new appliance also offers 2x higher density than the previous-gen, (4) flexible consumption options to reduce waste and emissions, and comprehensive professional services options including secure data sanitization and destruction.
"The latest ObjectScale update shows Dell Technologies is putting even stronger, more intuitive modern object storage technology into the hands of app developers. The advances of the XF960 all-flash appliance help them move faster to insights and results, backed by the simple turnkey experience from Dell," said Alex Arcilla, senior validation analyst, ESG.
Establish Zero Trust at enterprise scale
ObjectScale is built from the same codebase as Dell ECS and inherits its trusted, enterprise-proven pedigree. As the first provider to deliver a commercial content-addressable storage (CAS) system – Centera – the company has over 20 years of leadership in object storage. With ObjectScale, you can apply our established Zero Trust mindset by delivering comprehensive built-in security and data protection.
The latest software update and XF960 introduce features to advance capabilities beyond what's available with public cloud alone. Strengthen auditing and compliance with new S3 bucket logging and enhanced S3 replication. Protect vs. 'bad actor' threats such as rogue admins with new consensus-based protection and self-encrypting (SED) drives.
Continued industry leadership
With ObjectScale, your teams get a virtually identical experience as public cloud but backed by stronger operational control, performance and security from Dell. As we support and manage the environment, including the Kubernetes orchestration layer, your application and data science teams can focus on training new data sets and reducing development cycles for in-demand projects.
ObjectScale is another example of our company's unwavering commitment to innovation and excellence, and Dell is once again recognized as #1 in object storage share (5).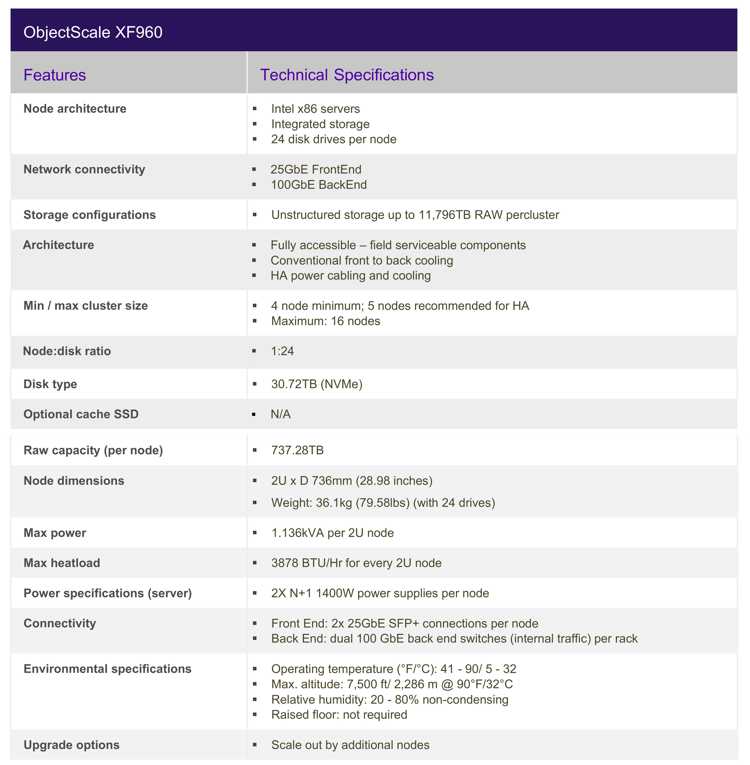 Resource:
XF960 appliance and object storage innovations
Special event AI Anywhere on Data Everywhere on December 7. Registration for the event.
(1) Based on available published specs compared to ObjectScale XF960 when configured with dual Intel processors with 32 cores each and 256GB memory, September 2023.
(2) Based on Dell internal analysis of publicly available product information, October 2023.
(3) Based on Dell internal analysis of max bandwidth of ObjectScale XF960 for large object (200MB) reads and writes, October 2023. Actual results will vary.
(4) Based on Dell analysis compared to ECS EXF900, October 2023. Actual results will vary.
(5) IDC Worldwide Quarterly Enterprise Storage Systems Tracker, 2Q23, September 2023.
Read also :