Availability of Dell ObjectScale
Next-gen object storage helps IT and developers scale value of Red Hat OpenShift and VMware environments.
This is a Press Release edited by StorageNewsletter.com on March 3, 2022 at 2:02 pm

By David Noy, lead, unstructured data storage and data protection, Dell Technologies, Inc.
The company's next-generation object storage platform, Dell ObjectScale, is generally available for ordering and for download as a free Community Edition in Dell downloads site (Unstructured Data Storage section.)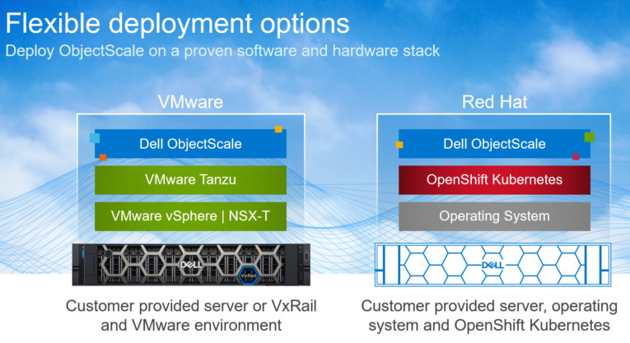 ObjectScale takes firm's proven Dell ECS platform as its basis to deliver a software-defined, microservices-based architecture using Kubernetes. The company offers 2 complementary enterprise-class object storage options: ECS for traditional workloads/applications and ObjectScale for modern, cloud-native application development in VMware or Red Hat Open Shift environments.
Kubernetes-based object storage from market leader
On behalf of our global team, we've been recognized for the sixth consecutive year as a Leader in in the Gartner Gartner 2021 Magic Quadrant for Distributed File Systems and Object Storage. (1)
With the latest evolution in object data storage from Dell, organizations can deliver cloud-scale storage services with the reliability and control of a private-cloud infrastructure. There's no theoretical limit to the amount of data stored with ObjectScale, and it scales up to meet the data growth challenges facing your business.
And it's a multi-purpose platform, engineered for cloud-native apps, analytics, AI/ML, media content and long-term archives. Developers can enjoy on-demand, self-service storage via deployment APIs, accelerating application innovation, lowering TCO and empowering a true DevOps culture.
ObjectScale on VMware: featuring VCF and VxRail
ObjectScale's integration of VMware vSphere with Tanzu and the vSAN Data Persistence platform enable to support modern application workflows using the same VMware infrastructure and tools you know – including Dell VxRail, an integrated, pre-configured and tested HCI system optimized for vSAN.
Now, VxRail customers can deploy ObjectScale on HCI with added support for VMware Cloud Foundation release 4.4 (2), further powering modern workloads that require S3.
It's an example of how engineering between VMware, VxRail and ObjectScale unlocks opportunities for your development team and business.
ObjectScale on Red Hat OpenShift: backed by expanded partnership
ObjectScale also gives the flexibility to deploy and run S3 compatible object storage on Red Hat OpenShift to support cloud-native applications directly from an on-premises data center.
ObjectScale customers and solution providers can expect even more strategic value as a result of the recent expanded collaboration between Dell and Red Hat, Inc.
"Red Hat and Dell have a long history of collaboration in extending customer choice and cloud-native innovation based on Red Hat OpenShift, the industry's leading enterprise Kubernetes platform. We are pleased to deepen our relationship to help further drive customer success," says Bill Sullivan, director, global alliances, Red Hat.
Our solution (3) on OpenShift gives the flexibility to run ObjectScale alongside traditional applications on a full-stack Dell infrastructure that includes servers, primary storage and supporting software.
The solution features:
Data center-level scalability – with the ability to expand clusters to petabyte-scale and 1000+ nodes

Maximized storage efficiency and optimized performance – with the ObjectScale bare-metal CSI driver
Try ObjectScale in your data center for free
There are many more features of ObjectScale to explore and we encourage you to try it out. The company offer a free Community Edition of the software to 30TB with no expiration so you can test it in your data center.
More at Objectscale page
(1) Gartner, Inc. Magic Quadrant for Distributed File Systems and Object Storage by Julia Palmer, Jerry Rozeman, Chandra Mukhyala, Jeff Vogel, October 1, 2021. Dell Technologies was recognized as Dell EMC until 2019.
(2) Requires the VMware vSAN Data Persistence platform, VMware vSphere 7 U3c+. On VxRail systems, this requires VxRail Manager 7.0.320.
(3)  Requires Red Hat OpenShift 4.6, Red Hat Enterprise Linux CoreOS (RHCOS) 4.6, Red Hat Enterprise Linux 7.8/7.9 or 8.