IBC: Seagate Exos Corvault 5U84 Storage System to Deliver Hyperscale Efficiencies to M&E Data Centers
Enabled by data protection technologies including Advanced Distributed Autonomic Protection Technology erasure coding combined with autonomous drive regeneration to automatically renew HDDs on demand.
This is a Press Release edited by StorageNewsletter.com on September 18, 2023 at 2:02 pm
Seagate Technology Holdings plc announced the Exos Corvault 5U84 at IBC 2023.
Exos Corvault server room
This mass storage system helps M&E organizations reduce their carbon emissions and operating costs by keeping drives in service for longer, underpinning the company's sustainability mission. IBC also honored the firm by naming it as a Social Impact Award finalist in the Environment and Sustainability category for its circularity program.
The Exos Corvault is a performing, efficient, durable mass-capacity block storage system that is self-healing and brings five-nines availability to scale out storage for data center deployments. What makes Corvault unique from other enterprise storage systems is the user experience that is comparable to managing a single hard drive, except with multi-petabytes capacity. Previously available in a standard 4U form factor for large 1.2-meter-deep racks, the company now offers a 5U form factor for smaller one-meter-deep racks, commonly leveraged in M&E companies. The Exos Corvault 5U84 delivers hyperscale efficiencies to M&E data centers with its rapid deployment, streamlined data management, and reduced human intervention.
"For many years now, pixitmedia has worked in partnership with Seagate to provide game-changing technology for our M&E customers. Today, we are delighted to combine the new Corvault 5U84 with our pixstor software defined storage solution to create high performance, scalable, and flexible data storage with best-in-class TCO that is purpose-built to meet rigorous media workflow demands," said Ben Leaver, CEO and cofounder, pixitmedia. "Reliable, available, and energy efficient, Seagate storage systems provide our customers with the freedom to innovate and empower them to collaborate while keeping assets perfectly secure."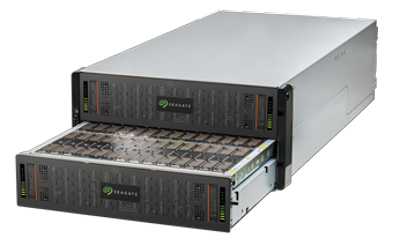 Innovation for more sustainable storage
The Corvault storage solution cuts e-waste, reduces operational costs, and slashes the overall power consumption of CPU, RAM, and networking resources in software defined data center architecture by up to 50%. This is all enabled by the firm's data protection technologies including Advanced Distributed Autonomic Protection Technology (ADAPT) erasure coding combined with autonomous drive regeneration (ADR) to automatically renew HDDs on demand.
"Exos Corvault's groundbreaking technology provides a comprehensive high-capacity, secure and reliable storage ideal for the data-hungry M&E industry," said Melyssa Banda, VP, storage solutions and services, Seagate. "Through ADAPT and ADR innovation, our latest storage solution reinforces our commitment to sustainability. Seagate is leading the way in minimizing electronic waste and environmental impact while maximizing resource efficiency to create a sustainable Datasphere and we are thrilled to be Social Impact Award finalists at IBC this year."
Solving M&E industry's storage challenges
The proliferation of streaming services, growing media viewership and content resolution, together with reduced IT resources, costly archiving, constrained data flow and security concerns, are a few of the key industry challenges Seagate's storage portfolio addresses. From camera to cloud, the company is showcasing its storage portfolio at IBC. With its Exos storage systems and Lyve solutions and services, specifically designed for M&E businesses, the company is helping customers to achieve ease of data flow, improve ubiquitous data availability and achieve long-term cost predictability by staying in control of their data and budgets.
Resources:
Sustainable Datasphere: FY2022 ESG Performance Report and the circularity program initiative
Read also :