IBC: Facilis Showcases Server Models and Asset Management Solutions
Including FLASHPoint 48S server, FastTracker V.3.8, 64Gb FC, options for HUB servers, SMB utility share, Facilis Object Cloud, and Smart Access Rules
This is a Press Release edited by StorageNewsletter.com on September 18, 2023 at 2:01 pm
Facilis Technology, Inc. is set to showcase new high-performance server models, its latest asset management features and smart access rules innovations at IBC 2023.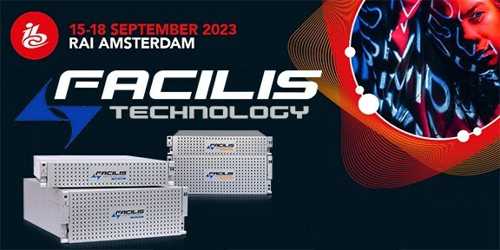 This event will serve as a platform for unveiling new features and product offerings, reaffirming the company' commitment to creative workflows within its HUB architecture.
IBC 2023 is taking place September 15-18 at the RAI Amsterdam, The Netherlands. The firm will be demonstrate its technologies and sharing recent advancements at its stand. The event provides an opportunity for professionals in the M&E industry to experience the enhancements made to the firm' Shared File System software, hardware, and asset management solutions.
"The IBC Show is a welcome opportunity for personal discussions and demonstrations that offer our customers and resellers hands-on experience with the latest and greatest shared storage technology on the market," commented Jim McKenna, CMO. "At Facilis, we remain dedicated to the creative market, delivering workflow power and efficiency through our feature-rich HUB architecture."
Enhancements on display include:
FLASHPoint 48S server: The best performance in shared file system architecture, the 4U SSD flash-based server boasts up to 12GB/s of aggregate throughput, powering the industries' most demanding media workflows.
WANLink Remote Access: Providing an 'in-facility' workflow for remote editors and artists, WANLink leverages the secure remote capabilities through the firm's Shared File System, providing encrypted storage access without VPN latency and complexity.
FastTracker: Version 3.8 introduces several new features, including AI Object Recognition-based Auto-tagging, file-based ingest workflow from client workstations, and metadata-driven automations including cataloging, analysis, data movement and proxy generation.
64Gb FC: The company supports the Atto Celerity 64Gb Gen 7 PCIe 4.0 HBAs, enabling performance for real-time 8K video editing.
SMB utility share: This feature simplifies access to the company's virtual file systems over SMB for secure administrative tasks like backup and archive.
Facilis Object Cloud: The firm's integrated cloud and LTO feature includes support for Seagate Lyve Cloud and AWS/Azure archive tiers, along with real-time 'Active Files' progress display and a new LTO delivery mode for tape-based data transport.
Smart Access Rules: HUB version 8.2.6 introduces enhancements to the firm's Smart Access Rules, enabling customized policies for volume resources to control user and group access.
"Facilis' presence at IBC Show Amsterdam underscores our role as a trailblazer in the Media Storage and Digital Content Creation space," according to Shane Rodbourn, COO. "Our company's ongoing commitment to innovation and collaboration continues to drive the evolution of media production workflows in a positive manner."
Read also :