TD Synnex and Wasabi Partner
At intersection of storage and cybersecurity
This is a Press Release edited by StorageNewsletter.com on September 5, 2023 at 2:00 pm

By Laurie Mitchell, VP partner and international marketing,
Wasabi Technologies
The IT services market is merging data protection and cybersecurity where both are required in order to recover from a data-threatening attack like ransomware.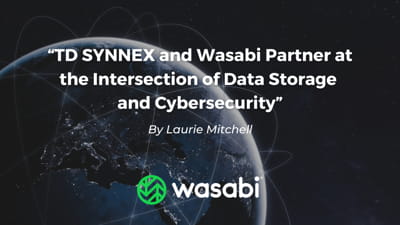 According to IDC, about over $200 billion will be spent on cybersecurity initiatives in 2023. It's exciting for us at Wasabi to stand at the midpoint of storage and security as a key piece of a complete data protection solution. That is why we announce our partnership with TD Synnex, well positioned in both resources and know-how to compile solutions for complete data protection.
Shannon Warner, VP of cloud and ISV ecosystems, TD Synnex, is qualified in her understanding of the challenges businesses face and how they construct solutions to tackle those challenges. I recently spoke with her on growing trends in cybersecurity, storage, and how Wasabi fits into the organization's data protection initiatives.
Putting Advanced Data Protection on the Menu
While many people use Wasabi as a target for their backups, they also can use Wasabi as an immutable copy of their data. According to cybersecurity experts, the only way to guarantee recovery from a ransomware attack is that your mission-critical data be made immutable. Data stored in an immutable bucket or marked as immutable with Object Lock cannot be overwritten, deleted, and, crucially, it cannot be ransom attacked.
This is an area where we're seeing explosive demand.
To hear Warner say it: "Data security and compliance continues to be top of mind for organizations, and we've seen a lot of momentum in this business this year. We're going to try and stay ahead of the bad actors and develop the advanced encryption techniques and comply with stricter data protection regulations so that we have customer trust. It's super critical as you move into the cloud."  
Empowering MSPs and Resellers with Solutions
TD Synnex represents over 1,500 vendors including hundreds of vendors in the cloud data and security space, as well as the resources to offer resellers a great quantity of services and solutions from development, go-to-market, and engineering support. At Wasabi, we consider our storage to be an "ingredient" in a solution, and we are excited about what TD Synnex and its network of solution architects will be able to cook up.
Wasabi's framework on the S3 API makes it an easy fit into all manner of popular storage solutions. Hybrid cloud storage is especially popular among customers with existing on-premises storage footprints looking to extend their capacity.
Warner said: "We're especially excited about how we bring multiple vendor solutions to market, what we refer to as solution aggregation, and one of these solutions involving Wasabi is an exclusive bundle that we have with Veeam and Lenovo. Veeam is most known as a leader in backup and recovery, Lenovo is an industry leader in data management, and Wasabi brings great hybrid cloud data protection. Together this bundle offers a full hybrid cloud backup solution for customers. This is a great example that demonstrates the breadth and depth of what TD Synnex can bring to market across our data center and public cloud portfolio. And this really delivers on the promise of solutions in private, hybrid and public cloud."
Wasabi Difference
According to Shannon, one of the significant challenges facing businesses is how to manage an ever-increasing volume of data while keeping their storage costs in check. The affordable solutions by Wasabi can help customers reduce their overall cloud storage expenses, and also predict their costs over time. Wasabi's simplified pricing model takes the complexity out of cloud storage, giving MSPs and end users alike a streamlined experience not found anywhere in our industry.
"Wasabi Cloud's straightforward pricing model without the additional data transfer fees can help customers better understand and then control their storage costs," Warner said. "Wasabi Cloud scalable storage options offer customers the ability to easily accommodate the growing demand for storage without worrying about the infrastructure limitations."
Read also :