HPE Discover 2023: HPE Unveils Hybrid Cloud with GreenLake Platform Innovation, New Cloud Services, and Expanded Private Cloud Portfolio and Partner Ecosystem
And OpsRamp integration with GreenLake edge-to-cloud platform and sustainability dashboard, GreenLake adds SaaS offerings for backup and ML, GreenLake for Private Cloud Business Edition allows customers to spin up VMs across hybrid clouds on demand, enhancing GreenLake for VMware Cloud Foundation pay-per-use solution, and expanded partnership with Equinix.
This is a Press Release edited by StorageNewsletter.com on June 27, 2023 at 2:02 pm
At HPE Discover 2023, Hewlett Packard Enterprise (HPE) announced an expansion of offerings and innovation across its GreenLake edge-to-cloud platform, hybrid cloud services, private cloud portfolio, and partner ecosystem.
"In 2019, we introduced our strategy to deliver everything as a service through HPE GreenLake. Since then, our strategy has been a winner, as customers increasingly seek to combine the modern cloud experience with the control, governance, performance, and predictability of hybrid cloud," said Antonio Neri, president and CEO, HPE. "HPE GreenLake has led the way in this new category, and today we are extending our leadership by expanding the reach, choice, and capabilities of our hybrid and private cloud offerings. HPE GreenLake is the destination of choice for any organization seeking to drive a successful hybrid cloud strategy."
GreenLake operations console with OpsRamp
Click to enlarge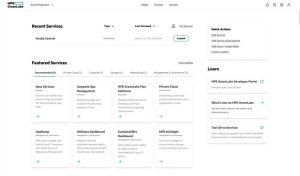 OpsRamp integration with GreenLake edge-to-cloud platform and sustainability dashboard
The GreenLake platform provides customers and partners with a unified experience to simplify hybrid and multi-cloud IT operations and access cloud services. Organizations benefit from a single control plane from which to automate, orchestrate, and run their hybrid cloud.
The company continues to innovate on the GreenLake platform by adding software from OpsRamp, a HPE company, as a SaaS offering. GreenLake platform customers can leverage OpsRamp for full stack observability and automation of assets and applications across heterogenous, multi-vendor, and multi-cloud estates. These capabilities provide customers with a powerful tool to drive automation and simplicity, and lower costs, across hybrid cloud estates.
Additionally, OpsRamp advances the capabilities of the recently announced sustainability dashboard, by providing visibility into IT assets and applications across multi-vendor and multi-cloud estates. The sustainability dashboard is now available in early access mode on the GreenLake platform today.
The company also offers OpsRamp services and consulting through HPE Complete Care Service and Managed Services.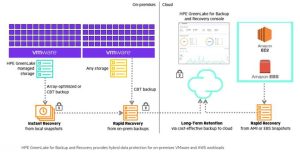 Expanded GreenLake hybrid cloud services
The firm continues to expand the portfolio of SaaS and NaaS offerings on GreenLake and add HPE SaaS offerings to the AWS marketplace.
Expanded GreenLake portfolio of modern private cloud offerings and partner ecosystem
Today, organizations demand greater visibility, control, and predictability of their workloads and data at the edge, on-premises and in the public cloud. As a result, organizations are increasingly turning to private cloud offerings to modernize and digitally transform.
A report from Constellation Research found that organizations that moved to a private cloud model experienced 50% in cost savings, up to 65% in increased performance on private cloud workloads, and two times faster IT and development cycle times in hybrid environments.(1) The study is based on input from senior IT leadership in corporations across North America and is consistent with the momentum behind GreenLake.
Since the release of GreenLake for Private Cloud Enterprise last June, the company continues to invest to give customers more choice with the expansion of its portfolio of private cloud offerings, to provide customers a simple, flexible, and intuitive experience for running modern private clouds.
GreenLake For Private Cloud Business Edition
Click to enlarge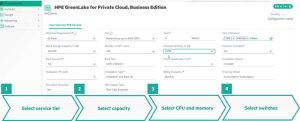 Resources:
Watch the Discover keynotes live online   
Aruba Networking: Data center investments simplify IT and cloud modernization   
GreenLake Cloud Services Solutions: HPE GreenLake and Equinix partner to deliver modern private cloud wherever customers need it    
GreenLake for Backup and Recovery: Redefining backup and recovery with cloud experience    
GreenLake for Private Cloud Business Edition: An Insider's Guide   
GreenLake for Private Cloud Enterprise: Private cloud for the distributed enterprise: unleash edge data without the complexity  
GreenLake for Storage Fabric Management: Next generation SAN fabric management as a service built for hybrid cloud     
Machine Learning Data Management Software: Scale ML workloads to petabytes with HPE Machine Learning Data Management Software   HPE Machine Learning Development Environment: Accelerating AI modeling with the HPE Machine Learning Development Environment   
OpsRamp: OpsRamp Brings Industry-Leading AIOs-driven ITOM to HPE GreenLake    
(1) Source: Constellation Research, The New 2023 Cloud Reality: A Rebalancing Between Private and Public (registration required)
(2) Source: Based on HPE internal testing conducted in October 2022 comparing GreenLake for Backup and Recovery with four competing on-prem and AWS cloud native backup solutions. Includes 99.9999% data availability guarantee and up to 10x lower write latencies for data bases, with up to 8x more efficient backups than other solutions.
Read also :