Kioxia Sampling Next-Gen UFS V.4.0 Up to 1TB Devices
Performance improvement over previous gen: +18% sequential write, +30% random write and +13% random read
This is a Press Release edited by StorageNewsletter.com on June 7, 2023 at 2:01 pm
Continuing to move Universal Flash Storage (1) (UFS) technology forward, Kioxia America, Inc. announced sampling (2) of higher performing UFS V.4.0 embedded flash memory devices (3).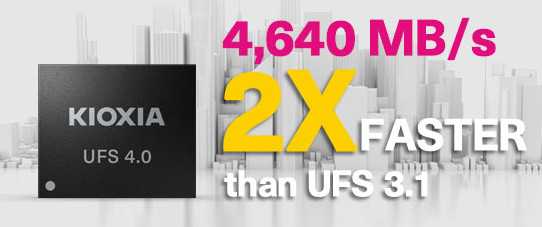 These devices deliver fast embedded storage transfer speeds in a small package size and are targeted to a variety of next-gen mobile applications, including leading-edge smartphones. The improved performance (3) of UFS products from the company enables these applications to take advantage of 5G's connectivity benefits, leading to faster downloads, reduced lag time and an improved user experience.
UFS Ver. 4.0 devices from the firm integrate the BiCS FLASH 3D flash memory and a controller in a JEDEC-standard package. UFS 4.0 incorporates MIPI M-PHY 5.0 and UniPro 2.0 and supports theoretical interface speeds of up to 23.2Gb/s per lane or 46.4Gb/s per device. UFS 4.0 is backward compatible with UFS 3.1.
"Once again Kioxia is maintaining its leadership in UFS, with our pipeline of newer, faster performing UFS devices," noted Scott Beekman, VP, memory business unit. "This is our second generation of UFS 4.0 devices, which were developed to keep pushing the performance boundaries from generation to generation."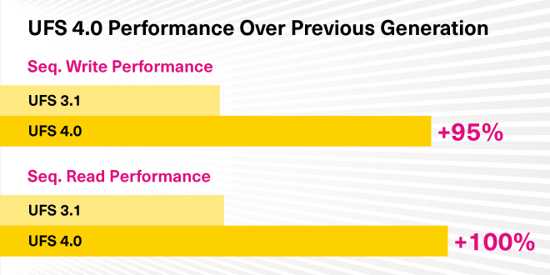 Key features include:
Performance improvement over previous gen (4): +18% sequential write, +30% random write and +13% random read.
Supports High Speed Link Startup Sequence (HS-LSS) features: With conventional UFS, Link Startup (M-PHY and UniPro initialization sequence) between device and host is performed at low-speed PWM-G1 (3~9Mb/s (5)), but with HS-LSS, it can be performed at a faster HS-G1 Rate A (1,248Mb/s (5)). This is expected to reduce the time for Link Startup by approximately 70% compared to the conventional method.

Enhances security: By utilizing Advanced RPMB (Replay Protected Memory Block) for faster read and write access to security data, such as user credentials on RPMB area, and RPMB Purge to ensure discarded data may be sanitized securely and rapidly.

Supports Extended Initiator ID (Ext-IID): Intended to be used with Multi Circular Queue (MCQ) at the UFS 4.0 host controller for improved random performance.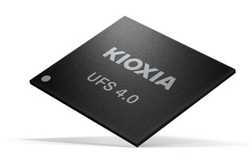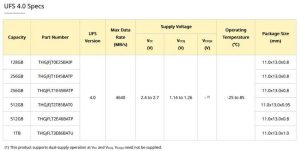 (1) Universal Flash Storage (UFS) is a product category for a class of embedded memory products built to the JEDEC UFS standard specification. Due to its serial interface, UFS supports full duplexing, which enables both concurrent reading and writing between the host processor and UFS device.
(2) The company's newest devices are supported in three capacities: 256GB, 512GB and 1TB. Sample shipments of the 256GB and 512GB device began this month, with the 1TB device scheduled to follow after October. Spec of the samples may differ from commercial products.
(3) Comparing Kioxia's 512GB UFS Ver. 4.0 embedded flash memory device and Kioxia's previous generation 512GB UFS Ver. 4.0 embedded flash memory device (part number THGJFJT2T85BAT0).
(4) Kioxia previous generation 512GB device 'THGJFJT2T85BAT0'.
(5) PWM-G1 communication speed depends on the host and the device
Read also :