In 1Q23, DRAM WW Revenue Decline 21% Q/Q at $9.7 Billion
3rd consecutive quarter of downturn
This is a Press Release edited by StorageNewsletter.com on June 6, 2023 at 2:01 pm
This market report, published on May 25, 2023, was written by Ellie Wang, analyst, Trendforce Corp.
There was a dramatic 21.2% Q/Q decline in Q23 revenues for the DRAM industry, bringing total revenue down to $9.663 billion.
This significant dip represents the 3rd consecutive quarter where revenues have fallen.
A closer look reveals that increased shipment volumes were exclusive to Micron, with other suppliers noting a decrease. The ASP fell for all 3 major suppliers. An enduring oversupply issue, which has led to an ongoing slump in prices, is the chief culprit behind the decline. Nevertheless, the industry expects a gradual slowing in the rate of price decline following planned production cuts.
2Q23 forecast suggests a rise in shipments, but the ongoing price fall might limit potential revenue growth.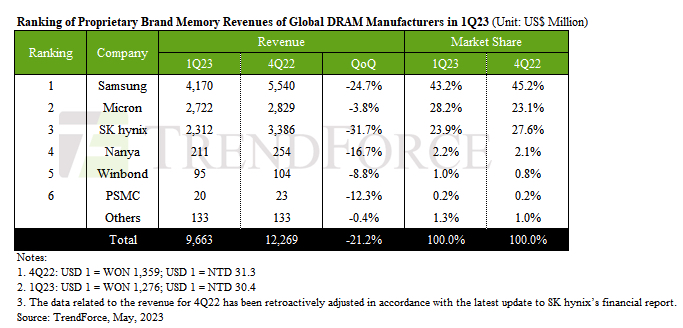 Each of the 3 major suppliers – Samsung, Micron, and SK hynix – reported a drop in quarterly revenue.
Samsung saw a decline in both shipment volumes and ASP due to fewer orders for its newly launched devices, resulting in a Q/Q decrease in revenue of 24.7%, amounting to about $4.17 billion.
Benefiting from its earlier financial reporting and the tail-end orders of the previous year, Micron climbed to the 2nd position in 1Q23. Despite being the only supplier among the big 3 to record positive shipment growth, Micron couldn't avoid a minor 3.8% revenue decline, taking its total down to $2.72 billion.
SK hynix faced the steepest decline, with more than a 15% drop in both shipment volume and ASP, leading to a drastic 31.7% plunge in revenue, amounting to approximately $2.31 billion.
Earlier prediction of the big 3 shifting from profitability to loss in 1Q23 due to a swift ASP decline came true. With DRAM prices continuing to fall, it's anticipated that 2Q23 operating profit margins will remain in the red. In response to this, all 3 major suppliers have started implementing production cuts, with 2Q23 capacity utilization rates expected to fall to 77% for Samsung, 74% for Micron, and 82% for SK hynix.
In terms of Taiwanese suppliers, Nanya faced a decline in shipments for the 4th consecutive quarter, with 1Q23 revenues dropping by 16.7%. Mainstream process nodes remained stagnant at 20nm, lagging behind the big 3, leading to a substantial decline in operating profit margins to -44.9%. However, there is a glimmer of hope as the replenishment demand for TV SoC inventory is anticipated to lift the 2Q23 utilization rate back up to 80% from 70%.
Despite receiving several emergency orders for laptops and TVs in 1Q23, Winbond reported an 8.8% decline in revenues as prices continued to fall.
Amidst falling prices and sluggish demand, PSMC experienced a 12.3% dip in its quarterly DRAM revenue. The company's financial performance is primarily tied to its own consumer DRAM products, excluding the revenue from its DRAM foundry services. However, if the foundry service revenue were to be included, the company's quarterly decline would steepen to 22.6%.
Read also :