CloudFest: Graid Technology Performance Increase with SupremeRAID Software
Release will drive up to 4x-9x increase in sequential write performance for customers protecting data.
This is a Press Release edited by StorageNewsletter.com on March 15, 2023 at 2:01 pm
Graid Technology, Inc. announced a software release for the SupremeRAID SR-1000 and SR-1010 offerings.

This release, available in summer 2023, will drive higher performance and lower CPU utilization than prior releases of SupremeRAID.
With traditional methods of data protection, users can expect sequential write performance of between 2GB/s and 4GB/s as I/O bottlenecks will prohibit full access to NVMe drive performance. Utilizing SupremeRAID with the company's patent-pending out-of-path data flow and new Intelligent Parity data reduction technology, users can expect speeds of greater than 90GB/s (1) for RAID-5 sequential writes as all I/O bottlenecks are removed, allowing users to exploit the full performance of NVMe SSDs.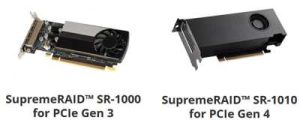 "This new enhancement offered by Graid Technology will give users of SupremeRAID a clear competitive advantage in the marketplace.The ability to write unstructured data sets to high-speed NVMe drives at such an accelerated rate will save our customers tremendous amounts of time and drive a lower TCO on their infrastructure purchases," said Leander Yu, president and CEO. "Since our first product release in 2021, we have continually improved the performance of SupremeRAID with software updates for our existing customers. This clearly demonstrates the powerful capabilities of our technology; we can't wait to see how much further we can push it."
SupremeRAID will be available to all company's customers, regardless of channel, as a free upgrade upon general release. As the firm continues to expand its OEM, distribution, and integration partnerships, it will continue to work with customers and partners to explore options for additional functionality in future product and software enhancements.
SupremeRAID featured across the showroom floor at CloudFest 2023, March 21-23, Europa-Park/Rust, Germany.

(1) Based on Linux RAID-5 with  Xeon Gold 6338 CPU, 32 core with 2.0GHz x 2, 20 Phison EPW5970 NVMe drives.
Read also :