Graid Updated Software V1.3 for SupremeRAID Targeted at Enhancing Business Continuity for NVMe Deployments
Provides additional level of business continuity protection coupled with superior performance.
This is a Press Release edited by StorageNewsletter.com on February 8, 2023 at 1:02 pm
Graid Technology, Inc. announced its software release V1.3 for SupremeRAID SR-1000 and SR-1010.

The enhancements in this release include features and software updates designed to support dual controller HA along with support for multiple new NVMe SSDs.
Among the enhanced features is a configurable strip size, allowing customers using RAID-0 and RAID-10 to realize better server performance, a strategic move that continues to position SupremeRAID as the performance leader for both random and sequential workloads.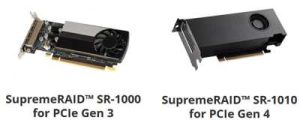 "This latest release gives our customers peace of mind knowing that their business operations can continue in the event of a hardware failure. Along with supporting new NVMe SSDs, release V1.3 continues to enhance Graid Technology's industry-leading offering by bringing tremendous value to our customers and partners," said Leander Yu, president and CEO.
The SupremeRAID V1.3 software release continues to elevate the company's NVMe solution, which aims to disrupt the status-quo RAID market by unlocking the full potential of high-performance workloads across the global enterprise. As with all the firm's software releases, the organization continues to rely on customer and partner input to prioritize the enhancements that the market requires.
The V1.3 software release is available.
Resource:
SupremeRAID Linux driver 1.3.0 release notes, software and documentation
Read also :