DataCore Acquires Object Matrix
Object storage pioneer and media archive specialist
This is a Press Release edited by StorageNewsletter.com on January 25, 2023 at 2:02 pm
DataCore Software Corp. has acquired Object Matrix Ltd, the object storage pioneer and media archive specialist.
Object Matrix's appliances and cloud offerings will become part of the DataCore Perifery portfolio that specializes in delivering end-to-end, application-centric solutions for edge and high-growth markets, including M&E.

This acquisition reinforces the Perifery line of edge devices and solutions, while adding talent and expertise to the Perifery team.   
"Gartner predicts that more than 50% of enterprise-managed data will be created and processed at the edge by 2025. We're excited to expand our Perifery portfolio with innovative solutions that will enable us to lead in edge markets," said Abhijit Dey, GM, DataCore's Perifery business. "The Object Matrix product line perfectly complements our world-class solution portfolio, increasing reliability and agility for customers in the fast-growing media and entertainment edge market. Working with the Object Matrix team, we look forward to bringing industry-leading innovation, and providing continued technology and customer support."
Object Matrix develops MatrixStore on-premises appliances, hybrid solutions, and cloud storage offerings that enable broadcasters and service providers to securely manage content at every stage of the media lifecycle, offering operational and financial benefits.
Its customers include NBC Universal, Warner Bros. Discovery, MSG-N, ATP Media, BT, and the BBC. They will benefit from the capabilities of DataCore's WW presence and support.
Acquiring Object Matrix accelerates the DataCore.NEXT vision to enhance the customer's journey from core to the edge and cloud. By strategically aligning the Perifery and Object Matrix solution offerings, DataCore is redefining how storage resources are best utilized to ensure optimal results and the lowest cost for customers, turning technology barriers into breakthroughs.
"This announcement signifies an exciting new stage for Object Matrix, allowing us to extend our reach and product ambitions within DataCore while continuing to develop state-of-the-art on prem, cloud, and hybrid media storage solutions," said Jonathan Morgan, CEO of Object Matrix. "By leveraging DataCore's experienced leadership team, worldwide distribution – consisting of over 400 channel partners and more than 10,000 global customers – combined with world-class engineering, sales, and marketing, we are in an excellent position."
The acquisition of Object Matrix kicks off an exciting year for DataCore following 2 strategic acquisitions of Caringo in January 2021 and MayaStor in November 2021. Caringo's Swarm Object Storage software currently serves hundreds of customers in over 25 countries, growing in excess of 35% in 2022. DataCore Bolt, developed through the MayaStor acquisition, is a Kubernetes storage and data services platform for containerized applications. MayaStor is approaching 1 million downloads a year and has seen over 50% user growth since 2021.
Read also :
Comments
Nobody has anticipated this move from DataCore but it confirms that M&E is a serious strategy for the Florida-based ISV.
CEO Dave Zabrowski, has confirmed that the transaction was closed very recently. 100% of the team join DataCore so the expertise is preserved and it will operate as a distinct entity.
The first reaction is the following: DataCore now owns 2 object storage products, 2 years ago it was naked in this area, Caringo landed in January 2021. This is unique in the industry, who else has similar object storage offering. So the first question appears as DataCore wishes to maintain things separate, is there any product integration or merge in the next few years, we'll see, it is obviously too early.
Seen as a pioneer in the object storage domain but in a vertical space, Object Matrix, founded in 2003, has been launched in the middle of a few others company with Archivas, Bycast, Caringo, Cleversafe, Evertrust, Filepool or Permabit, all acquired. Object Matrix was the only survivor in the group but again it is a specialized approach built and designed for M&E, therefore not listed in the below timeline. All these started before Amazon launched S3 in 2006.
Click to enlarge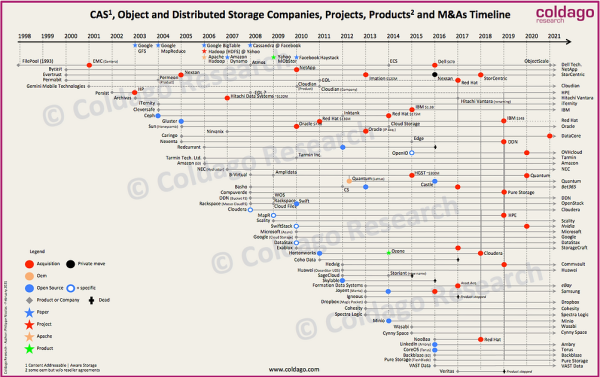 This acquisition is the final touch for Object Matrix as the company had some difficulties for a few quarters. Remember our various NAB and IBC reports when we mentioned that the Welsh company didn't show up at these shows, a real surprise when you understand that these events are clearly top ones and must-go shows for that industry.
This opportunistic acquisition for DataCore feeds its long-term strategy in that industry but invites us to wonder how it fits in the current Perifery product line.
Caringo Swarm represents more a horizontal play and Object Matrix a vertical one but they both now belong to the Perifery solutions set. Does it mean it was tough for Swarm since September in the domain?
Acquiring Object matrix means for DataCore an immediate gain of credibility as the product is well adopted and respected in M&E while Swarm's road is more uncertain. Clearly DataCore made a good operation at several levels, the acquisition price is not spectacular and doesn't dig to much in their finance, it receives a significant installed base with famous accounts who love the product coupled with a real team expertise and also some potential synergy with Caringo as we imagine some MatrixStore elements could be used on top of Swarm like MXFS potentially.
This move also feeds the Edge part of the Core - Edge - Cloud DataCore strategy. Now DataCore needs to continue to investigate in its file storage strategy, they own all their product line except vFilO which is Hammerspace product.