UK Start-Up BackupLABS Out of Stealth Mode
In secure automated backup for cloud applications
This is a Press Release edited by StorageNewsletter.com on January 20, 2023 at 2:02 pm
Company:
BackupLABS (legal name BLIO Ltd)


HQs:
Bournemouth, Dorset, UK
Date founded:
March 24, 2021
Financial funding:
Bootstrapped, self-funded
Founder and CEO:

Rob Stevenson with 20+ years in the offsite cloud backup industry, with experience in protecting servers, VMs, desktops, Microsoft 365, Google Workspace and Salesforce data, developing the idea for BackupLABS in 2021, as the pandemic drove a shift to remote working and businesses increased their adoption of SaaS services; formerly, since 2004, he was CEO of BackupVault he continues to run, being an UK provider of secure, automatic online cloud backup solutions for businesses and schools, supporting Windows, Mac and Linux.
Number of employees:
9
Technology:
Amazon Web Services cloud platform, React JS, Node.js, various APIs
Product description:
The firm automatically protects critical business data held within popular SaaS applications and allows users to backup and protect this data in less than 5mn. Recovering data can restore directly back into the cloud application. No complicated scripting or manual exporting is required.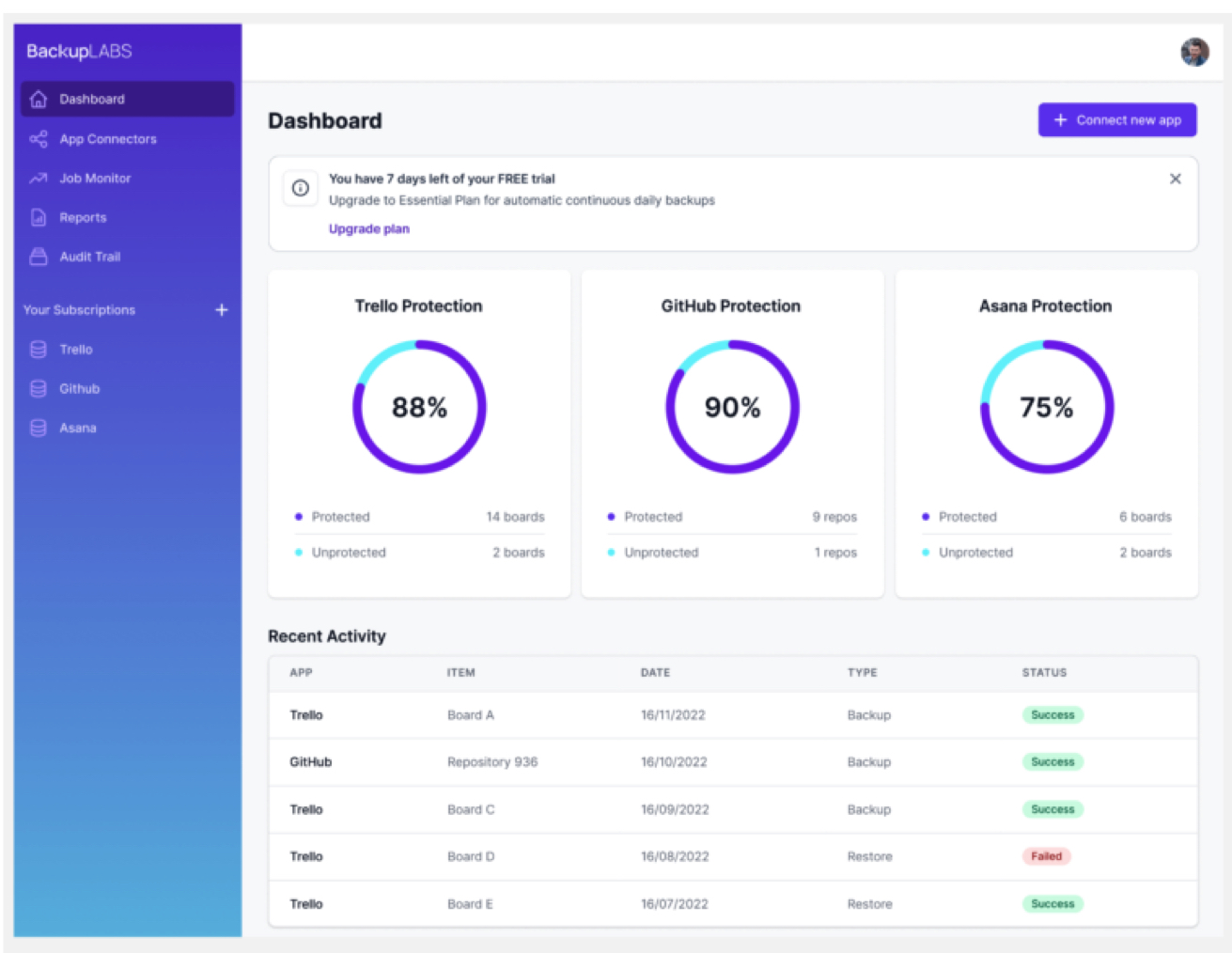 The vast majority of these cloud based apps make it easy to onboard customers and import their data to start using the application. For example: GitHub, Trello, GitLab, Asana, Jira and Notion.
 
However, none of these apps offer a robust backup solution so their customers can protect their most important asset – their data. Customers are putting more and more critical data on these platforms and the providers T&Cs always state that the customer needs to backup and protect their own data. This is also known as the "Shared Responsibility Model".
This creates a problem for the business that use these platforms and their data is at risk from: user error, rogue employees, ISO/SOC2/GDPR requirements, virus/malware targeting the app and cloud provider access issues. Other studies have shown that in the case of users accidentally deleting data, 70% of users don't even remember when they deleted the data. Even if a cloud app has a basic 30-day retention, this is often not a long enough period of time once the loss has been discovered.
Features:
Automatic daily backups stored securely within AWS
• Setup complete within minutes
• Rapid restores with granular recovery
• Compliance with ISO 27001, SOC2, HIPPA, GDPR, UK Cyber Essentials requirements and cyber insurance policies
• 256-bit AES encryption
• Backup audit log record
• Zero Knowledge policy – employees have no access to data
Released date:
January 2023
Price range:
Between $4/month and $2,000/month
Roadmap:
ISO 27001/9001 1Q23. Asana/Notion/Jira backup support in 1Q/2Q23. AI/machine powered malware protection in 4Q23
Partners:
Partner plans and support for MSPs and similar will be available at the late part of 2023
Applications:
Trello, GitHub and GitLab currently protected. Asana, Jira and Notion support coming soon.
Target market:
All verticals. SMEs using common SaaS apps such as Trello, GitHub, GitLab. Asana, Jira and Notion backup support coming soon.
Competitors:
Clumio, Metallic, Rewind, ProBackup, GitProtect
Read also :